Yoshimura brings fresh ideas to the bike market with their first offering
April 14th, 2020 4:14am

It was only a matter of time until someone finally caught on to the obvious fact that mountain biking and motocross worlds have a serious cross over amount of athletes. Each requiring their own distinct skill sets and equipment with the exception that both are built on two wheeled fun, speed and fitness. As far as we are concerned it has taken too long to get fresh ideas into the bike industry. So when a leader like Yoshimura (who is one of the leading performance exhaust manufactures in the moto world) decides to get into our world it is kind of a big deal.
And of all places to get into the market, Yoshimura decided on improving the flat pedal. From day one, these pedals were going to be anything but normal. First of all, the company manufactures them 100% in the United States of America (Just like their exhaust systems). As an The idea was born from the Yoshimura's own desire for better pedals. Flat pedals that take abuse, can be easily serviced and don't get hung up on rocks because of the width.
That is where the original thinking started. What developed was a flat pedal that has two different widths, because not everyone has huge feet and it saves weight. Yoshimura pedals where also designed to with two sealed bearings that are completely serviceable for the home mechanic should they need some love. All that is needed is one wrench to replace the bearings that are sealed and protected from the elements.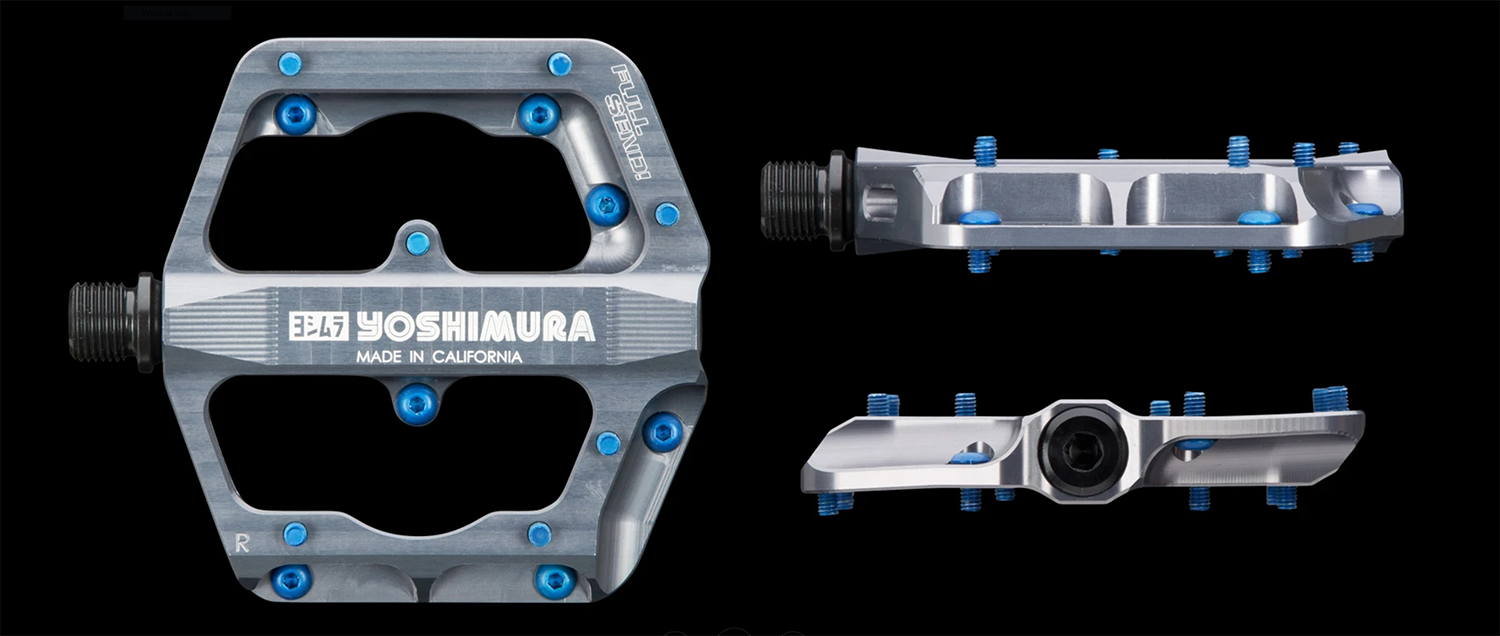 Founder Yusaku Yoshirmura claims extensive testing to get the pedals right - Including personally riding. Especially since this is their first foray into the mountain bike world and its the way they do everything. It's refreshing actually.
Wile the company will be offering their flat pedals in limited color options, that's not really a big deal as their pewter color will not show the scratches nearly as bad as most colorized anodized flat pedals. The pedals feature chrome moly spindles for more durability. The list of key features below really spell out the good tech bits you want to know.
From a price stand point, the pedals will retail for $180 a pair which is kind of steep, but then again, for top quality American made product that you can service or call on the phone for parts, it's pretty fair.
What is in the future for Yoshimura is anybodies guess. What they want to do right now is be really good at this project and the rest will unfold before them. Here is a cool video with Yasuka himself explaining the pedal and their philosophy.
Chilao Mountain Pedals - KEY FEATURES
Ultra-thin CNC machined body from 6061-T6 billet aluminum for maximum durability
Contoured shape allows your foot to sit "in" the pedal, not on top of it
Proprietary alloy steel CNC machined, and heat-treated spindle is strong - yet resilient
Close-to-crank pedal position increases strength and clearance from pedal strikes on rocks, ruts and tight areas and also promotes more efficient pedal form.
Dual bearing design is completely sealed tight against elements
V-ring designed dust seals are used for maximum sealing performance and provide great longevity for bearing performance. No falling out here!
Ten – 7075-T6 aluminum pins per side (L) seven per side (S), provide maximum grip and are easily replaceable
Rear facing pins on front side of pedal for maximum traction
Recessed alloy end plug is strike resistant
Two sealed cartridge bearings on outboard and one bushing on inboard for smooth rotation, maximum support and longevity
Two sizes to choose from large and small
Two colors to choose from Pewter and YoshiKote
Made in California USA
Laser etched branding
Small weight 340 Grams per pair
Large weight 375 Grams per pair
Every set has serial number
Fully serviceable and kits are available
Intended use for MTB, Dirt jumping, BMX
You can see more by going to their website https://yoshimuracycling.com/