Wolf Tooth Launches Lock on MTB Grips
September 21st, 2022 12:00am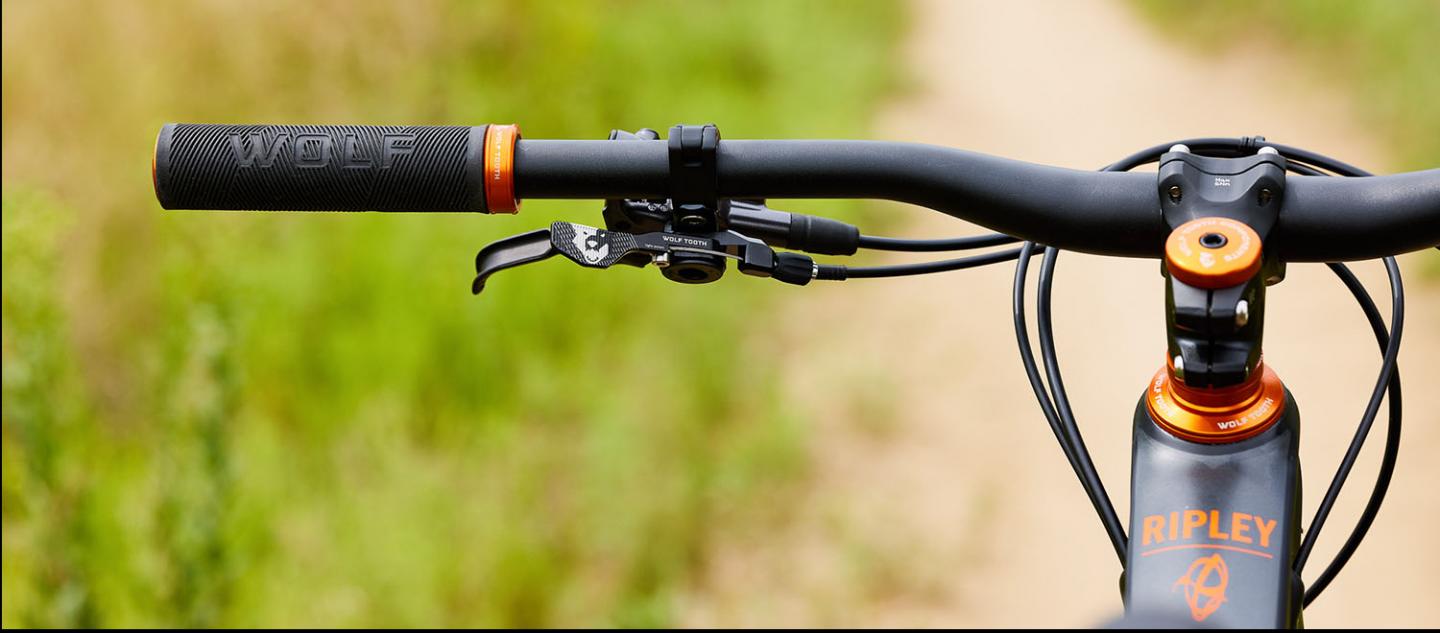 You may have not heard of Wolf Tooth Components before even though we have covered some of their other products on the site, so let me re-acquaint you with this great little company out of Minnesota. Yes AMERICAN designed, engineered and manufactured!

They have been around for over 10 years now and make some really sweet aluminum bits for your bike and bike maintenance. They offer everything it a custom annodized color that covers pretty much the rainbow spectrum to satisfy even the most discerning type A personality. Basically, they add cool,functional blingy bits to your ride.

In this episode you get to check out their new Echo Lock-on Grips. I can tell you that lock on grips are a serious upgrade to performance and ease of changing out. I personally love Lock-on grips and I have been riding and racing a really long time. With a $29 price point, this is a solid deal.
I have not personally tried their grips but am simply sharing the announcement about them with you. Below is the companies story about them - so you get it right from the horses mouth.

You really should wander on over to their website and check out their sic other products too. They are worth it with some incredible craftsmanship and color ways.
WOLF TOOTH Component WEB Site - https://www.wolftoothcomponents.com/

Here is the official announcement along with some pictures to fill in the blanks.
---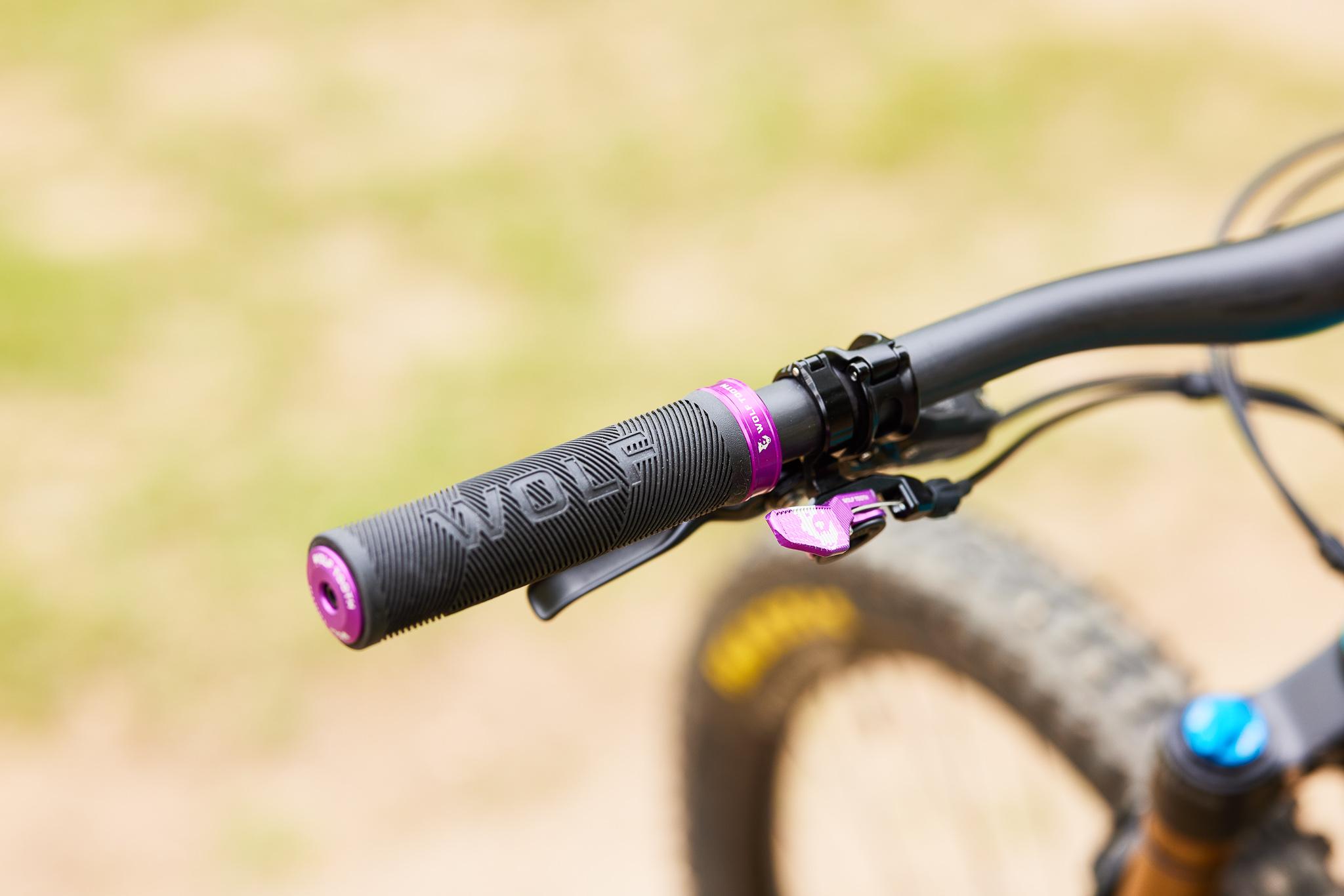 Minneapolis, Minn. (September 20, 2022) — Wolf Tooth Echo Lock-On Grips are made for all-mountain riding, from XC to downhill. A soft, tacky rubber grip is secured to the handlebar with an anodized aluminum collar. The alternating diagonal pattern of the grip is designed to keep the rider's hand in place and provide grip with or without gloves in all conditions. These are compatible with all standard 22mm mountain bike handlebars, including carbon and aluminum. The grip is black, while the machined aluminum collar comes in eight colors.
Echo Lock-On Grips use durometer 20A rubber, which was specifically selected for these grips after extensive prototype testing. The Durometer Shore Hardness Scale measures softness and elasticity of rubber. Three types of rubber were tested and the softest of the three was ultimately chosen because it provides excellent vibration damping and is easily compressed – both are vital qualities for a mountain bike grip. The durometer 20A rubber is able to absorb vibrations from rocky trails, is durable for many seasons of riding, and is comfortable on the hands for long days on the bike.
On each grip is an alternating diagonal pattern that is molded into the rubber. This design was developed to keep the rider's hands in place. The center of the grip features stripes in one direction, while the inner and outer ends feature alternating stripes to prevent hands from moving away from the center of the grip. Echo Lock-On Grips also say WOLF on the left side and TOOTH on the right as the most visually striking feature.
Echo Lock-On Grips are 132mm long with a 32mm diameter. The 22mm internal diameter is compatible with any standard mountain bike handlebar, whether carbon or aluminum. The ends
of the grips are open. Included in the purchase is a set of Wolf Tooth plastic bar end plugs. The open ends are also compatible with Wolf Tooth Anodized Bar End Plugs and Wolf Tooth EnCase System multi-tools.
Securing the grips to the handlebar is an anodized aluminum collar that was machined at Wolf Tooth in Minnesota. It is tightened/loosened with a 3mm hex wrench. These collars are available
in eight colors that match other Wolf Tooth anodized aluminum components and accessories, including headsets, seatpost clamps, ReMote dropper levers, bottle cage bolts, and more. The
color of the grip collar also matches the same eight colors of the Anodized Bar End Plugs. These grips expand the existing Wolf Tooth grips product category. Silicone foam grips were first
announced in 2016 in four sizes, two shapes, and 10 colors. These include Fat Paw Grips, Karv Cam Grips, Razer Grips, and Mega Fat Paw Grips, which are the thickest foam grips on the market for superior vibration damping and comfort.
Wolf Tooth Echo Lock-On Grips are available today on WolfToothComponents.com for $29.95 USD and with any bike shop that stocks Wolf Tooth.