Wolf Components New Tool is Slick
November 17th, 2020 12:01am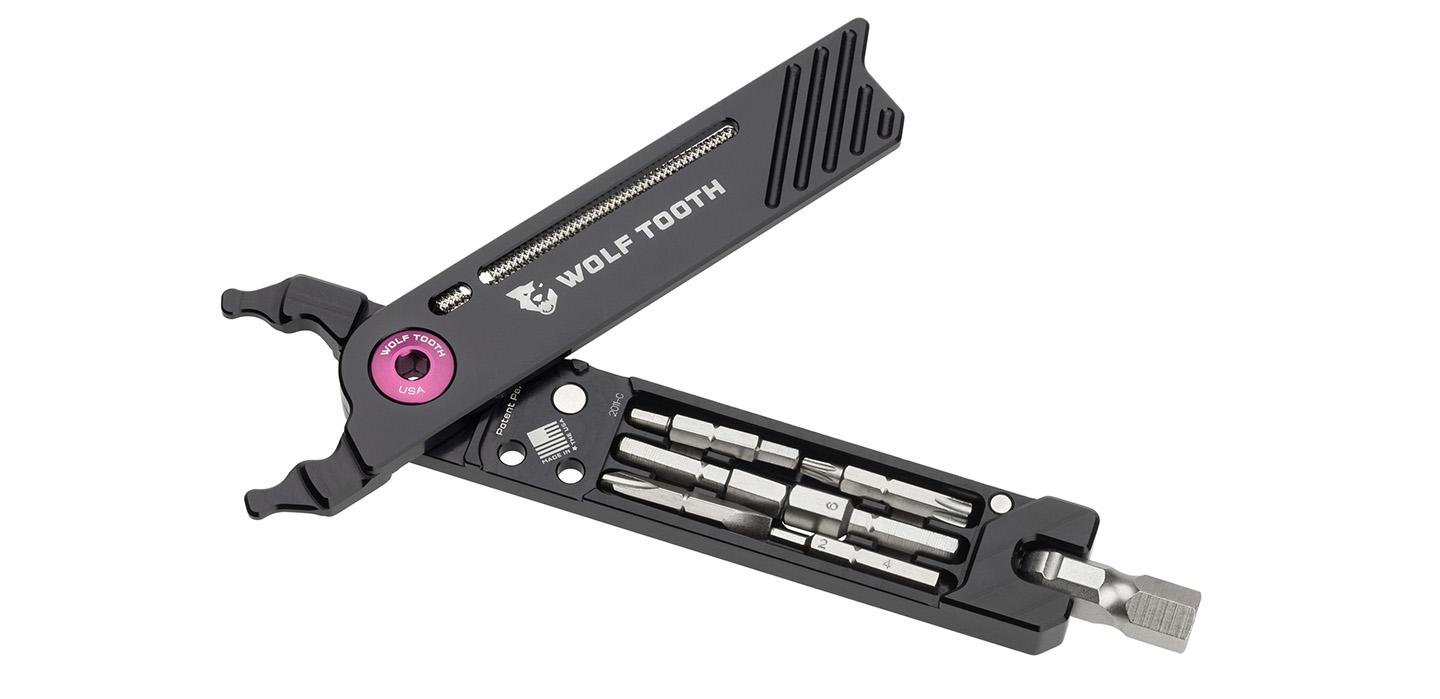 Unless you are "in-the-know", Wolf Tooth Coponents is not one of the more commonly thrown about brands. But for those of you who are, you know Wold Tooth make some good stuff. Today I'm putting their new 8-bit pack pliers in your face because this new tool kit is pretty slick and is only a bolt or two shy of being able to totally dismantle and rebuild your bike on the side of the trail or road.
Like most all of Wolf Tooths components, they are machined in Minnesota from 7075-T6 aluminum (tough stuff). The design is slick because it gives you an actual handle to use for leverage. Which comes in handy for those over zealous tighteners out there or maybe a weathered bolt that is just playing hard to get. This particular kit is useful because it is also a set of pliers that let you add or remove a chain master link as well as remove or tighten valve stems and their lock nut.
The whole tool kit is tied together with a chain ring bolt and it is available in a bunch of different colors - which is important when you NEED to match your kit or your bike.
Either way, the tool looks legit and its build spec more than checks the boxes of high quality. If you need a bike tool kit, this one is worth having on your ride. Besides all the things you can actually fix with this took kit, you are now actually "in the know"....spread the word.


How Much and Where to Buy?
Retail on this bad boy is $69.95 and you get know you have a great tool kit and helped out an American manufacturer.

Hop over to wolftoothcomponents.com and tell em we sent you (and check out all the cool stuff they have for your ride). Proudly American Made..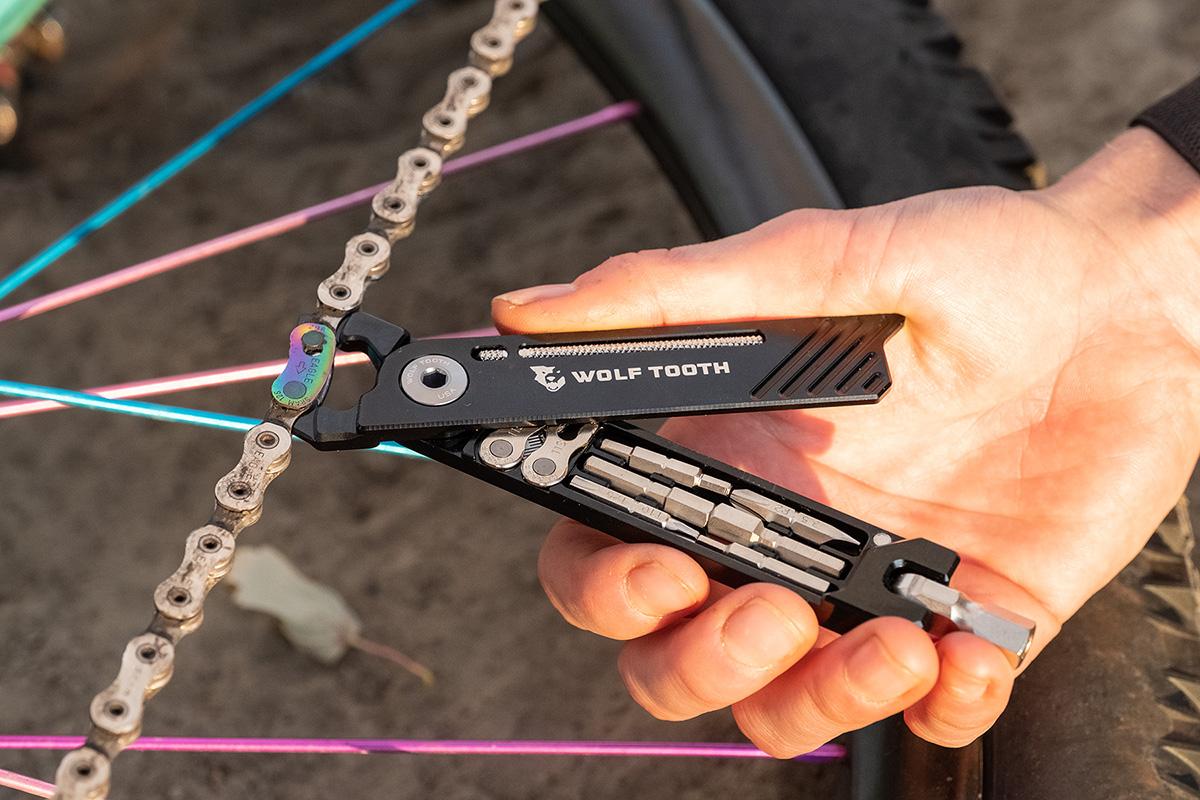 Master link removal and replacement thanks to the plier handle.
Holds a master link also (not included with the tool). Handy if you are out on the trail or on a road ride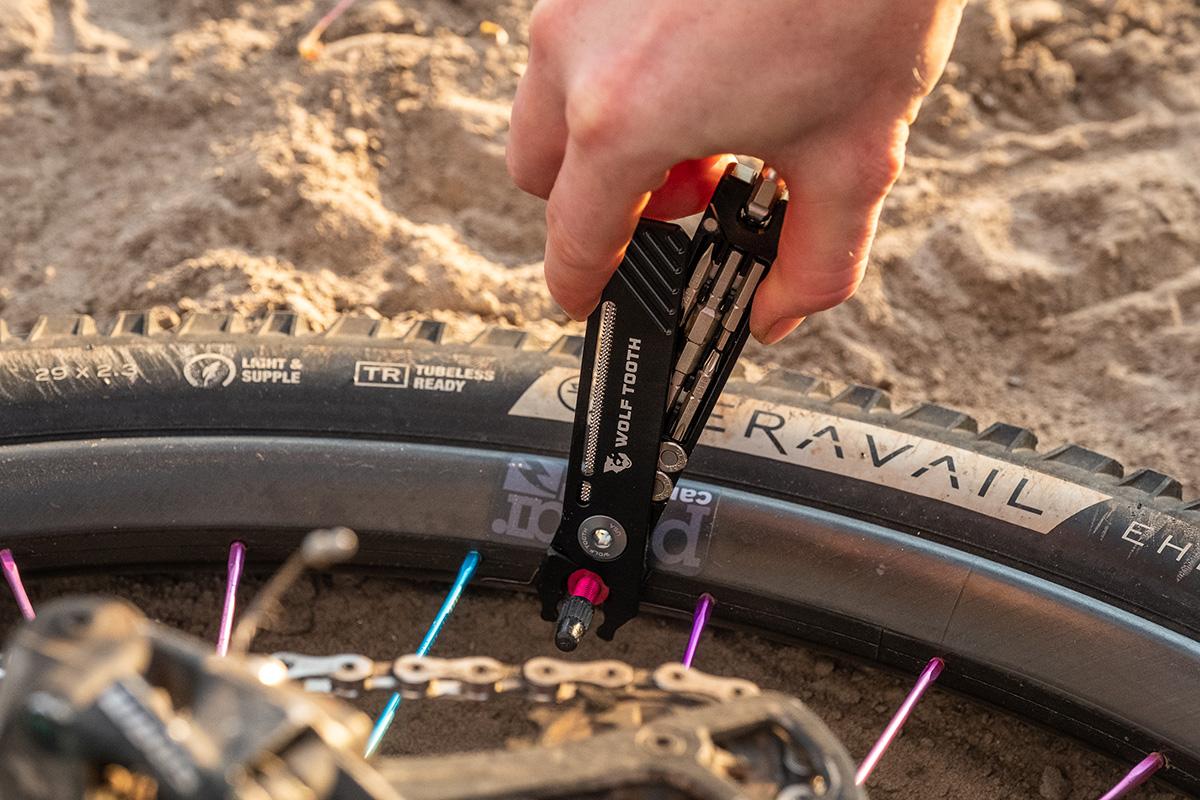 Tightens and loosens Valve lock nuts when your hands are sweaty or you just have phat fingers.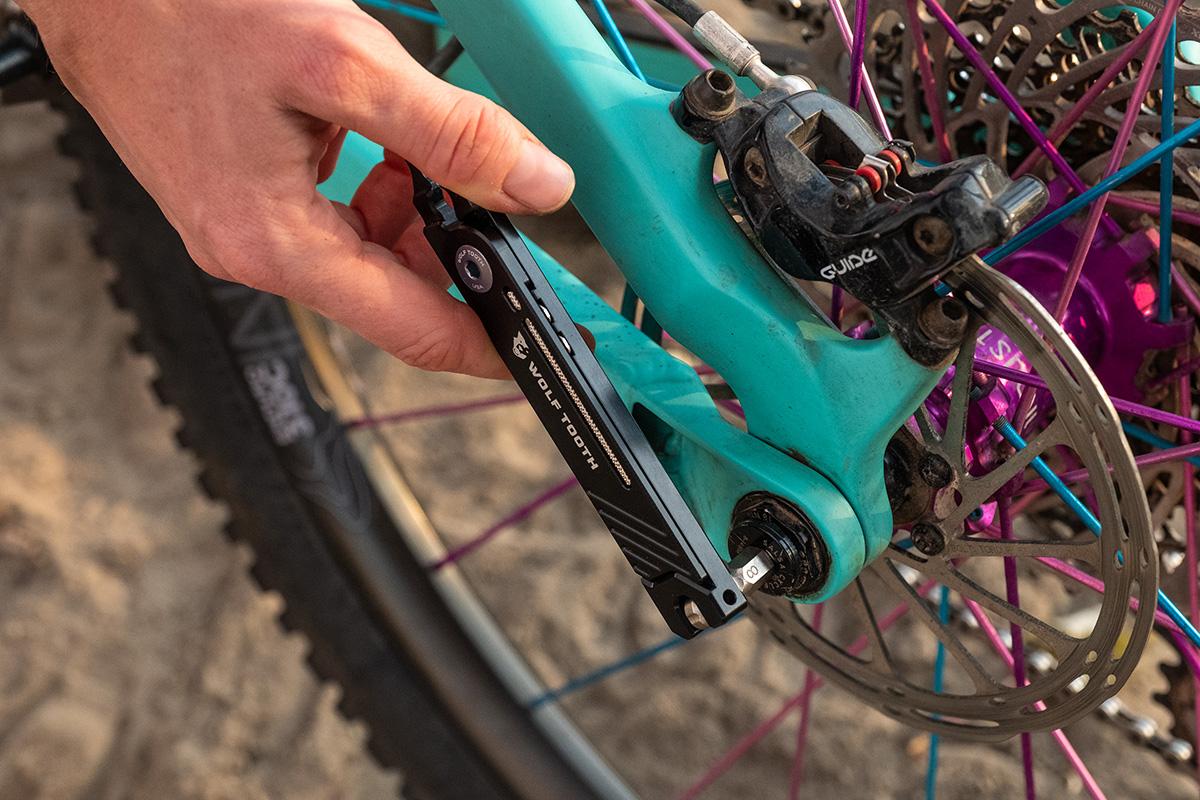 Swivel head design and handle makes this a real tool.
You can tighten loose pedals..one of the many many jobs the Wolf Tooth 8-bit tool kit can do.
All the goodied, held in via magnet and the plier handle.
---
Here is what the company Press release has so say
The new 8-Bit Pack Pliers is a lightweight multi-tool
with 17 functions. Eight attachments nest inside the handles of master link pliers using magnets
and a clever storage system. These attachments then fit into an 8mm ball detent swivel head
that has a 4mm opening for hex bits, which adds functionality to the already-versatile master link
pliers. This new multi-tool was created to solve almost any minor repair on MTB and road rides
alike.

Each of the attachments can be swapped out and chosen for the task at hand. The hex bits
include a spoke wrench and valve core wrench; a T10 and T25 Torx-compatible bit; flat head
#3.5 and Phillips #2 screwdriver; and hex 2, 2.5, 3, 4, 5, and 6mm bits that fit into the ball detent
swivel head that is also an 8mm hex bit. A magnet inside the swivel head keeps the bits in place
while they are being used. The eighth bit is a rasp that can be used for clearing valve stems
clogged with tire sealant. When the swivel head is angled, torque can be added to break loose a
pedal or stubborn bolt. When the swivel head is unbent, the tool behaves like a screwdriver for
faster rotations and quick work.

The master link pliers borrow functions from the popular Wolf Tooth Pack Pliers. The tips of the
pliers can be used to remove and install the master link of a chain, while the pliers section
closer to the bolt was shaped to the specifications for a valve stem lock nut. Storage space for
one set of master links was built into the pliers handle with a magnet to keep them in place. The
chainring bolt that holds everything together is available in a variety of colors.

The 8-Bit Pack Pliers is part of the Wolf Tooth Pack Tools product line. This is a line of tools that
is designed to be lightweight and versatile enough to carry on a ride, while being just as strong
and reliable as the tools on a workbench. Because that strength can be vital on the trail, we
tested the 8mm swivel head function of the 8-Bit Pack Pliers to withstand more than 40 Nm of
torque. Like other Pack Tools, this one was designed and machined with 7075-T6 aluminum at
the Wolf Tooth machine shop in Minnesota. It will fit in a tool wrap or jersey pocket, or be a
mainstay at any home workshop.

Find the new 8-Bit Pack Pliers on wolftoothcomponents.com or wherever Wolf Tooth is sold.