Who's in? Sea Otter classic just around the corner
March 18th, 2016 4:36pm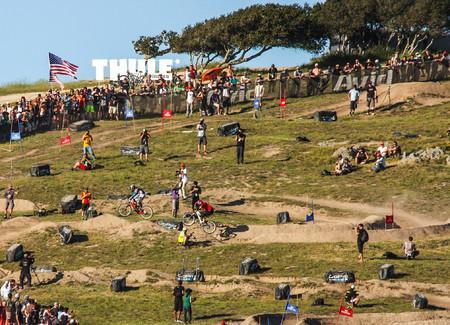 The biggest bike festival in the United States (some argue the world) is the Sea Otter Classic. Held every year for over 25 years now, the Sea Otter is truly a festival. It is designed for riders, to fully participate in every type of riding you can think of. Unlike Crankworx which is really more of a specatator event and party, The Otter is a participation event. While the events are going strong for four long days, the bike industry takes the opportunity to unveil its upcoming treasures. This means that when you are not busy riding or practicing for your event, you can think about riding.
Set in one of the most beautiful places on the planet in Monterey California and Mazda (Laguna Seca) Raceway, this is one place you will never run out of things to do or spectacular places to eat. You will find hundreds of vendors blowing out old stock, promoting and educating on their newest cycling gadgetry, and giving away samples. The event has everyone covered. From kids to parents and roadies to mountain bikers.
For those inclined to seek out their MTB heroes, they can be found usually hovering around their team trailers and are super stoked to talk to fans and fellow racers and riders. Its a great experience to see how the pros prep their bikes too. If your in the right place at the right time, you may be the recipient of some cool free team schwag too.
This year the four day event runs from April 14-17. There are too many race options to list hear, but you can race on the same course as the pros in every discipline. From Beginner to Pro and by age group, there is a group for you. Should you expect to win an event? Maybe, but the experience and participation of the event is what it really is all about.
Some cool things to do besides race?? Here are just a few.
Pump track
Demo Bikes
Speed and Style
Jumping pit into an airbag
Live Music
Beach Yoga
Food court
ebike demos
Dual slalom
Wanna go? All the Sea Otter Information is here; INFO about Sea Otter
Sign up soon to save yourself some money on events. If you're planning on going for multiple days, buy yourself a weekend pass.
Here is a little video from a couple of years ago of the Dual slalom race. Check out the Crash at around 1:30