Valley of the Sun 2013 Road Race - Photo Essay
August 26th, 2016 3:35pm
Valley of the Sun Road Race 2013 - Photo Essay and Results
Another racing season has begun, with the 21st annual Valley of the Sun Road Race, officially kicking off the season to see who will become the dominant American cycling team or racer on the US Pro Tour. For 21 years, the Valley of the Sun Road Race has been the first test of strength for what has now become a deep field of talented riders. The three day event featuring a time trial opener, road race and criterium gives a bit of a glympse into who did their homework in the off season.

This years race under perfect blue skies and low 70 degree temperatures gave teams and riders a chance to show off their new bikes and team kits and get used to team mates in race conditions. All three days saw a steady westerly wind that offered a bit more challenge to the racing for days one and three but caused havic on day two during the road race where poor road surface and narrow lanes made riders "feel like they were riding in the gutter". Gusts up to 25 miles an hour made staying upright a real fight for the riders and eventually took out over 20% of the field in crashes and abandonment.

Day One - Time Trial

The first win of the season went to Jacques Mayne, a very seasoned rider who joined an impressive Jamis Hagens Berman p/b Sutter Homes team. Mayne managed to take the win by just 6.6 seconds over Jim Peterman from Sonic Racing p/b Lucky Pie. Team mate Luis Amaran finished third 13.5 seconds behind Mayne.

Nine of the top 15 positions on the day were filled by team Jamis and Team Jelly Belly Presented by Kenda, which meant final two days of racing would not go uncontested.

While many think Arizona produces the best weather for winter riding / racing it also produces some very fast talent as local riders Aasmundstad and George Cyrus of the Landis / Trek team and Eric Marcotte of Elbowz Racing scored 6th, 7th and 11th places respectively on the day.
Team Jamis brought out the full armada and promptly put 4 men in the top 15 of the TT including 1st & 3d
Valley of the Sun is known for its featureless straight terrain making the 14 mile TT course more mentally challenging than the distance.
Nose to the grind stone..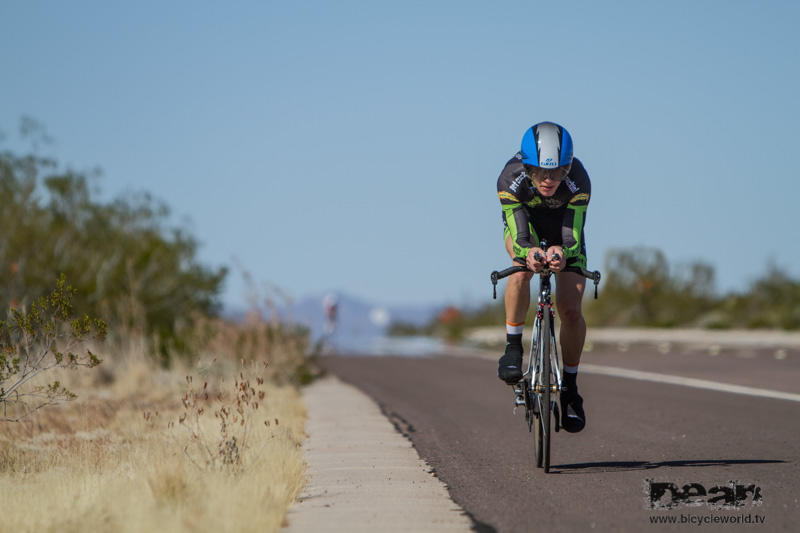 Sometimes focusing on your rabbit is enough to keep the focus.
Team Jelly Belly rode well and put 5 riders in the top 15.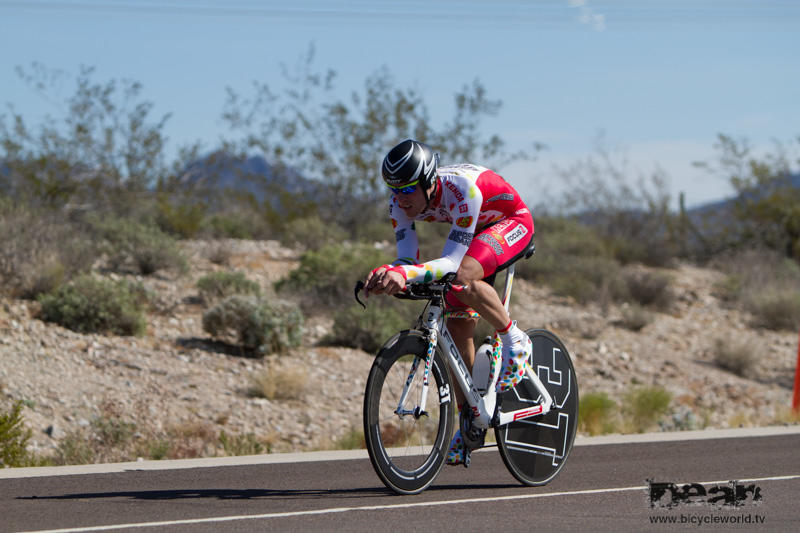 Great position on the bike and looking strong heading up to the turn around.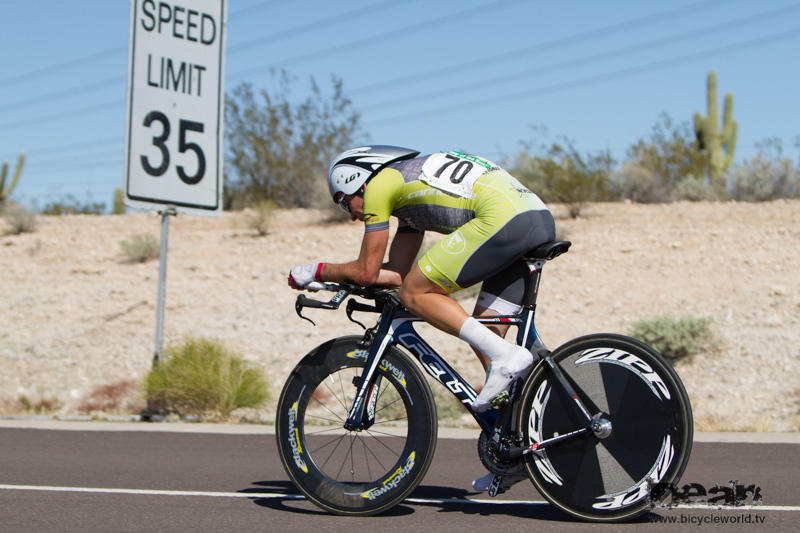 Speed trap - and socks for shoe covers?
Landis Trek rider showing some of the pain of riding a TT.


Day Two - Road Race

While I didn't attend day two I did speak to many of the riders who voiced their relief that they survived the road race that was hammered by stiff cross winds and poor road conditions. Part of the route was being prepared for resurfacing and there was much debris on the road. Attrition due to crashes and abandonment would see over 20% of the field not make it back for day three. For the second day Jacques Mayne would take out the win in a field sprint for team Jamis and stretch the race lead to seventeen seconds over Peterman picking up the ten second time bonus for the win. Chris Kirek of the Jelly Belly squad finisihed second and a six second time bonus with Lee Muse of Bike Religion/Sho Air took third and the four second bonus

Day Three - Criterium

Set against the backdrop of downtown Phoenix, the final day would see the surviving riders throw down for a 70 minute suffering to decide who would take home the early season bragging rights. As with all criterium races, speed is the name of the game and it started from the first lap and continued on for most of the race. While riders took flyers ff the front, only one serious break occurred at about the 50 minute mark when the days most aggressive rider Eric Marcotte began whipping up the pace and teams sent a rider to be sure they didn't miss the break. The lead group of six riders build up a solid 10 second lead over the field until they felt it was too close to let this group keep the lead. That is when team Jelly Belly organized the tip of the chase group and reeled in the field with three laps to go. That is when Marcotte attacked again only this time with his Elbowz team-mate Travis McCabe in tow. The two managed to gap the field slightly and appearing to misjudge the lap count as McCabe swung past the spent Marcotte for a final half lap. Raising his hands briefly at the finish line as though he won the race, McCabe looked bewildered to discover one more lap remained. Caught by the field with a half lap to go, the bunch sprint was won by veteran sprinter JJ Haedo from Argentina giving Team Jamis a clean sweep of the stage wins and earning the overall victory.

Jacques Mayne would take eighth in the sprint to take the GC win for his new team.

The highest placing Arizona rider (non-proteam supported) went to Travis McCabe in 12th place just 1:32 seconds behind the winner.
Final Results can be seen below.
Landis Trek rider leads the field in an early lap in the Pro Mens Crit
Even into a headwind the riders were averaging 31-35 mph as reported by radar gun of the Phoenix PD
Elbowz Racing - Eric Marcotte attacks the pack with several riders in tow. This began the only real break of the day and he made it last until the second to the last lap. Marcotte was easily the most aggressive rider on the day.
One lap later several riders attempted to bridge up but found only no-mans land.
Team Jelly Belly kep the pressure on all day long. This solo effort to bridge up also came up short but
was giving it his all going into the turn.
With a solid tail wind and the end drawing near the field was whipping up the pace down the front straight and the chaos of the train started to show.
The beautifuld day and high speed main straight made this Beatle like setting possible.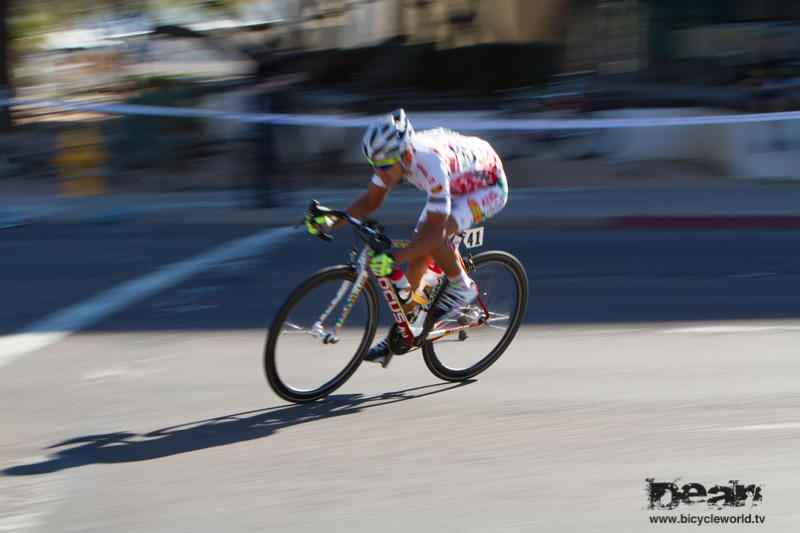 The life of a crit race lies in the speed of the corners.
With just three laps to go the pack caught Marcotte (far left) and was being controlled by Team Jelly Belly and Jamis. Each hoping to set up their sprinter for the win.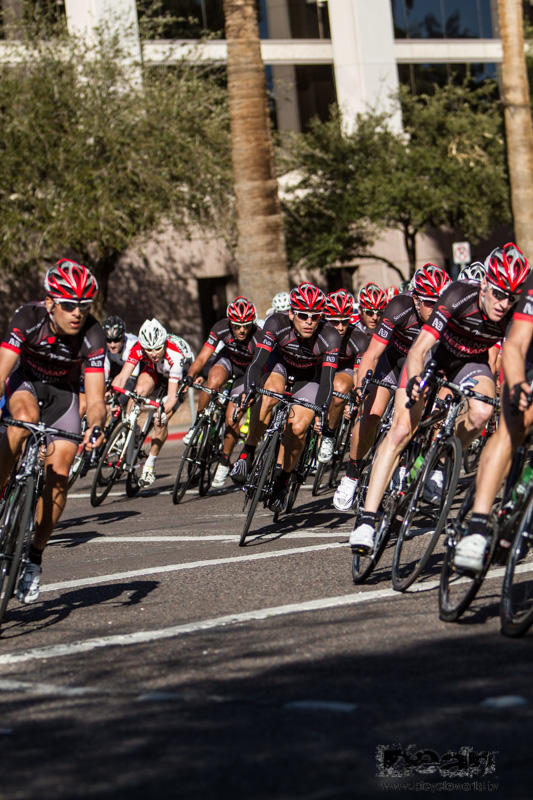 An ominous site - Team Jamis regrouping their lead out train in a solid spot.
After being caught by the pack in the closing laps the two man team of Elbowz Racing attacked again with some success. Here Travis McCabe takes the sling shot from Marcotte (background) to sprint to the finish until....
A mis-calculation of laps or a stunt for camera time, McCabe crosses the line only to find out there was one more lap. McCabe looks dejected here becuase he had just finished raising his hand in what appeared to be a victory salute - adding insult to the pain of a crit sprint.
The agony of defeat. One lap short and no more legs...
In the end it was JJ Haedo taking the stage win and giving Jamis the three stage sweep. GC winner Jacques Mayne (8th) raises his hands in celebration of both.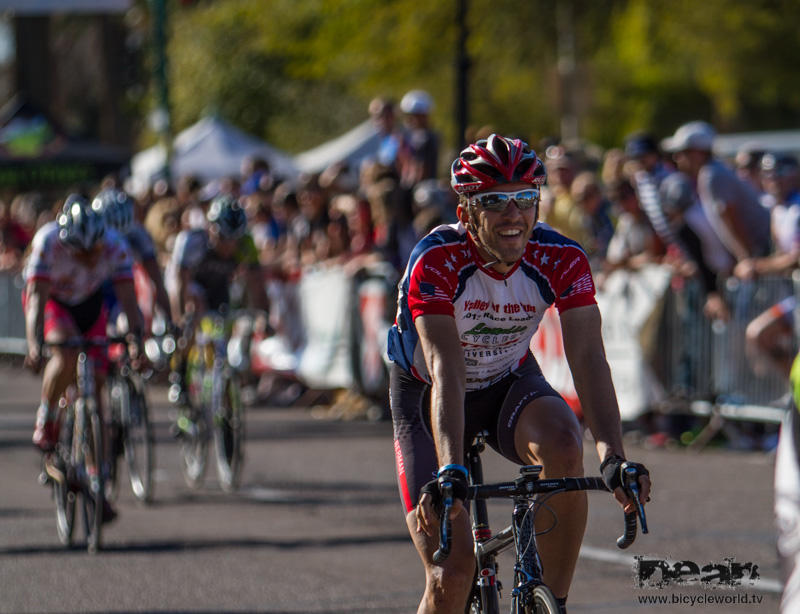 A well deserved smile for the overall winner Jacques Mayne and Team Jamis.

GC Final Placings and Time Differentials


PL GC TIME @ TIME BIB # NAME TEAM HOME TOWN STATE LICENSE

1 5:26:20 23 JACQUES MAYNES Jamis Hagens Berman p/b Sutter Hom 1 0:00:00 35 Corralitos CA 23057
2 5:26:37 0:00:17 83 PETERMAN Jim 28 SonicBoom Racing p/b Lucky Pie Boulder CO 195657
3 5:26:44 0:00:24 85 AMARAN Luis 34 Jamis Hagens Berman p/b Sutter Hom Northvale NJ INTL
4 5:27:09 0:00:49 70 TVETCOV Serghei 25 Full Circle p/b Pure Gear Monrovia UNK 341418
5 5:27:12 0:00:52 40 MUSE Lee 28 Bike Religion/Sho Air Elite Team San Marcos CA 281123
6 5:27:29 0:01:09 36 ACEVEDO Janier 28 Jamis Hagens Berman p/b Sutter Hom Northvale NJ 392660
7 5:27:34 0:01:14 41 DAVILA Louis 21 Jelly Belly p/b Kenda Sonora MX INTL
8 5:27:39 0:01:19 37 MAZICH Sean 27 Jelly Belly p/b Kenda Phoenix AZ 196405
9 5:27:40 0:01:20 82 CYRUS George 24 Landis/Trek Queen Creek AZ 324344
10 5:27:41 0:01:21 52 HAMILTON Nic 27 Jelly Belly p/b Kenda CN. Victoria INTL
11 5:27:47 0:01:27 27 BURNETT Ian 27 Jelly Belly p/b Kenda Durango CO 191725
12 5:27:52 0:01:32 38 MCCABE Travis 24 Elbowz Racing Tucson AZ 268330
13 5:27:52 0:01:32 9 EATON Daniel 20 Gateway Harley-Davidson/Trek U23 St. Louis MO 306276
14 5:28:33 0:02:13 57 SMITH Dion 20 Full Circle p/b Pure Gear Claremont CA 707136
15 5:28:42 0:02:22 53 LEROUX Jos 26 Get Crackin Newbury Park CA 367190
16 5:28:46 0:02:26 68 KIREK Chris 24 Jelly Belly p/b Kenda Stellenbosch SA INTL
17 5:29:01 0:02:41 28 ZELLMER Willy 20 Gateway Harley-Davidson/Trek U23 St. Louis MO 225407
18 5:29:01 0:02:41 62 PETERSON Kennett 28 Team Rio Grande Boulder CO 256803
19 5:29:08 0:02:48 66 THOMAS Paul 45 Landis/Trek Tucson AZ 87933
20 5:29:14 0:02:54 54 RICKER Colby 31 SonicBoom Racing p/b Lucky Pie Boulder CO 257288
21 5:29:14 0:02:54 44 HAGMAN Alex 30 Jelly Belly p/b Kenda Ft Collins CO 173228
22 5:29:15 0:02:55 80 BOYNTON Jason 42 Folsom Bike/VW/Raley's Yuba City CA 4526
23 5:29:18 0:02:58 12 CURRAN Geoffrey 18 Get Crackin Tustin CA 275866
24 5:29:24 0:03:04 3 VAN DER VELDE R 26 Jelly Belly p/b Kenda San Marcos CA 394632
25 5:29:41 0:03:21 61 SCHEFFLER Rob 27 Fremont Bank Cycling Team Alamo CA 239048
26 5:29:44 0:03:24 65 CORELLA Rene 22 Stage 17-Cylance Hermosillo MEX INTL
27 5:30:12 0:03:52 10 SLACK Erik 25 Canyon Bicycles-Shimano Meridian ID 208936
28 5:30:16 0:03:56 47 HUFF Charles 33 Jelly Belly p/b Kenda Springfield MO 132539
29 5:30:17 0:03:57 76 GARIBAY Orlando 20 SC Velo MRI Endurance Elite U23 Pomona CA 391795
30 5:30:20 0:04:00 31 HAEDO Juan Jose 32 Jamis Hagens Berman p/b Sutter Hom Argentina UNK 196354
31 5:30:25 0:04:05 14 COMPANIONI Rube 23 Jamis Hagens Berman p/b Sutter Hom Northvale NJ 381975
32 5:30:29 0:04:09 73 ATEN Chris 26 Landis/Trek Flagstaff AZ 234254
33 5:30:39 0:04:19 7 PALMA Guido 26 Jamis Hagens Berman p/b Sutter Hom Kutztown PA 289480
34 5:30:44 0:04:24 67 SANDOVAL Diego 20 SC Velo MRI Endurance Elite U23 San Ysidro CA 273807
35 5:30:55 0:04:35 33 ALLISON Austin 23 Horizon Organic/Panache St. Louis MO 224219
36 5:30:56 0:04:36 30 GILYARD Jared 30 Landis/Trek Flagstaff AZ 226665
37 5:31:19 0:04:59 45 SCHNEIDER Ryan 30 Bike Religion/Sho Air Elite Team Dana Point CA 304909
38 5:31:32 0:05:12 39 ZAMBRANO Camilo 23 SonicBoom Racing p/b Lucky Pie Boulder CO 357730
39 5:31:37 0:05:17 71 JAVIER Peris 38 Requena-Pirates Team Palma de Mallorca AZ INTL
40 5:31:54 0:05:34 2 PARRISH Jonathan 29 Athlete Octane Chandler AZ 147952
41 5:32:03 0:05:43 24 SCHMITT Morgan 28 Jelly Belly p/b Kenda Woodinville WA 189118
42 5:32:39 0:06:19 74 BOSCOE Andrew 25 Bike Religion/Sho Air Elite Team Alta Loma CA 215226
43 5:32:51 0:06:31 84 MARCOTTE Eric 33 Elbowz Racing Scottsdale AZ 212698
44 5:33:02 0:06:42 5 TRAFTON Brandon 23 Full Circle p/b Pure Gear Davis CA 240033
45 5:33:07 0:06:47 72 GROVE Hunter 20 SC Velo MRI Endurance Elite U23 Tustin CA 218355
46 5:33:43 0:07:23 26 ALEMAN Demis 26 Jamis Hagens Berman p/b Sutter Hom Kutztown PA 305654
47 5:33:58 0:07:38 32 WOLFE Ben 20 Jelly Belly p/b Kenda Old Lyme CT 260405
48 5:34:35 0:08:15 19 MOONEY Phil 28 Jamis Hagens Berman p/b Sutter Hom Northvale NJ 206962
49 5:35:30 0:09:10 22 RYAN Morgan 22 Get Crackin Ventura CA 177959
50 5:37:40 0:11:20 75 TONI Ballester 22 Requena-Pirates Team Palma de Mallorca AZ INTL
51 5:37:47 0:11:27 16 YEATON Josh 24 GS Ciao/Horizon Organic/Panache El Boulder CO 233175
52 5:51:56 59 ESCUTIA Sergio Mexico 52 0:25:36 20 San Pedro MEX INTL
53 5:52:00 0:25:40 64 D'AURELIO Shawn 31 Full Circle p/b Pure Gear Irvine CA 287621
54 5:52:08 0:25:48 29 ULVESTAD Andrew 25 Swamis DET Chicago IL 306183
55 5:53:00 0:26:40 1 RECCA Kit 22 Horizon Organic/Panache Golden CO 252699
56 5:53:12 0:26:52 78 MILLER Drew 45 Landis/Trek Flagstaff AZ 52030
57 5:54:33 0:28:13 49 VANGASSEN Shawn 39 socalcycling San Diego CA 156086
58 5:54:48 0:28:28 58 SALSKOV John 37 The Green Team Tempe AZ 113251
59 5:54:58 0:28:38 25 BORONOW Eugene 46 GS Mengoni USA Tucson AZ 57369
60 5:56:03 0:29:43 63 WARNER Paul 22 Bob's Bicycles Boise ID 349884
61 5:56:56 0:30:36 17 NEWKIRK Isaiah 23 Gateway Harley-Davidson/Trek U23 Indianapolis IN 282064
62 5:57:33 0:31:13 20 CASSIN Mac 22 Gateway Harley-Davidson/Trek U23 St. Louis MO 287030


Womens Race

Its no secret that Time Trialing is key to winnng stage races, in a three day event with little climbing it is near impossible to make up time on the day one leader without winning the stages and picking up time bonuses. For the small womens field the race was all but locked up after day one where Alison Tetrick of Exergy Twenty16 crushed her competition by a fifty three second margin to win the time trial. Barring a catastrophic mishap, Tetrick could finish in the field for the remaining two days to take the win. But instead of sitting in Tetrick tested her early season form on each of the remaining days gathering up a fourth place in the road race and a sprint win in the criterium. The criterium win was much more closely contested as Lisa Mueller - Metromint Cycling and Melissa Ross - FASTER Performance Center took it to the line to make Alison earn the victory.
Alison Tetrick spared no mercy on the field. She rode strong and staying out of danger near the front all three days.
The pro women cross the start finish in chase of the moto.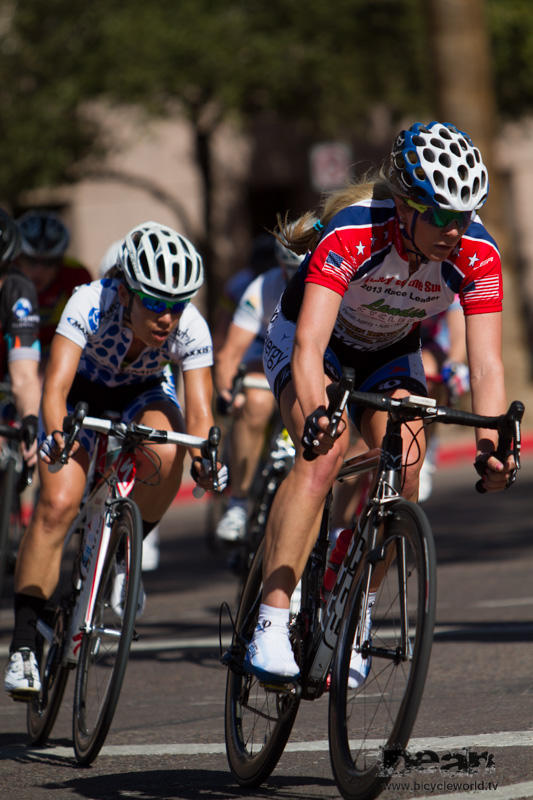 Lisa Muelle of Metromint Cycling contested Alison Tetrick till to the end never letting her get away during the pro womens criterium.
Taking turn at the front
Winning by inches at the line - Tetrick just squeezes out Mueller (right of screen) at the line.


Womens Pro GC Final Results

PL GC TIME @ TIME BIB # NAME TEAM HOME TOWN STATE LICENSE

1 4:15:49 660 TETRICK Alison Exergy TWENTY16 1 0:00:00 28 Mill Valley CA 266806
2 4:17:03 0:01:14 666 SHEA Marti 50 Destination Cycling Marblehead MA 236900
3 4:17:09 0:01:20 663 VAN HOUWELING 40 Metromint Cycling Berkeley CA 201051
4 4:18:24 0:02:35 664 DICKSON Catherine 49 Team Winded Glendale AZ 177668
5 4:18:32 0:02:43 661 CLAFFERTY Sara 28 Pinnacle p/b Argon 18 Mountain View CA 278365
6 4:19:06 0:03:17 650 ROSS Melissa 28 FASTER Performance Center Scottsdale AZ 212478
7 4:19:17 0:03:28 656 DESPAS Jane 48 Pinnacle p/b Argon 18 Menlo Park CA 105201
8 4:19:22 0:03:33 667 SIEGEL Rebecca 26 SCVelo/Incycle Pasadena CA 285569
9 4:19:53 0:04:04 658 MUELLER Lisa 28 Metromint Cycling Los Angeles CA 271891
10 4:20:17 0:04:28 669 ZINK Alexis 24 NCVC/UnitedHealthcare Bethesda MD 336976
11 4:20:38 0:04:49 668 GRANT Emma 22 Pinnacle p/b Argon 18 Roseville CA 379338
12 4:21:15 0:05:26 671 JENKINS Judy 33 Landis/Trek Tucson AZ 263876
13 4:21:31 0:05:42 653 MITCHELL Nicole 30 Winner's Edge Southampton UNK INTL
14 4:21:32 0:05:43 659 FOX Lindsay 20 Jobing.com Women's Racing Phoenix AZ 293037
15 4:22:11 0:06:22 655 LYSAKOWSKI Kathl 29 Farm Team Elite Women Ware MA 302050
16 4:31:11 0:15:22 654 ZIERKE Jennifer 29 Pinnacle p/b Argon 18 Millbrae CA 275670
17 4:43:17 0:27:28 665 TRUITT Kimberly 26 Landis/Trek Tucson AZ 289865


Save
Save