The Best Value MTB wheels on the Market?
September 27th, 2018 12:00am
FSA Grid MTB Wheels – The Best Value Wheels on the Market?
Seems like all we hear about these days is carbon. While it has definitely has pushed the boundaries of frame and component development to new levels, it comes with a price. So what is a rider who loves to ride and wants performance but doesn't have the money to buy such high priced goods supposed to do?
Well the good news is that while carbon was progressing so has aluminum design. Better structural designs, better extrusion and casting methods have given manufacturers better shape options and more strength and generally at a lower cost.
FSA's (Full Speed Ahead) dirt side of the business is one of those industry staple brands that has continued to develop aluminum alongside their carbon offerings. And the result is a range of mountain bike aluminum wheels that perform very well and at a ridiculously low price point.
FSA Grid is the side of the business for all things mountain biking and our long term review of their FSA Grid 27.5 wheelset put the Carbon vs Aluminum challenge to the test on some of the rockiest and roughest trails in Arizona.
Coming off a positive long-term review of a $2400 set of carbon all mountain wheels from another famous wheel brand, my expectations of the ride quality were honestly, low. I mean, how could a $599 set of wheels compete?
NOTE: While our test is on 27.5" wheels, FSA also makes the Grid wheels in 29" size.
What I found out of the box was this.
The wheels were very well thought out. FSA did its homework in making the rims wide enough at 31mm to maximize a 2.4 tire traction, make their hubs thru-axle compatible on both ends; 15mm-front & 12mm rear as well as boost 148 compatible. Since the company made these wheels to be take Enduro abuse they made these hookless rims Asymmetrical – which allows for a strong spoke tensioning and strength, 25 mm deep and laced them in a 2 cross double butted spoke (stainless steel) configuration with brass nipples. FSA built these to last.
Finally, the hubs use cartridge bearings at both ends with the rear wheel 4-pawl aluminum body compatible for either Shimano and SRAM drivetrains.
So with all these features, you would think the wheels would be heavy. But at 1800 grams a set, they aren't bad considering these wheels were made to take abuse and go downhill faster than they go up.
Aluminum body, cartridge bearings, double butted spokes and 4 pawl system - FSA built these to take some abuse.
What I found on the trail…well, read on.
So immediately out of the box I wrapped the Grid wheels with the supplied rim tape to make them tubeless and the Vittoria 2.4 tires mounted up with zero issues. Ten minutes from box to bike, our Pivot Mach 6 was rolling.
Running 24-27lbs of pressure in the rear and 22lbs up front we hit the trail for the first of over 1500 miles of use. Over nearly a year of testing, I found the wheels where very laterally stiff and still are with just the right amount of feedback when pushing them in the turns.
The wheels are rolling on my do–it– all 6" ride and have logged 45 mile long trail riding days, 4000 ft climbing days and 4000 ft descending days all without complain.
Not one broken spoke and still true, these wheels are the real deal.
In a sport where pictures and videos of bike porn swamp us and all the top riders are riding (free) carbon wheels it's hard to imagine wanting for aluminum wheels but think about the value proposition.
With bike suspensions so advanced and new tube designs and materials being used, the wheels smoothing characteristics are much less important. Dependability and stiff are still tops and for an $1800 savings I can put up with 300 extra grams, so why not spend a little bit of time dialing in your suspension and get to rippin?
Your stoke factor will remain high and you can afford to eat. My vote for best wheel deal on the planet and you can get them here or ask your local bike store.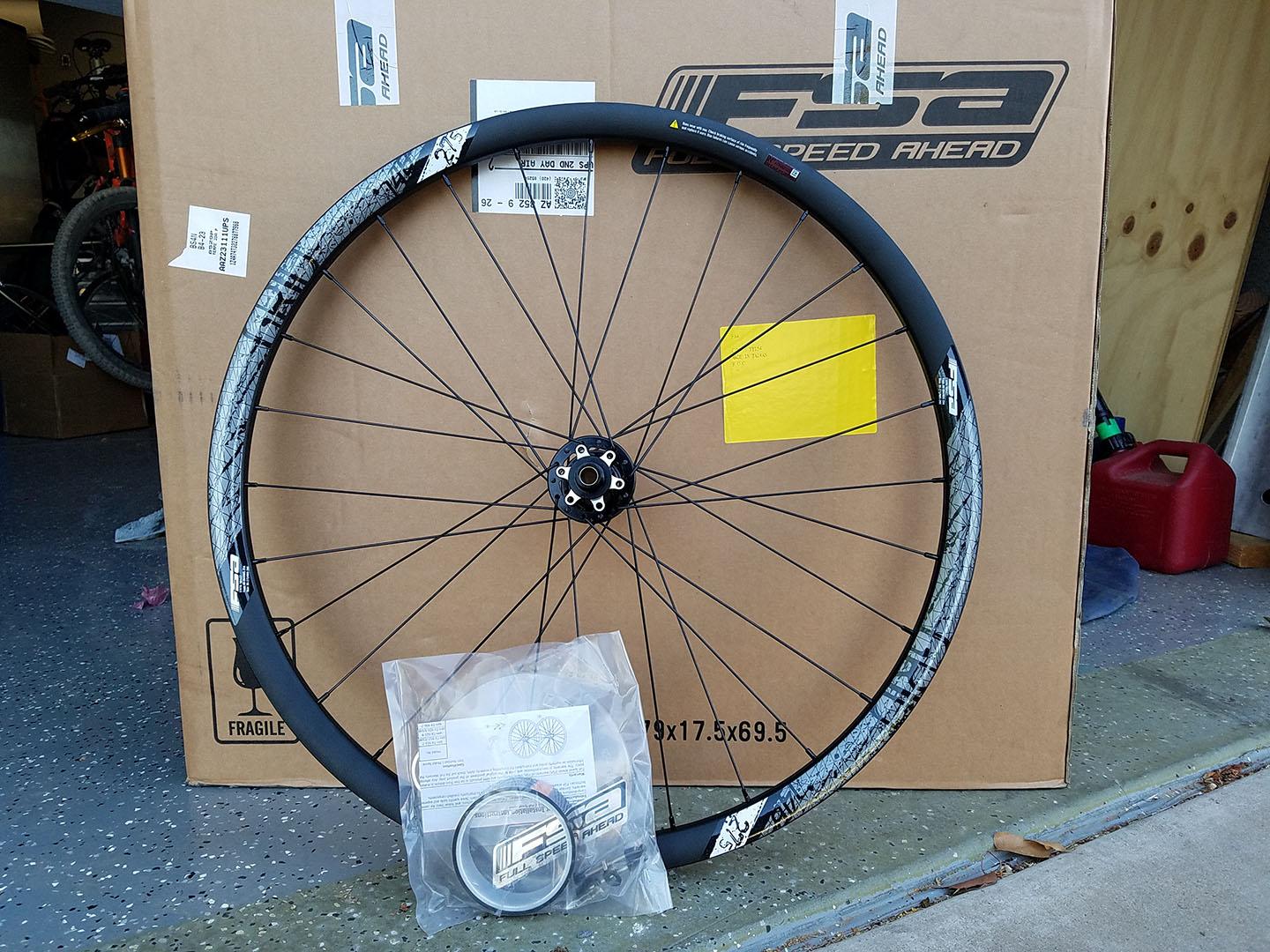 FSA supplies ALL the goodies in their box. Rim tape, tubeless valves and cassettes spacer for ther rear wheel (if needed).