Suomy Helmet Launch with Crash Replacement
January 23rd, 2017 12:33pm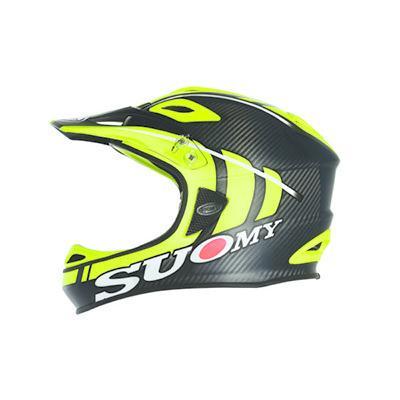 Suomy Helmet Launch includes "Crash Replacement Program"

For those who follow motorcycle road racing, you are more than familiar with the Suomy brand. A helmet perched on the shoulders of some of the worlds fastest riders. If you don't watch motorcycle road racing, then let us introduce you to a very impressive company with a background in rider safety at a world class level.

When Suomy brought out their new line of helmets (full face mtb, road and aero road) this year at interbike, we took notice. While the world seems to have been swamped by companies jumping in the helmet market over the last couple of years, few can match the long term commitment that Suomy has made in being a helmet manufacturer first and not just a company trying to jump on the helmet bandwagon.

Suomy Enduro Helmet and Road Helmet - just part of the helmet family from Italy's finest.


As a self- professed helmet geek, shape and design is a very important requirement for me to buy a helmet. After protection, it is the most important thing. And Suomy delivers in spades. With all the right curves and euro graphics, these helmets look like a winners. So while we have not yet tested one of these helmets, we will, but in the meantime, if you are looking for a new dome protector for your dirt jump, Enduro, downhill or freeride shenanigans, or your road racing exploits you should look at their fine pieces of safety gear.

All of Suomy helmets are top of the line and that means they are not super cheap. But, when you factor in the crash protection program outlined below, it isn't so bad. Suomy will not bury you with a million options of helmets, they keep their design and construction options simple. You can check out their helmet line-up here.



Here is the official word form Ciclista America - (The US Distributor for Suomy and Sidi in North America) on their crash replacement program.
---


Ciclista America has been off to fast start in the US with the introduction of the Suomy brand of helmets. Dealers are signing up, the press is intrigued, and the brand's Italian passion is running high!



Everyone that attended this year's Interbike show, and checked out the Suomy helmet line, were impressed by the brand's quality and attention to detail. Helmets are made to do a job, a job that Suomy helmets do well, but American consumers demand a high level of customer service at all times. Thus, In order to offer added value to every Suomy helmet, Ciclista America has created a "Crash Replacement Program" for the Suomy riders in the USA.

Effective immediately, the Suomy Helmet "Crash Replacement Program" will be as follows:



"Ciclista America will accept any Suomy helmet with visible crash damage that was purchased within the last three years under the brands "Crash Replacement Program". Helmets must be returned to Ciclista America, with a copy of the purchase receipt, in order to receive a voucher for 30% off the retail purchase price of any new Suomy helmet."
Save