Spurcycle Multi-Tool Treasure
July 11th, 2019 12:00am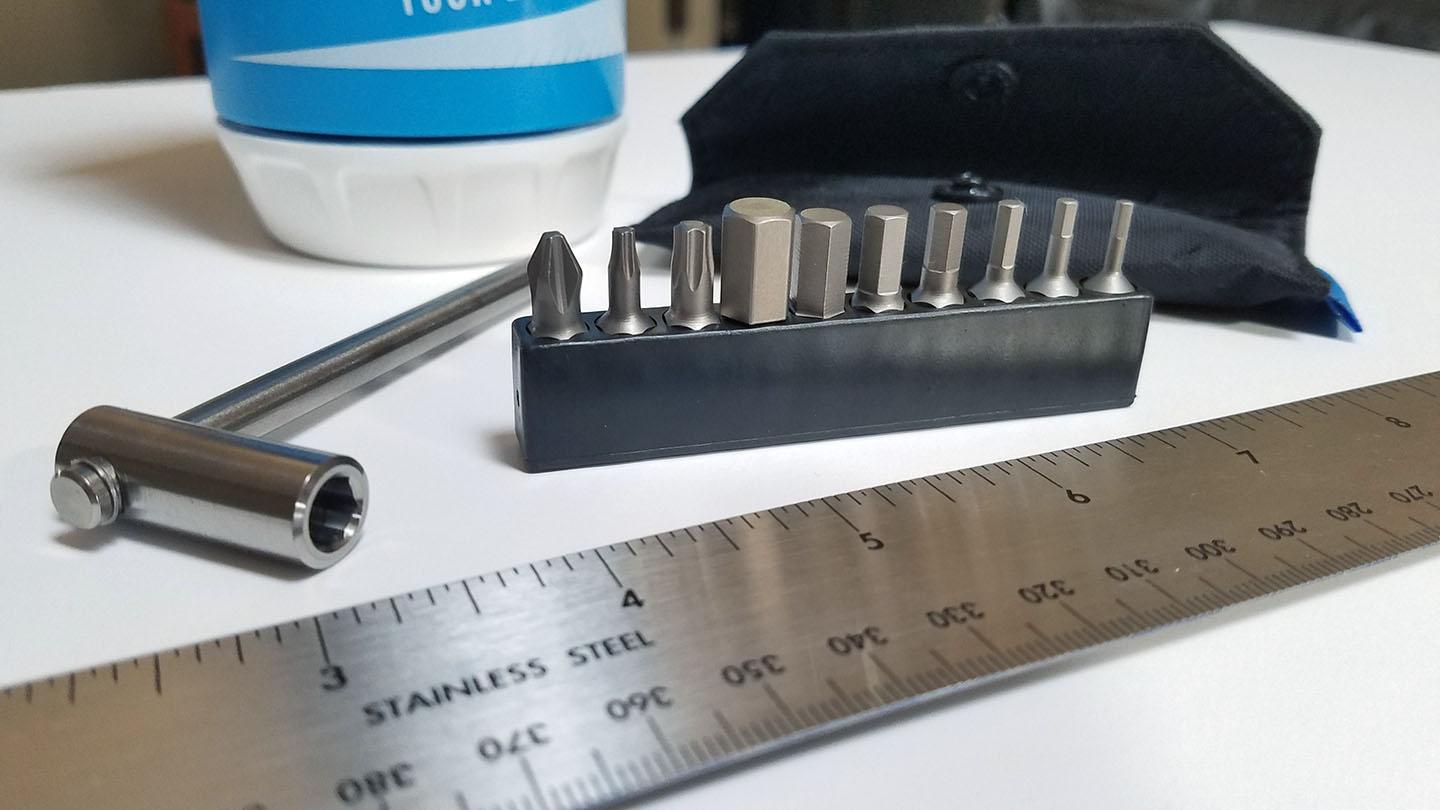 When form and function collide you have a winning combination. In the cycling world, that usually includes light weight too. Spurcycle is one of those companies that seems to have their focus on producing items that a serious rider needs that provide all of the above.
Known more for their really sweet sounding bike bells, Spurcycle has been continuosly developing one product after another that hits the mark and keeps their high standards in place. Quality over quantity seems to be their philosophy and is a refreshing one in the bicycle world.
This review is for the multi-tool kit. Now that probably won't make you jump out of your chair, but this little tool kit is, well, pretty cool.
First it's small, really small - like only 3" long x 1" wide and 93 grams light. It features allen bits, torx bits and a phillips head screw drive along with a nifty drive socket boasting a 3" lever. Nothing will fit nicer in your pocket or backpack.
It's American Made - yes sir, we never miss a beat to support American made product. Especially when it's this good.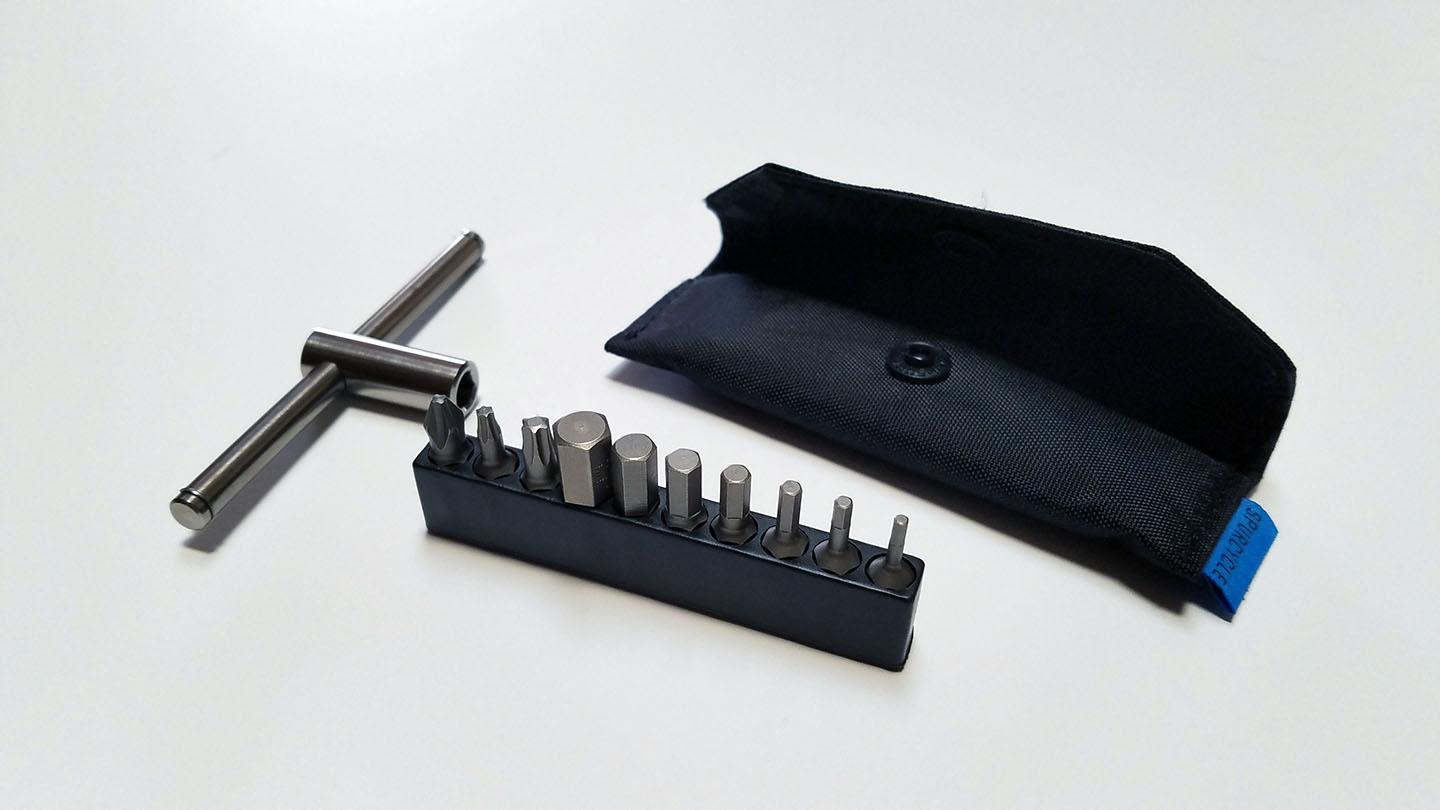 The entire kit is smaller than a cliff bar and way more valuable when you have a mechanical issue to resolve
Did someone say Titanium? The Spurcycle tool kit is well we equipped with Grade 5 titanium handle/driver and chromed S2 bits in 10 sizes: 2mm, 2.5mm, 3mm, 4mm, 5mm, 6mm, 8mm, T10, T25 and P2.

All of the bits reside in the plastic holder that resides in a tidy little bag along with the driver. Cute. Pretty much everything a road bike rider, gravel bike rider and even an MTB rider would need. The only area that the Spurcycle Tool Kit doesn't cover is on a few of the larger allen keys in the mountain bike world but its not earth shattering. It also doesn't have a chain tool but adding that takes away from the compact beauty of the tool kit and can easily be purchased (if you dont already own one).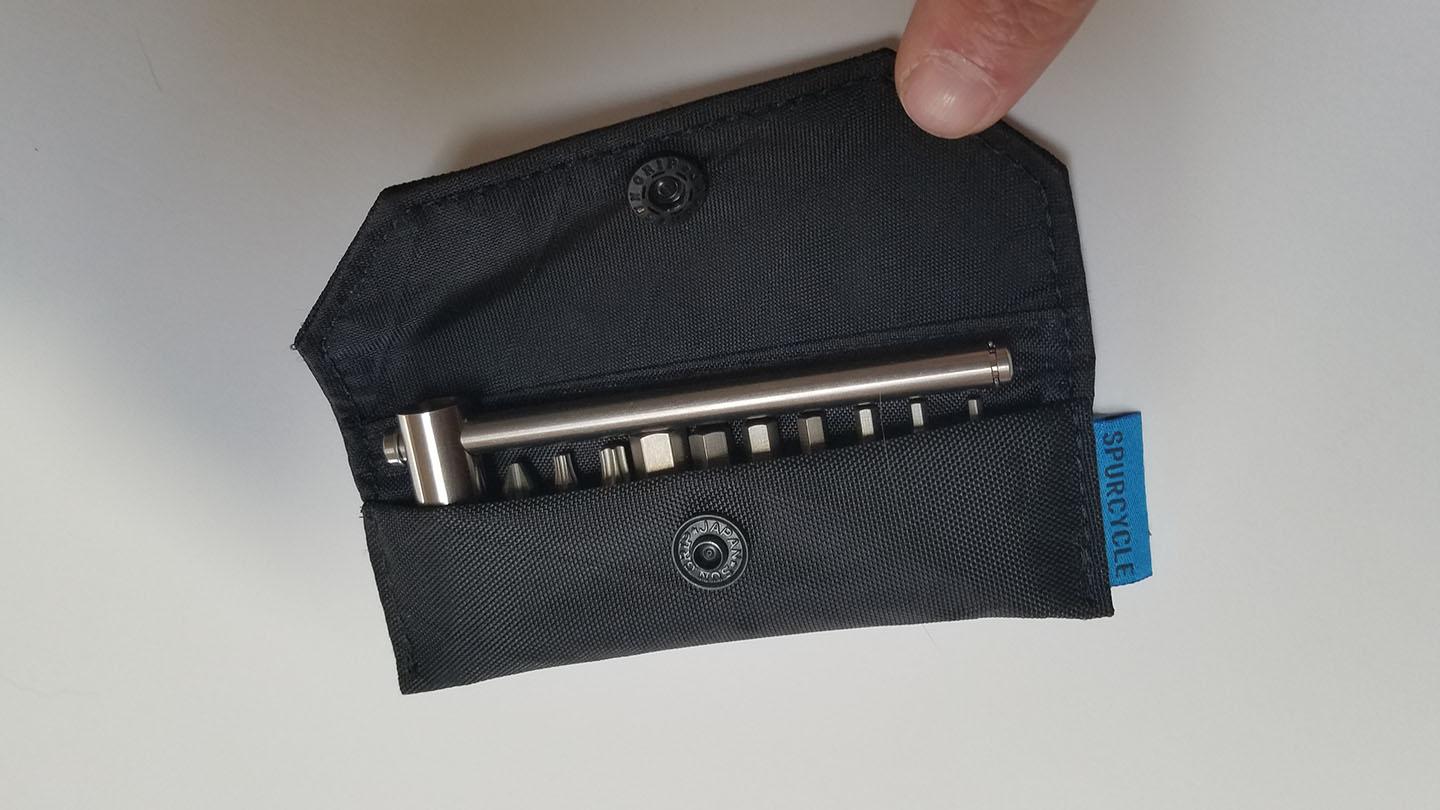 Everything has a place and its surprisingly easy to access

How does it work? In a nutshell. Great. It does what its designed to do but in a smaller, lighter package than most. The sliding handle provides clearance options during pretty much any bike related repair and the 3" handle is large enough to provide real leverage and get your hand on. One of the main complaints I have about the folding multi-tools I have used is the that they fold when you're trying to tighten bolts. The Spurcycle handle does not suffer from that issue.
At a cost of $69 the Spurcycle Tool checks all the boxes for our ride needs. It is light, super portable and works well.

Spurcycle bike multi-tool
Price: $69
Weight: 93g
Material: Handle and chuck: Grade 5 titanium; Bits: Chrome-covered steel
Bits: 2mm, 2.5mm, 3mm, 4mm, 5mm, 6mm, 8mm, T10, T25 and P2
Contents: Handle and chuck, 10 bits, plastic storage tray, X-Pac carrying pouch
MADE IN USA
More Info: spurcycle.com
The rugged pouch will out last your bike.