Sea Otter 17 Dual Slalom Photos
May 1st, 2017 3:02pm
Sea Otter Dual Slalom Delivers The Goods
Another season kicked off at the Sea Otter Classic. This time with many more vendors and lots of great weather.
Instead of trying to cover every event on the weekend, we will just cut to the chase to what is always the best show of the weekend, the dual slalom
There were a number of big names absent from the line up with the UCI World Cup downhill kicking off next week. Many riders didnt want to risk being jet lagged for what is argueably their main focus. But there was still more than enough fast riders to make the fields super competitive on both the mens and womens sides.
The womens race was one of the best we have seen in a while with a deep field of world champions, former world champions, national champions and a host of young guns to keep them honest.
Caroline Buchanan, Jill Kitner, Anneke Beerten, Danielle Beecroft all made their way through the field as expected until things got serious in semi-final rounds. GT Team mates Beerten and Beecroft met in the quarter finals with Beerten elimnating Beecroft for her spot in the semi. For those who watched live it was apparent that Buchanan and Kitner were headed for a collision course in the finals as the two strongest and fastest riders on the day.
The final was outstanding as both ladies threw down hard with Jill Kitner edging out Caroline in the two run main. Having seen Jill race for many years, we can say that she is SUPER fit and it shows in her riding. For Caroline, who is switching bikes between BMX, DH and Dual Slalom, she continues to get faster on the mountain bike side of things and we fully expect her to be on the top step of the podium soon.
2) Caroline Buchanan - Airborne
With former dual slalom winners in the field including former world champions Jared Graves and Thomas Slavik, Kyle Strait and Cody Kelly getting to the top step of the podium was still going to take fitness and consistent speed, round after round.
One by one, top level riders were eliminated inlcuding former world cup downhillers, Bryn Atkinson, Logan Bingelli, Eliot Jackson and Fabien Cousinie. Number two seed Jared Graves was suprisingly taken out by Cody Johnson who was on fire all weekend making the semis in the pump track and grabbing an 8th place on the day.
Looking stronger and stronger each round, Mitch Ropelato, Thomas Slavik, Kyle Strait and Martin Maes continued to move through their heat races winning on both red and blue courses.
But it was Maes and Ropelato who survived the super tight semi-finals to ride for the title. With the home town (USA) crowd behind him, Ropelato delivered two solid runs to grab his first ever win among a raucus crowd.
Kyle Strait took the consolation race and scored another good result on a course he is always tough on.
1) Mitch Ropelato - Santa Cruz
3) Kyle Strait - Commencal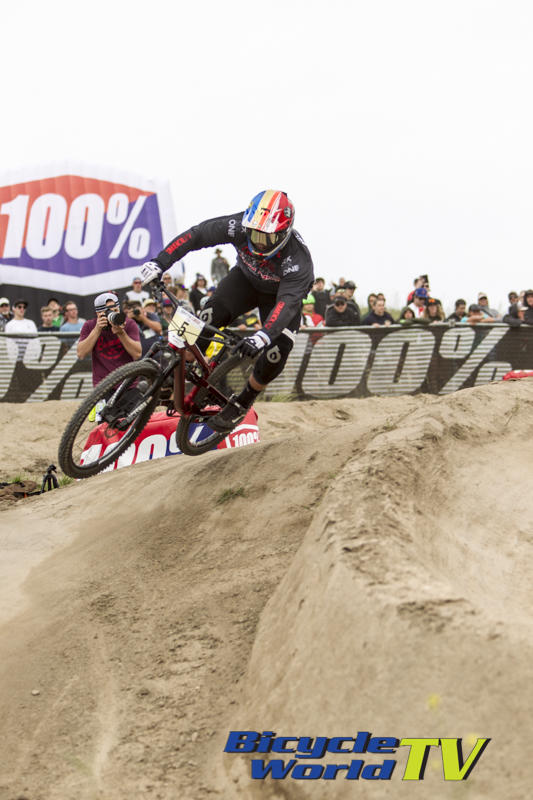 Kyle Strait getting after it in the early rounds
Thomas Slavik with his four cross skills gapping into the berm. Thomas was fast all day.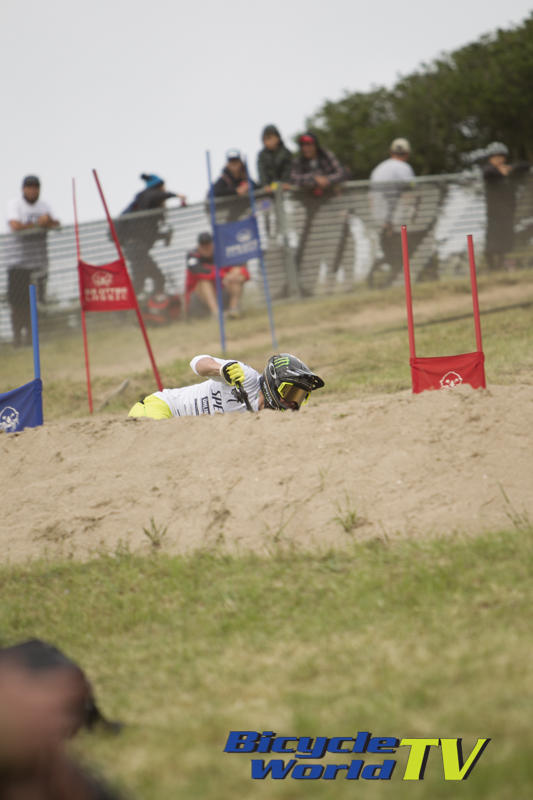 It was a bit of shock for Jaren Graves to get bounced mid rounds, but with competition this steep, one mistake will end your day.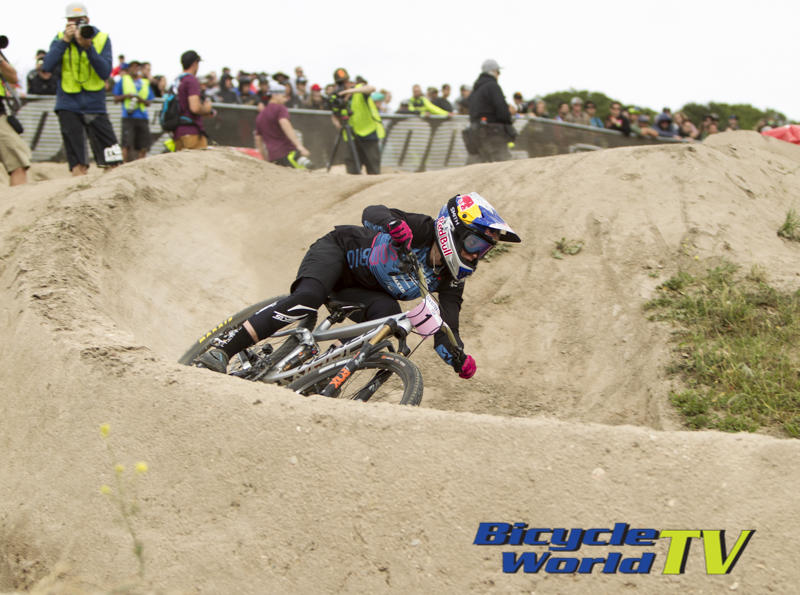 Jill Kitner was railing everything in site.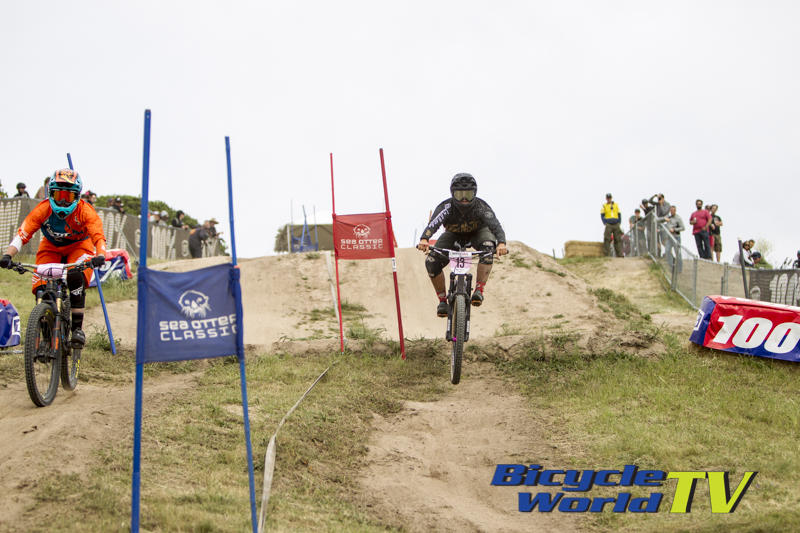 Pivots Bernard Kerr (left) did not go too deep in the rounds but is always fun to watch and won this round over Chris Powell of Better Buzz Coffee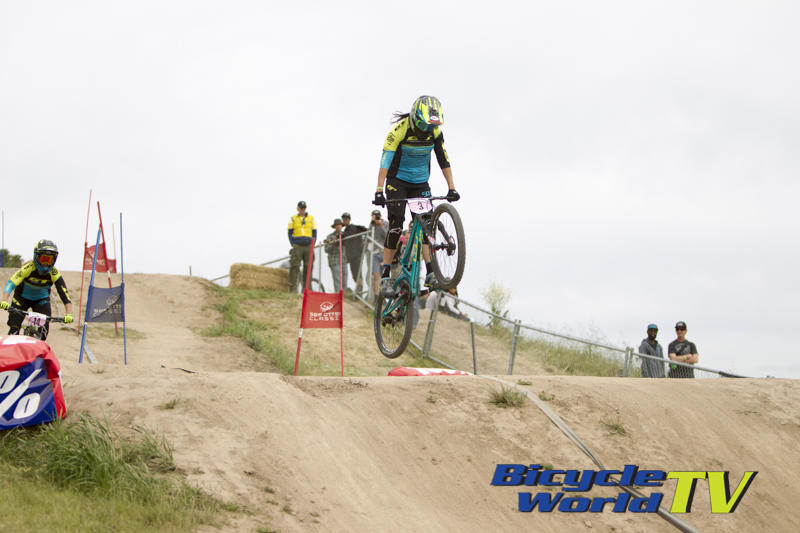 Anneke Beerten has the chops to ride anything and is showing it off to her team mate whom she elimated.
Caroline Buchanan will be heading to the BMX world champs just one week after this. Busy and Talented Girl.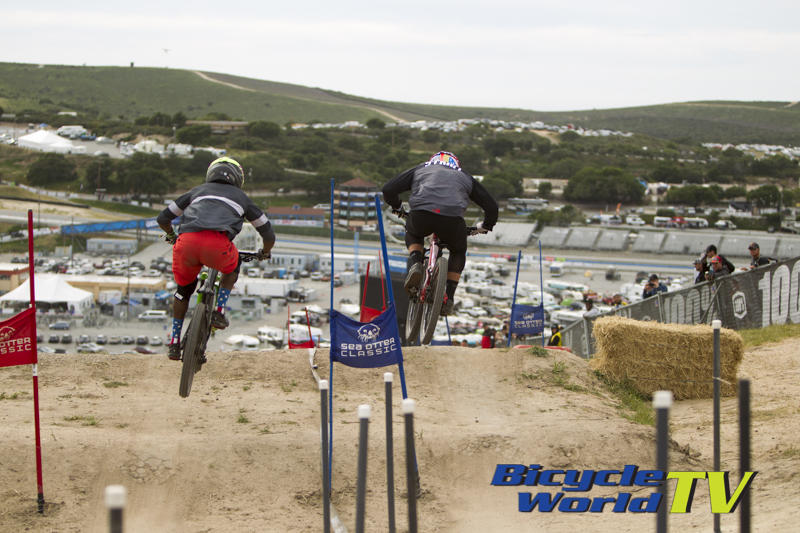 Out of the gate - a key to winning. Kyle Strait already pulled holeshot and is gone.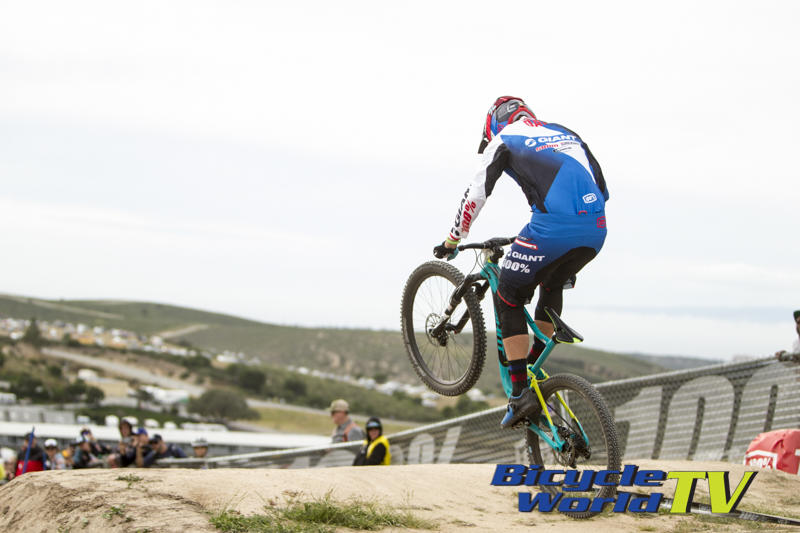 Giant Rider Marcelo Gutierrez showing how to manual over the first step up - was very tough up until the end.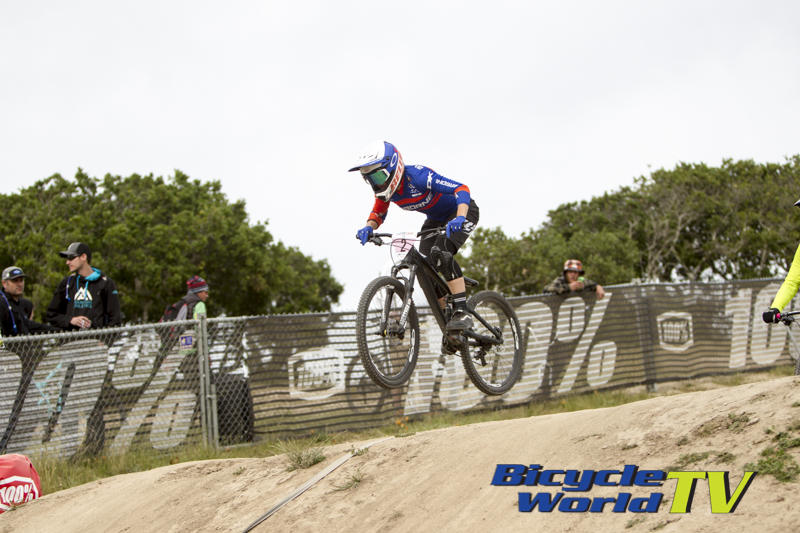 The top section was difficult and proved to be one of the deciding sections of the track. Caroline Buchanan did not suffer here.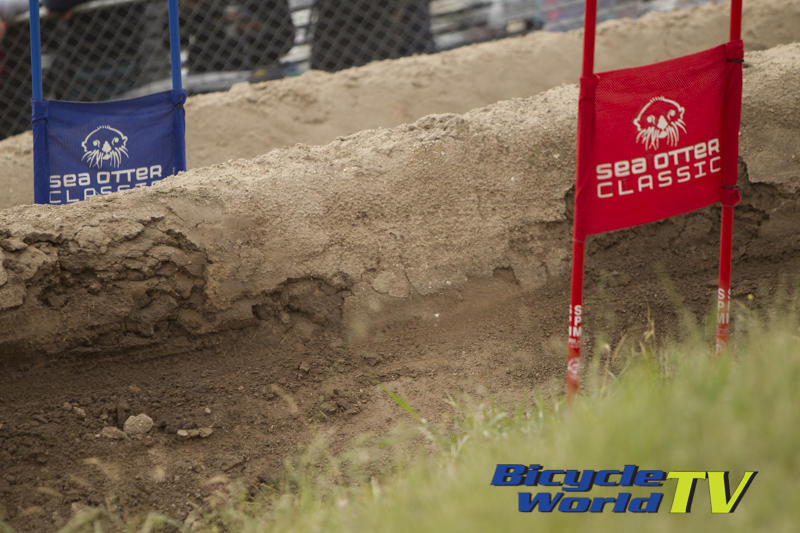 The berms held up great with the exception of this piece which didnt seem to slow anyone down. The course is FUN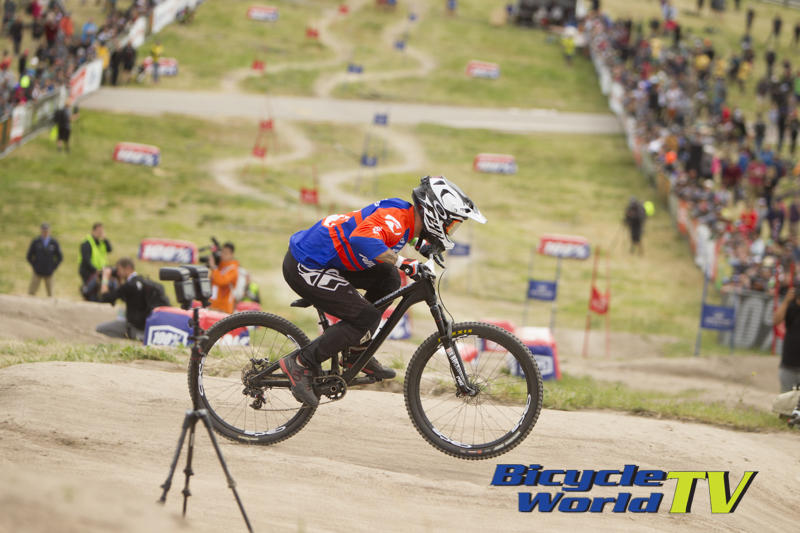 Barry Nobles jumped over with his BMX background and is doing more MTB stuff and made it to the quarter finals aboard his Airborne Bicycle
Put Americas fastest woman in the picture with an American Flag and you an instant Sea Otter classic. Jill looked too good not to use this shot.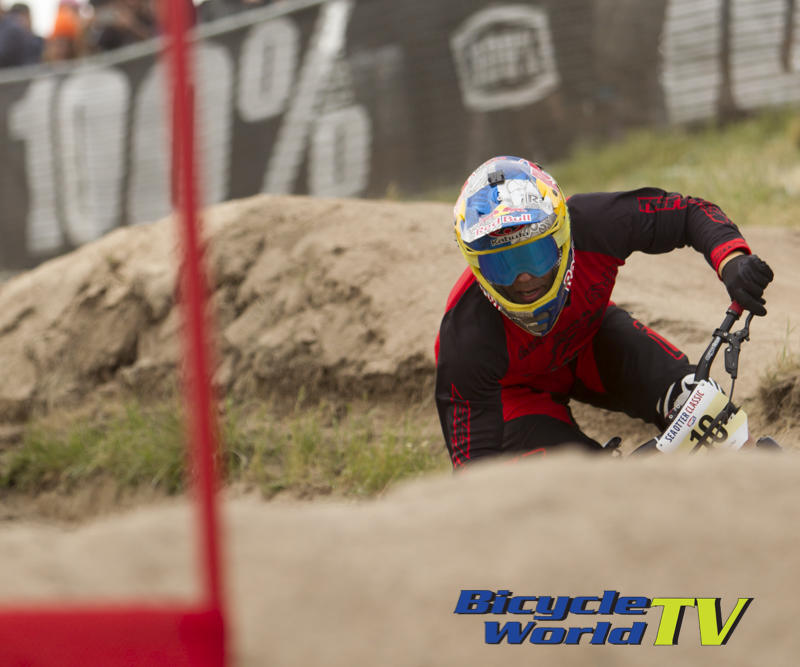 Thomas Slavik deep in berm
Mitch Ropelato could not be missed out on the track no matter how fast he was riding.
The crowd was raucus as usual and were loud when the racing got serious. They were blown away by how close it was.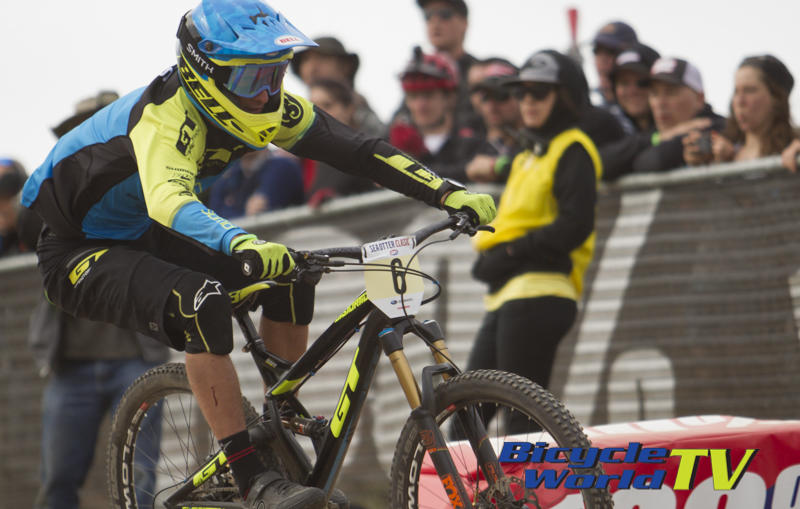 GT Team Rider Martin Maes took all the way to the last race of the day. Great effort.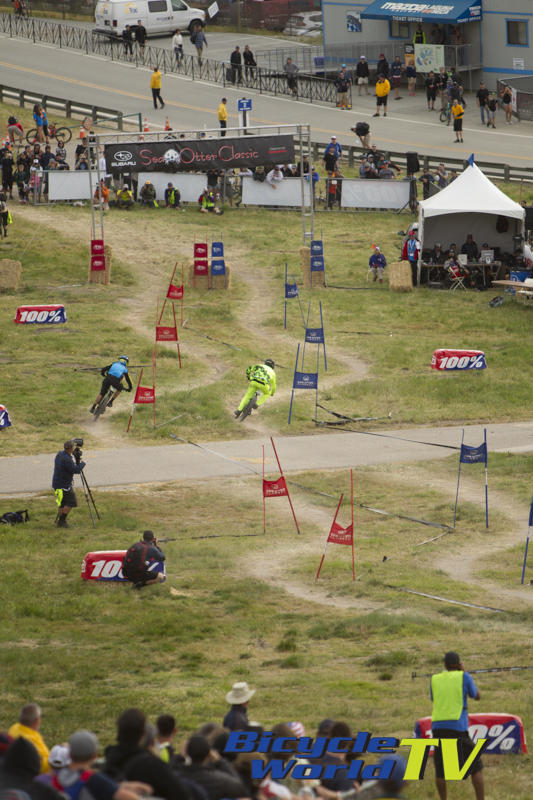 The mens final was this close. The bottom section was really tough with the speeds these guys were hitting.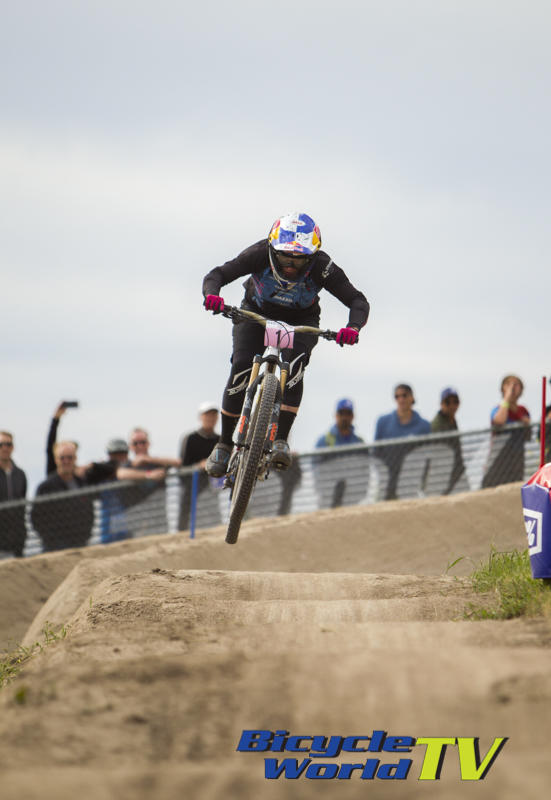 Jill Kitner piloted her Norco rig over the rythm section like a boss and on to the win.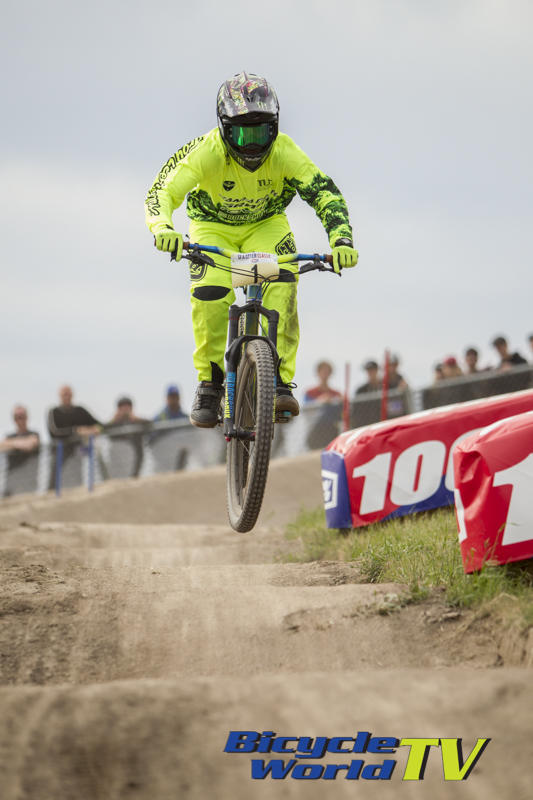 Mitch Rolelato, on rythm section, squeezed speed from every transition on the course. Mitch is just plain FAST and his win was a long time coming.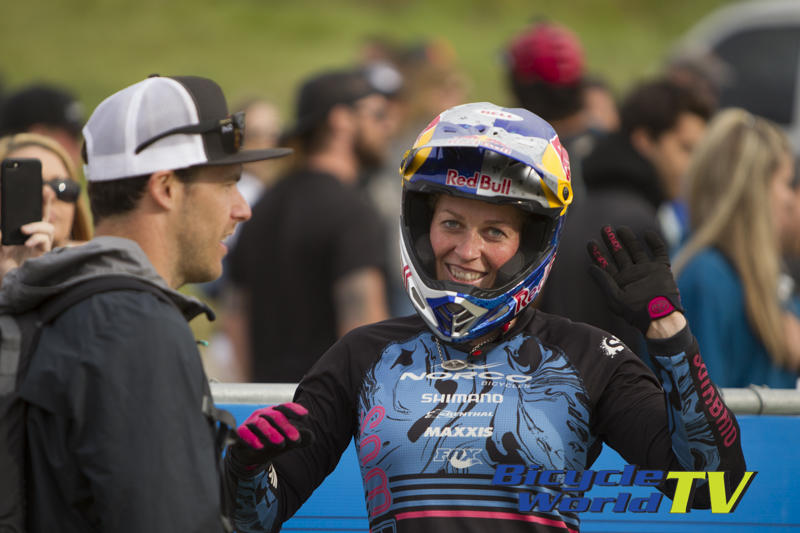 Jill was all smiles at the finish line as Bryn Atkinson comes over to congratulate her.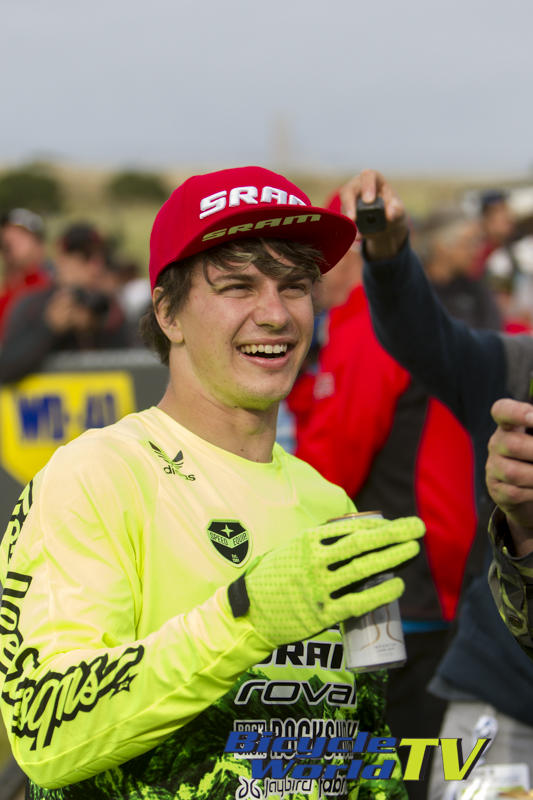 Winner Winner Chicken Dinner - that is a smile of relief and joy from a great rider.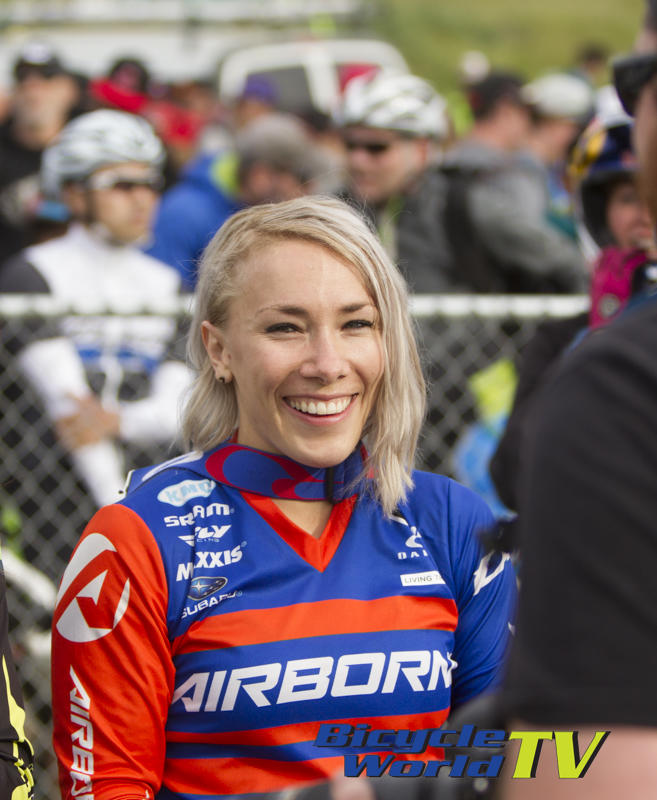 Caroline does not race for second place ever, but understands that is part of racing. A great embassador for our sport, a role model for young girls and a winner everyday.