Scholarship Foundation Set Up to Honor Cyclist Death
July 17th, 2017 1:36pm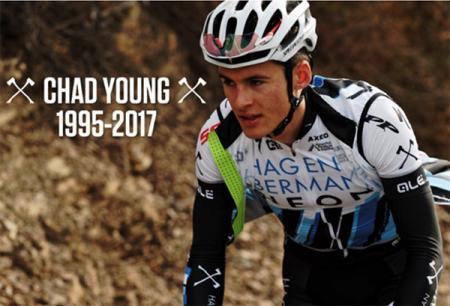 Scholarships and Foundation Honors the Life of Young Pro Cyclist

It seems as though cycling deaths lately have to do with our battle for road space with automobiles. An ongoing struggle that is part of the cyclists plight. But when a young racer dies during sport, it hits particularly hard.
It is often rationalized that they died doing what they love to do. That seems to be as good as any as a way to cope with the loss. But there is more that can be done. You can take the tragedy and ask, how can we turn this incident into a positive?
When Chad William Young suffered life ending brain injury as a result of a crash during the Tour of the Gila this past April, his family did just that and created a foundation in his honor - to celebrate his spirit for life. A foundation that gives back to cycling injury prevention and care as they pertain to head injuries. The Chad William Young Foundation will also fund two merit-based scholarships to recipients whose ideals are similar to Chad`s - exemplified by a life well lived, academic excellence, and pursuit of athletic endeavors. The scholarships will be awarded to students at two schools Chad attended - St. Thomas Aquinas High School in Dover, New Hampshire and the Colorado School of Mines in Golden, Colorado.
"Chad loved and believed in education, and we want to honor him by continuing to support others in his name," his brother Kevin Young said. "Our hope and mission are that through these scholarships Chad`s passion for learning and helping others will continue for generations. It serves as another way for us to honor him by contributing to the communities that he loved."
All initiatives undertaken by the foundation will be reported on the Chad William Young Foundation website under the "Initiatives" section, so please check back periodically for updates.
To find out more about the Chad William Young Foundation or to make a donation, visit https://cwyf.org/.
Badge and Hashtag


The team has also created a new badge in Chads memory. It contains Chads initials, C.W.Y. as well as the team logo of Axels axes. There is a lightning bolt to represent Chads positive energy in the world as well as his love for engineering. The 16 tick marks on the badge represent the 16 team members of the Axeon Hagens Berman Cycling Team, including Chad. Lastly, the hashtag #ALWAYSBEYOUNG will be used to honor Chad going forward. This hashtag, much like #PROVEIT, will serve as a reminder for everyone to always be like Chad Young with a well-lived life, a youthful exuberance and making the most of each and every day.