Ogio 9600 Tanker Review
July 26th, 2017 1:44pm
The Ogio 9600 Tanker Gear Bag Review
Traveling around this fine bicycle world looking for the perfect line, hitting the biggest booter or even climbing the highest mountain takes a bit of planning. First of all it sucks that as a rider, you get treated like crap by airlines and charged ridiculously high prices for shipping your bike, then you get get hit with additional luggage charges. That means finding the right gear bag with enough space for your riding gear and your post ride activities to last you at least our days is tough. And then you have to hope that you when you get to your destination that you didn't forget some important piece of gear.
That's where the Ogio 9600 Tanker Gear bag comes in. Not as big as some of the moto body bags I've seen, the 9600 Tanker is deceptively large, yet easy to handle and not surpass that magical 50Lb mark. The initial impressions of the bag is pure awe. Tough and rugged materials wrap the subdued techno design. Someone put some serious thinking time into this bag. So, like all Ogio bags, it deliverers sleek looks with great build quality. You can see it immediately in the stitching, the solid wheels and wheel base, the compression straps and the super heavy duty denier material.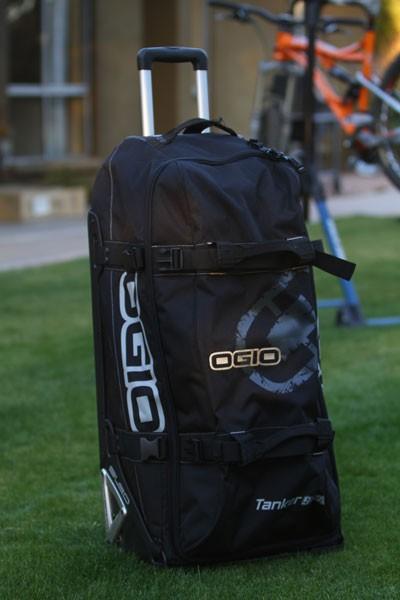 The wheels are heavy duty and very well protected by the stylish "A" arms - functional and high tech looking. The base construction of the Tanker is a high density plastic with square corners to help the bag stand on its own and to take the beating the baggage guys give luggage. Ogio calls this carriage part of the bag the "SLED" or the "Structural Load Equalizing Deck". All marketing hype aside, it works.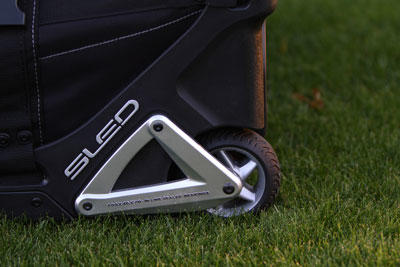 The bags interior has a specifically designed padded area near the top for your helmet. The padded flap covers the helmet in its entirety with Velcro. The top cover also features two interior pockets that help keep the wet clothes separate from the dry ones.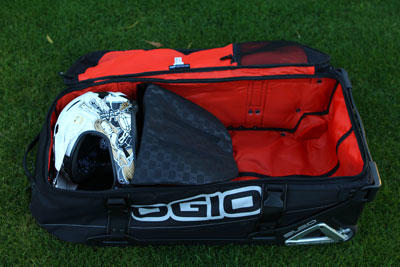 The bag measures 34" H x 16.5" W x 13.5" D and weights 12.8 lbs. With a capacity of 6600 cubic inches this bas is the perfect size. I used this bag to travel to Whistler for a week, Costa Rica for 10 days and countless other trips and am truly amazed at how useful it is. With it's telescopic pull handle that is long enough to keep you from run over your own heal to the and wide wheel base that prevents it from turning over when you pull it. This bag is a joy to travel with. The bag also features compression straps to keep from blowing out the zippers - which, by the way are extremely smooth and durable.
All of the testing with this bag has been in real world conditions and I can tell you that this bag is my favorite and my first choice on every trip. After a full season of travel the Ogio Tanker 9600 still looks and most importantly functions like new. Suggested Retail for this bag is $199 and it will last you long enough to more than pay for itself.
So if you are looking for a piece of luggage (any size) for your MTB or moto gear, shop it on-line or go strait to Ogio.com and pick one up. Because the name means quality.