From couch to a Pro Roadie on $10 a day - Great Read
June 12th, 2017 11:17am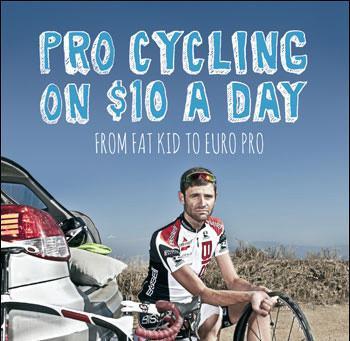 I love to read and am thrilled when I can find a book about cycling that is more than some ghost written super ego driven memoir bogging on about how they over came their greatness to become great. So when I found this book, the title alone was more interesting than most. This is an true underdog story about how one man transformed his very average life into one that is worthy of my time to read. My copy is still on its way as of this writing, and you can be sure I will rip it if it sucks, but that would still only be one man's opinion and I doubt that it will. But if you like cycling, reading and reading about cycling, then head over to velopress and get yourself a copy. Then you can be the reviewer and tell us what you thought.
Enjoy - Dean, Bicycle World TV
UPDATE!!!!
My copy of the book arrived days after the posting of this review and I read, "Pro Cycling on $10 A Day - from fat kid to euro pro." - Phil (I can call him that now because I feel like I know him personally) provides a real look into the life of making it as a pro road cyclist. His sarcastically delivered accounts of the absurd situations he finds himself in is entertaining so say the least. The book is filled with one anecdotal story after another short enough to keep any ADHD reader hooked. His dry sense of humor and ability to roll with the punches (of which he had a few on the way up) is enough to make you want to hang out with him. This is easily the most entertaining cycling books I've ever read. Do yourself a favor and pick up a copy for the summer.
---
Everyday Kid Phil Gaimon Rides Off the Couch into a Pro Contract Boulder, CO, USA - May 6, 2014 - Professional cyclist Phil Gaimon has written a book telling the true story of his unlikely transformation from fat kid to professional bike racer. Pro Cycling on $10 a Day: From Fat Kid to Euro Pro, is now available in bookstores, bike shops, and online. Preview Gaimon's debut book at www.velopress.com/phil. Plump, grumpy, slumped on the couch, and going nowhere fast at age 16, Phil Gaimon begin riding a bicycle with the grand ambition of shedding a few pounds before going off to college. He soon fell into racing and discovered he was a natural, riding his way into a pro contract after just one season despite utter ignorance of a century of cycling etiquette. A few hard scrabble seasons later, Gaimon was offered a contract to race in 2014 for Team Garmin-Sharp, an elite cycling team that competes at the sport's highest level. Pro Cycling on $10 a Day is a true story, a guide, and a warning to aspiring racers who dream of joining the professional racing circus. Gaimon's adventures in road rash serve as a hilarious and cautionary tale of frustrating team directors and broken promises. His education in the ways of the peloton, his discouraging negotiations for a better contract, his endless miles crisscrossing America in pursuit of race wins, and his conviction that somewhere just around the corner lies the ticket to the big time fuel this tale of hope and ambition from one of cycling's best storytellers.
Pro Cycling on $10 a Day chronicles the racer's daily lot of blood-soaked bandages, sleazy motels, cheap food, and overflowing toilets. But Gaimon also celebrates the true beauty of the sport and the worth of the journey, proving in the end that even among the narrow ranks of world-class professional cycling, there will always be room for a hardworking outsider.
Pro Cycling on $10 a Day: From Fat Kid to Euro Pro Phil Gaimon Paperback with b&w photographs throughout. 6" x 9", 312 pp., $18.95
Phil Gaimon is a professional cyclist for Team Garmin-Sharp, a writer, and an entrepreneur who retired from laziness and computer games in 2004 in favor of riding a bike to lose weight. On a whim, he started racing and soon discovered that he was a natural. Phil advanced rapidly through the amateur ranks and turned professional in his second full year. He slowly learned the rules and clawed his way to the top of the American pro ranks, joining Garmin-Sharp in 2014. He maintains a website, www.Philthethrill.net, where he chronicles his ceaseless pursuit of the best cookies and milk in America, and tweets at www.twitter.com/philgaimon. VeloPress publishes books on cycling, triathlon, and running to help beginners and committed athletes build fitness and achieve their goals. For more information, please visit www.velopress.com.