New Lemond Book - Yellow Jersey Racer - Covers Entire Career
August 15th, 2017 10:10am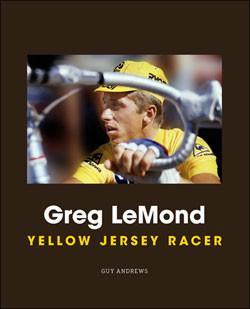 America's Only Recognized Tour de France Winner, Greg LeMond, Celebrated in New Book Devoted to His Entire Career
Before I pass you on to the corporate PR announce about this book (below) let me say, don't let the headline turn you off. Being an avid reader, this book is not nearly as ego-centric as the Lance Armstrongs books or Mark Cavendish rubbish. In fact, this book is not really written in the first person at all. It is a compitlation of interviews by Guy Andrews from LeMonds rivals, team mates and family about the man himself and the racing. It is refreshing and entertaining for sure.
As great as this story is, the numerous color photographs that accompanies the stories makes this a printed documentary of LeMonds cycling life - which coincidentally is the real birth of American road cycling in Europe. If you are old enough to remember Greg LeMond racing back in the 80's or are a cycling fanatic, this book will not disappoint. It is well written, interesting and looks fantastic on the coffee table or library with a beautiful binding.
Boulder, CO, USA — November 1, 2016 — Greg LeMond is America's only recognized Tour de France winner, yet his three Tour victories tell only part of his story. LeMond changed cycling more than any other rider in the history of the sport. Now a new book, Greg LeMond: Yellow Jersey Racer, celebrates LeMond's entire legendary career and his lasting influence. The book is now available in bookstores, bike shops, and online. See the book, read two sample chapters, and see a photo gallery at velopress.com/lemond.
Greg LeMond was a talented all-rounder, with a reputation as one of the canniest racers of his generation. As adept at racing on the cobbles of the spring classics as he was on the mountains of the grand tours, LeMond rode a full racing season from spring to autumn. His never-say-die spirit also bagged him two World Championship titles and a hatful of podiums at the world's toughest bike races.
He was admired by his peers and respected by his rivals. Yet LeMond's influence on cycling extended off the bike as well. He was the first cyclist to command a $1 million salary, raising the stakes for all other teams and riders and pushing the Tour organization to reach more spectators through expanded TV coverage. LeMond was the first cyclist to focus almost exclusively on winning the Tour de France and the World Championship, knowing they were most valuable to his fans and sponsors. His superstar talent and charisma broke cycling into the mainstream media with multiple turns as Sports Illustrated Athlete of the Year. Greg LeMond raised cycling from its provincial roots into a professional sport with global reach.
Greg LeMond: Yellow Jersey Racer documents LeMond's legendary career year by year. LeMond's early promise as a young rider of limitless talent, his raw battle to take victory in the 1986 Tour, his unbelievable comeback from near death, the resurgence of his career as he faced a new generation of supercharged EPO athletes—this celebration of LeMond covers it all with incisive writing, intimate interviews with teammates and rivals, and illuminating photographs. Key moments in LeMond's career are documented with spectacular photography including the iconic pictures you remember and new images not seen outside LeMond's personal circles. Many of the famous protagonists in LeMond's world – rivals, teammates, and friends – contribute extensive interviews, speaking candidly about his incredible career and his continuing legacy in the sport of cycling.
Greg LeMond is known best for winning the Tour de France in amazing fashion, but Greg LeMond: Yellow Jersey Racer celebrates the entire fascinating career of the rider known as "the American".