New Cross wheels by WTB out just in time for Cross season
October 17th, 2013 12:23pm
Wilderness Trail Bikes (WTB) expanded its TCS (Tubeless Compatible System) assortment to include a cyclocross rim and tire offering. The ChrisCross i19 700c TCS rim and Cross Wolf 700 x 32c TCS tire fill cyclocross riders' needs looking for standards-driven, sealant-based, tubeless usage.


The ChrisCross rim, named after WTB's Product Manager, Chris Feucht, features a 19mm inner rim width, UST compliant bead hooks, 4D angled drilling, WT-69 Alloy construction, and a precision-machined braking surface. Tipping the scales at 435g, they are intended to entice racers as well as trail riders looking to experience tubeless pressures and puncture resistance.


"The ChrisCross is named after me because I wanted it on my bike," stated Feucht, matter-of-factly. "Cyclocross needs tubeless, so I walked this rim from concept all the way to production, hence ChrisCross. Plus, it pays homage to one of my heroes, Chris Chance, who had a bike called the Chris Cross back in the day." When combined with the Cross Wolf 700 x 32c TCS tire, also UST standards-driven, riders now have a tubeless cyclocross system available from WTB.


In addition to a UST-compliant bead shape, the Cross Wolf 700x32c TCS tire features dual compound, 60a/50a, rubber dubbed Dual DNA and weigh in at 360g. Terraced and linked center tread combined with an otherwise open footprint over a rounded profile create a tire that performs well both in wet and dry conditions.


"The center ramping and linking really helps with speed over hard conditions" elaborated Feucht. "Piercing intermediate knobs and reinforced side supports help when things get sloppy or when setting up for a turn in dynamic conditions. Versatility with a healthy dose of bite is a great way to describe the Cross Wolf," summed up Chris Feucht, WTB's Product Manager.


Availability and Pricing

Cross Wolf 700 x 32c TCS tires and ChrisCross i19 700c TCS rims are currently available. WTB Cross Wolf 700x32c tires retail for $54.95 while ChrisCross i19 700c TCS 32h rims retail for $75.00.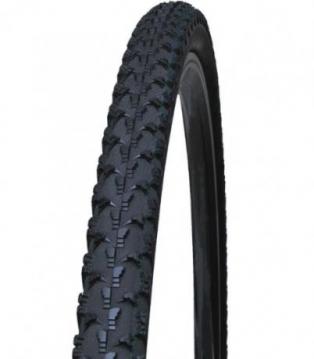 The tubless compatible Chris Cross Tire by WTB