MTB Dream ride Dolomite Descending with Ritchie Schley
July 13th, 2017 11:35am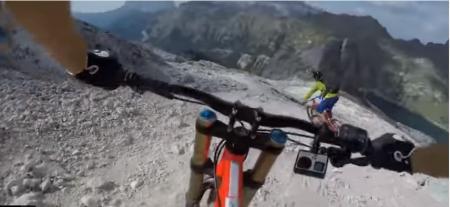 Video - Descending the Dolomites with Freeride Legend Ritchie Schley
In a saturated world of videos laced with overdriven music sound tracks and huge hucks, we were pleasantly surprised to find this video by Ritchie Schley. Ritchie and his guide tackle a Dolomite trail from top to bottom. If you are lover of technical riding, this video is for you. I really appreciate that there is no music, just an enjoyable voice over by Ritchie as he descends some really sketchy stuff. More importantly, he walks a couple of moves showing that intelligence is sometimes better than just "going for it" when the penalty for failure is so steep.
The video is a bit long, so grab some scooby snacks when you sit down to watch. But after watching this, you will feel as though you did the ride with him.
You will be equally impressed by his guides riding skills as he leads the way on an a more enduro style rig while Ritchie uses a DH bike.
So pull up a chair and enjoy the Dolomite Descent