Lezyne GPS Computer is the Real Deal
July 6th, 2018 12:00am
Color screens and data for days is key to the new Lexyne GPS cycling computer.
I'ts not often we need to look for a new computer. They tend to be pretty hardy types and most last quite a while. But what do you select when you do need a new computer?
In the past, we went straight to the 800 lb gorilla Garmin, for our needs. But now there are several brands that make some kick ass gadgets and Lezyne is one of them. The New Mega GPS system to be exact as it caught our eye as the press release happen to cross our desks. As luck would have it, its about time for a new computer for our test bikes here at Bicycle World TV and this piece of electronic wizardry looks like a legitimate contender. We have sent off an email the company to try and secure one for a real test but for now, we will share the press release information with you and dream about gathering our ride info on one of these little beauties.
There are severl options in their product line up, but at what we think super good pricing, why not consider the Mac-daddy version and get the best?
From what we have gathered, the data they capture is more than enough for any number crunching tech geek and its fully compatible with major training software and even, wait for it, STRAVA.
Lezyne is also claiming its tough enough for serious MTB action also. Again, we havent tested this product ourselves and until we do, we can only tell you do your own homework on it. The company press release is below..
Featuring:
The ultimate large format gps cycling computers
Full mapping with on- or off-line navigation
Best-in-class battery runtime
Feature-rich system with easy-to-use interface
Fantastic for all types of cyclists
Seamless integration with the gps root website
And the gps ally phone app
Engineered for maximum durability
---
The Press Release...
San Luis Obispo, California – Premier accessory manufacturer Lezyne proudly introduces their new Mega series of GPS cycling computers. Lezyne quickly established itself in the GPS category, and the company has gone next level with their new Mega XL and Mega C units. In addition to full mapping capabilities, both devices increase in style, size, and battery runtime (48 hours and 32 hours respectively). The Mega C features a vibrant 240 x 320 pixel color screen and the Mega XL has a large 240 x 400 pixel high-resolution screen (see device dimensions below). Additionally, the Mega XL can be oriented vertically or horizontally. The larger screens display up to 10 data fields across five pages on the Mega XL and up to eight data fields and five pages on the Mega C device.

Offline Navigation Capabilities improve Lezyne's already best-in-class navigation platform. Maps from anywhere in the world can be downloaded and transferred to the Mega GPS devices using Lezyne's GPS Root website or GPS Ally phone app. Once users save and load an area, they can create routes, search for destinations, or find their way home without a live data connection.

Lezyne designed, developed, and produced the Mega GPS in house, and the units feature everything a rider needs for an enhanced experience. The Lezyne Ally phone app makes setup quick and simple, while also allowing riders to receive incoming phone calls, text messages, and notifications from popular social medial platforms.
In addition to alerts, Lezyne's GPS platforms sync with Strava, TrainingPeaks, or Today's Plan to follow Strava Live Segments and custom, structured workouts.

Furthermore, as an engineering first brand, Lezyne constructed the Mega GPS computers to withstand the roughest riding situations. This places these devices in a class of their own when it comes to durability and reliability.

Both devices offer exceptional value and retail for $199.99USD. The GPS Root website and GPS Ally app remain free. Thanks to their simplicity and advanced technologies, these devices are outstanding options for any type of cyclists. Adventure riders appreciate the battery runtime and mapping capabilities, elite athletes can follow detailed training screens, Strava-thletes love the live-segment integration, and weekend warriors enjoy the device's ease of use.

Welcome to the Mega GPS. The best cycling GPS for you!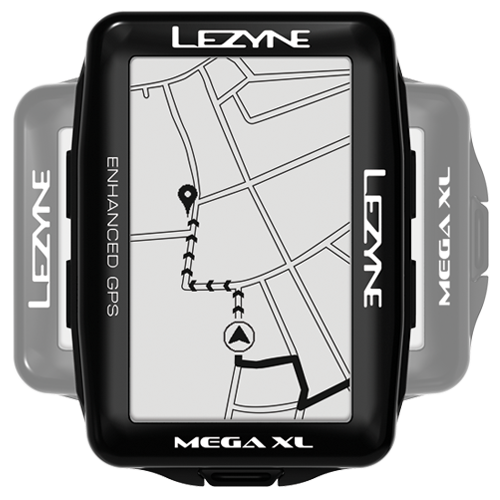 Mega XL:
57.5mm x 78.3mm x 26.6mm / 2.3" x 3.1" x 1"
Screen – 68.6mm / 2.7"
The Mega C:
50.5mm x 77.2mm x 26.9mm / 2" x 3" x 1"
Screen – 55.9mm / 2.2"