Last Stand Extreme Crit Race Is On
May 31st, 2017 4:00pm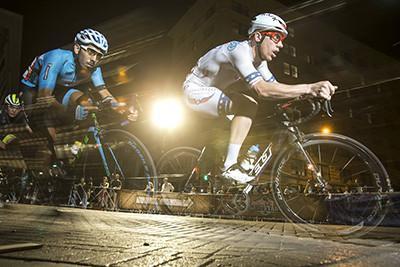 Red Bulls Last Stand - The Most Extreme Crit Race Ever?
Before I dump the corporate press release on you, I must warn you. It doesnt do this race justice. I mean, this is a race that goes until there is no one left standing. FULL POP, on the rivet, in the pain cave so deep no one has ever found the bottom, you get the picture?
If that isn't enough, this years this event has added an eliminator format pulling the last place rider off of each lap until only one winner remains standing.
The event is open to all riders, with single speed classes too. If you have the heart or Lungs, get your race entry in NOW! A historic town, a great event and judging by the pictures, awesome crowds....Make your plans, and start training. Hard.
Here are the details (below) and some images.
Single Speed Crit Class - killer steel bike
40 MPH and its a race to see who can last the longest..Brutal
Pain is dished out to both sexes - its all about equality
Great Crowds keep the riders hammering. The Sweet feeling of victory.
---
PRESS RELEASE
WHAT:
The city of San Antonio will welcome back Red Bull Last Stand on Saturday, October 7. The event will be free for all spectators and will offer spectacular views of athletes riding at speeds of up to 40mph with the iconic Alamo Plaza serving as the race's backdrop.
For Red Bull Last Stand, the typical crit race setup is getting a Texas-style overhaul with the 'Eliminator' format. In this cutthroat configuration, the rider who crosses the finish line last on each lap gets eliminated until there's just one rider left to take the top step on the podium.
WHO:
The event will consist of four race classes:
Fixed Women
Fixed Men
Geared Women
Geared Men
Winners in each category earn cash prizes, as will the "Double Down" award winners, given to the woman and man who complete the most combined laps in Fixed Gear and Geared races that hold the highest single finish in either discipline.
Last year's inaugural race was the first time that San Antonio played host to the competition which saw some of the best riders in the world take part. Cyclists included Addison Zawada, Daniel Holloway, Colleen Gulick and Texas' own Colin Strickland and Ash Duban. Colin made the home state crowd proud by winning the Men's Fixed Geared event and has secured his spot to defend the title this October.
The event will feature invited riders, those accepted through online application, and qualified riders who've earned entry through local, national, and international Battle Rides. Application opens Thursday, June 1. The application fee of $40 will be donated to the Wings for Life Spinal Cord Research Foundation. Riders are encouraged to apply early as spots will fill up fast.
WHEN:
Saturday, October 7th
Finals start at 4pm CST
WHERE:
300 Alamo Plaza
San Antonio, TX
CONTACT:
Any requests to join the media list and attend Red Bull Last Stand or interview requests with participating riders can be made through Mike DeCarlo (908-902-8413; [email protected]) or Dan Palumbo (732-372-3226; [email protected])