Kewl Rain Jacket by Showers Pass
March 7th, 2017 9:51am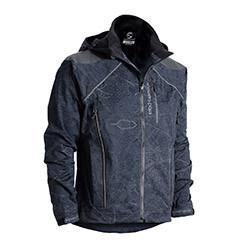 SHOWERS PASS UNVEILS MAPREFLECT CYCLING JACKET
The Atlas Jacket Delivers Fashion with Safety
Now we don't normally turn our heads when we see another rain jacket press release, but this one by Showers Pass caught our eye...Its called the Atlas because of the MAP reference and not becaus of Charles...
We know waterproof jackets have been around for a while, but none rock this cool high reflective map of 11 international cycling cities that light up when any kind of light shines on it. We also like the that it really is more than just a plastic bag ..According to the PR it has a 3-layer waterproof system. liner and sealed seams..something we could have used this weekend when we were standing in the rain shooting photos of bad ass bike racers...like you.
Rock it on your commute, on the podium or for casual wear, this jacket doesn't scream indy douche bag cyclist but still professes you love of two wheels, it is just plain cool.
The jacket has vents for breathability and a liner.
Its not the cheapest rag you will ever wear at $275, but lets face it. Good shit costs money.. and this is some good shit. Which means its gonna last and its gonna keep you dry...and coming from a guy that does get stuck standing around in the rain at bike events that is well worth the duckets if you ask me.. get one now at their website..Showers Pass. ..And tell them Bicycle World TV Sent you
The official press release is below and here are some photos to drool over:
Finally a cycling rain jacket with some attitude. Tough looks, safety functionality and its for cyclists...

Use this map to navigate home in any one of the 11 famous cycling cities. Or share it with your Uber driver...
Sealed Zippers and shamelss logo

Vents..duh

PORTLAND, OR - Showers Pass - www.showerspass.com - introduces a new addition to their line of technical waterproof breathable outerwear called the Atlas Jacket. The Atlas stands up to the
elements with 3-layer waterproof breathable fabric, a PFC-free durable water repellent treatment and fully sealed seams for all weather protection. The unique MapReflect fabric design consists of 11
international cities known for cycling (Portland, New York, Washington DC, Paris, Barcelona, Amsterdam, London, Newcastle, Berlin, Sydney and Taipei). "The Atlas Jacket is equally at home on a bike commute or a world tour" says Kyle Ranson, Showers Pass president. "We wanted a jacket that supports an active outdoor lifestyle, stands up to bad weather, and offers a stylish way to stay visible to traffic at night."


For the world traveler, year-round commuter, and outdoor enthusiast; the Atlas Jacket is optimized for those who demand visibility without compromising comfort or style. The screen printed reflective map pattern is visible from 200 meters with car headlights. Fully waterproof and breathable, the technical fabric provides stretch to move comfortably with a body in motion.


The jacket also features a soft, brushed lining and front hand warmer pockets to lock in extra warmth when needed. Meanwhile, adjustable airflow cuffs as well as large core vents prevent overheating during high energy activities. Because of the unique map design and the way the patterns are cut during production, no two jackets are exactly alike. Look around the world and try to find a feature loaded shell that stands out from the crowd like this.

Features:

● MapREflect fabric is waterproof and breathable, with fully sealed seams
● MapREflect fabric is visible from 200 meters with car headlights
● Extra-long core vents prevent overheating
● Exclusive airflow–regulating cuffs
● Ergonomic easy-grip zipper pulls
● Removable hood fits over a helmet and stows in inside pocket
● Drawcord at hood and double toggle cinch at hem
● Soft, moisture wicking lining at collar
● Front hand warmer pockets and chest pocket with audio port
● Light loops on back
● Regular fit
● Men's Sizes SM-XXL available now
● Women's Sizes SM-XXL (available in April)
● Color: available in Map Reflective Black
● MSRP: $275