High School Cycling continues to explode! Adds 4 more states
October 1st, 2019 12:00am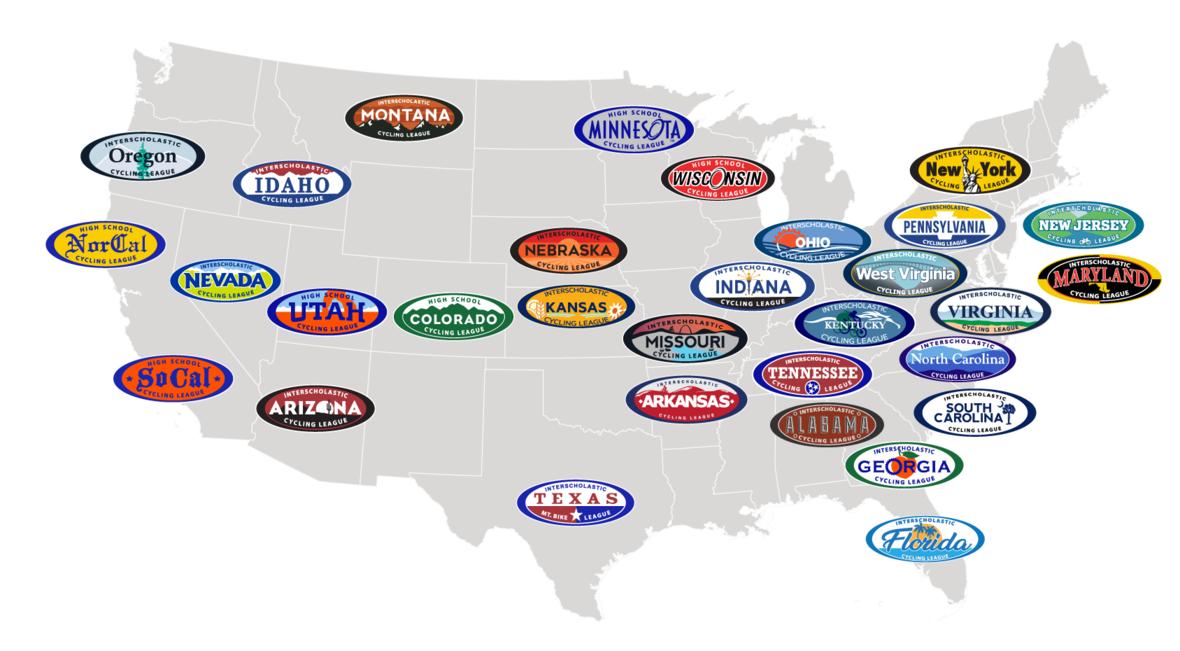 NICA Expands to 31 Leagues Welcoming Kansas, Kentucky, Nebraska, and Ohio

Four New NICA Leagues bring Youth Mountain Biking to the Midwest

These are my favorite types of press releases. Everytime I see a NICA email come in I am impressed and psyched that mountain biking is truly alive and well and that kids will find the joy that two wheels offer.
A sport that has no gender bounds, body types or club teams trying to suck the money out of the athletes families. Sure you need a bike, but never in my history of sport have I seen more giving people than the bike community. If you want to ride, the community will find a way for you to ride - all you have to do is ask for help. But I am digressing.
Here is the official announcement that 4 more states have joined the movement bringing the total to an impressive 31 States nation wide.
If you want to get involved with this movement you can find Emily's number and email below or if you want to make a DONATION to any of the programs you can do that too at the links near the bottom of the page. What a great legacy you could leave behind.
NOW LETS ROLL!
---
Contact: Emily McDonald | [email protected] | 510.524.5464
BERKELEY, Calif. The National Interscholastic Cycling Association (NICA) is excited to announce Kansas, Kentucky, Nebraska, and Ohio as the four newest states to join its network of interscholastic cycling leagues. The addition of these four leagues brings the total number of NICA Leagues nationwide to 31.
"We are thrilled to welcome Kansas, Kentucky, Nebraska, and Ohio to the NICA community!" said Steve Matous, NICA President. These new leagues bring with them extensive youth development leadership, experience and cycling talent that will enable them to build strong and successful NICA programs in their states. Geographically, the addition of these states brings a strong NICA presence to the midwest. NICA's team is ready and excited to train and support these new leagues as they prepare for their inaugural seasons. We look forward to seeing new communities in these regions establish NICA teams. With the addition of Kansas, Kentucky, Nebraska and Ohio, NICA now has the capacity and infrastructure to serve nearly 80% of our country's population, which puts us well on our way towards fulfilling our mission of providing every youth the opportunity to build strong mind, body, and character through interscholastic cycling."
Nebraska is scheduled to begin NICA race programs in Fall 2020, with Kansas scheduled for Spring 2021 and Kentucky and Ohio for Fall 2021.

Nebraska student-athlete Maizy Seng of Millard West club team. Photo Credit: Joseph Brinkman
Nebraska League Director, Ryan Feagan, said "I am honored to bring an already energized cycling community into the next phase of organization. Our NICA league will provide more opportunities for young cyclists to grow not just competitively, but also through NICA's Teen Trail Corps, Adventure, and GRiT, programs that foster inclusivity. I look forward to seeing what 2020 holds for the Nebraska Interscholastic Cycling League!"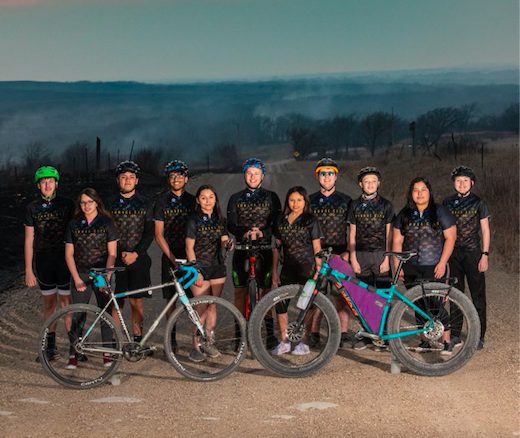 Student-athletes from Emporia, Kansas. Photo: Kansas Interscholastic Cycling League
"A lot of people say that they wish they had something like this when they were in high school because of how inclusive and fun cycling is," shares Tina Khan, Kansas League Director. "What we're able to do is bring Kansas youth, of all abilities, experiences, and backgrounds into the same space to create a truly unique experience. I'm honored to be involved with the Kansas League and look forward to building up our youth cycling community across the state!"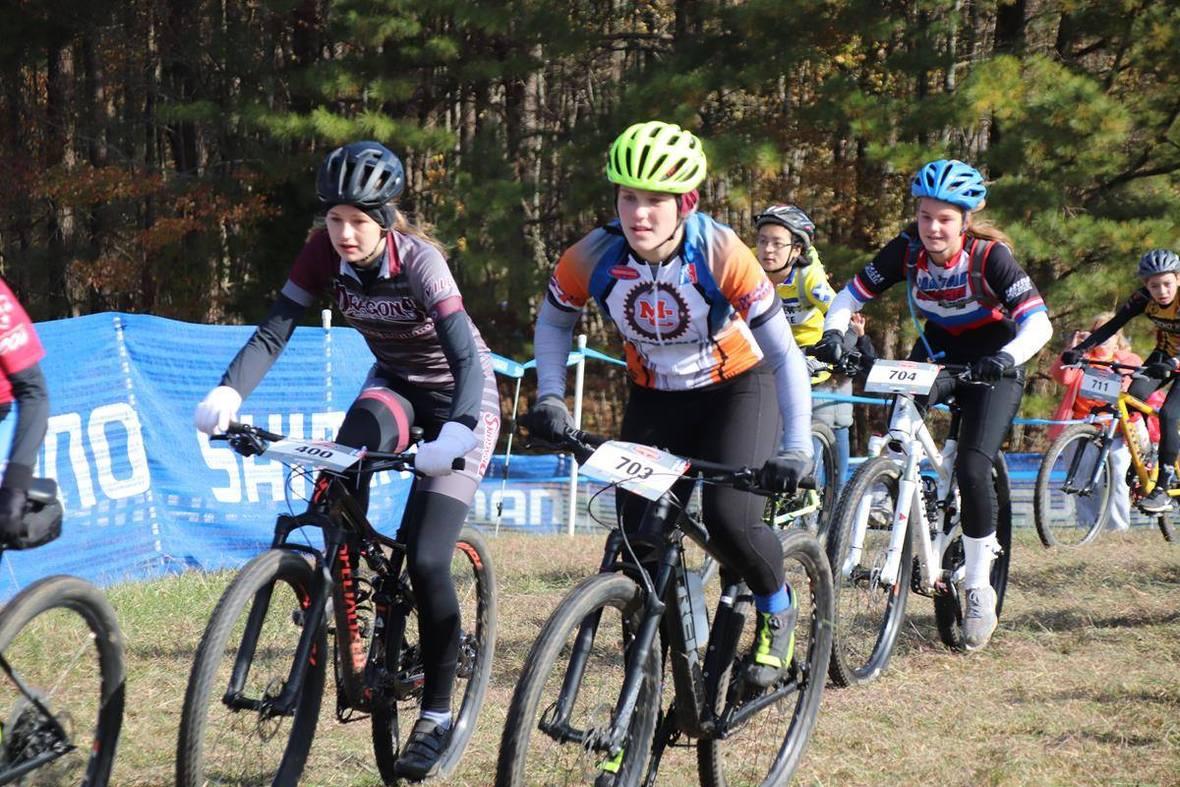 Kentucky student-athletes attend and race at a Tennessee NICA League race in Fall 2018. Photo: Kentucky Interscholastic Cycling Association
Steve Beckett, Kentucky League Director, said "I am truly excited and honored to be a part of launching the new Kentucky NICA League across this wonderful Bluegrass state. We are fortunate to bring the community spirit that only mountain biking can provide across our region. Our motto is confidence, fitness, skills and FUN! They are all interconnected in this sport. We are stoked to have the opportunity to provide such a great experience to all Kentuckians - Giddy Up!"
The Athens County Cougarbats, Ohio's first composite NICA team attending a West Virginia NICA League Race. Photo: Ohio Interscholastic Cycling League
"I am beyond excited to partner with NICA and provide the opportunity for high school and middle school students to experience mountain biking," said Jen Malik, Ohio League Director. "Our state is perfect for all types of riders and the community support is phenomenal. NICA's core principles of inclusivity, equality, strong body, strong mind, and strong character make this more than just a race league. I cannot wait to see our trails filled with more kids enjoying mountain biking."
***
If you would like to contribute to NICA's efforts to launch these new leagues and grow youth cycling in America, please visit one of the following links:

▪ Kansas
▪ Kentucky
▪ Nebraska
▪ Ohio

The NICA National community now includes 31 leagues, with programs in Alabama, Arizona, Arkansas, Colorado, Florida, Georgia, Idaho, Indiana, Kansas, Kentucky, Maryland, Minnesota, Missouri, Montana, Nebraska, Nevada, New Jersey, New York, Northern California, North Carolina, Ohio, Oregon, Pennsylvania, South Carolina, Southern California, Tennessee, Texas, Utah, Virginia, West Virginia and Wisconsin.
US-map-31-leagues
NICA supports more than 10,000 registered volunteer coaches who are working with over 22,000 student-athletes across the United States. NICA has enhanced its coach licensing and training program to provide coaches the tools and curriculum to ensure positive character and social development for youth participants. NICA provides an array of programs that use mountain biking as a tool for youth development. NICA's GRiT Program strives to increase the number of female student-athletes and coaches, NICA Teen Trail Corps enables youth to participate in trail stewardship and advocacy projects and NICA Adventure provides experiential education through mountain biking for youth in a non-competitive environment.
As NICA President Steve Matous states, "NICA is more than just racing; we are creating communities where youth are empowered with mental and physical tools and skills to help them succeed on and off their bikes, now and into the future."
***
About the National Interscholastic Cycling Association (NICA)
The National Interscholastic Cycling Association (NICA)'s mission is to build strong minds, bodies, character, and communities through cycling.
Founded in 2009 as a 501(c)3 nonprofit, NICA develops interscholastic and community-based cycling programs for student-athletes and coaches across the United States. NICA provides leadership services and governance for local leagues to produce quality mountain bike events. NICA has served more than 40,000 student-athletes since 2009. Currently, NICA has 31 state and regional leagues and over 10,000 registered volunteer coaches who are working annually with over 22,000 student-athletes from nearly 1,000 high schools and middle schools in the USA.
For more information on NICA visit www.nationalmtb.org, follow @nationalMTB on Facebook, Instagram, Twitter and LinkedIn, or call (510) 524-5464.
NICA exists by virtue of generous sponsors, donors, and partners, including our Lead sponsor Trek Bicycles; Platinum level sponsors Shimano, Clif Bar & Company, Specialized Bicycles, and Salsa Cycles; Gold level sponsors Giro, Podiumwear, and GU Energy Labs ; and major sponsors CamelBak, Yakima, Maxxis, REI Co-Op, Quality Bicycle Products, People for Bikes, SRAM, Strike Visuals, DeFeet International, Feedback Sports and Canyon Bicycles. NICA National Foundation partners include The Walton Family Foundation, Rapha Foundation, and Wells Fargo.