Hey buddy, you have to check this out...its sic!
February 24th, 2015 3:08pm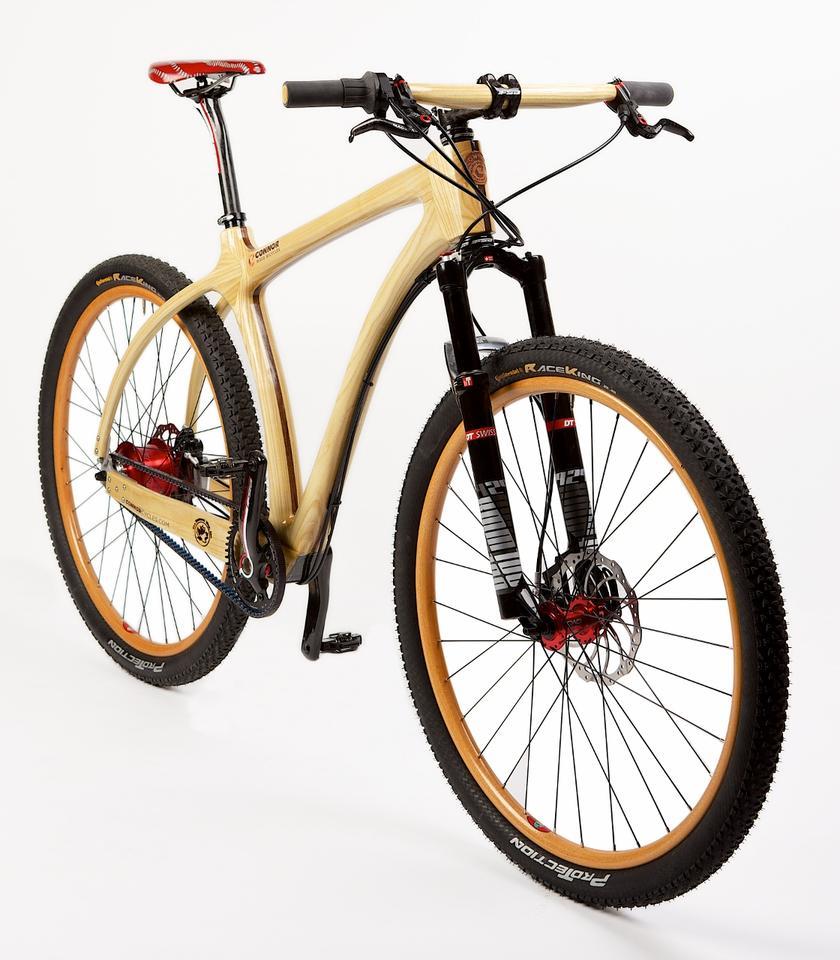 Hey Bro,

I almost forgot, the North American Handmade Bicycle show is three weeks away!!!
Man I almost forgot. This year its being held at the Kentucky International Convention Center. Thats right, in beautiful Kentucky. No Vegas union yahoos to deal with, no douche bags chasing the shiney bobbles, no whining (pun) and dining whoring themselves out for an "OEM deal", no overpriced everything, just good ol fashion hospitality and a super bitchin bikes.


Have you seen the stuff that comes out of there? Man, they are like works of art. Poetry in motion. We should go check it out. I got all the details right here. Check it out and let me know. I'm down...Let me know...

PS - check out this Coonor Woody Mountain bike. Its made with Louiseville Slugger white ash - you know, the same wood they make the bats for Major League Baseball?? This is going to be sic!

http://www.2015.handmadebicycleshow.com/

Dean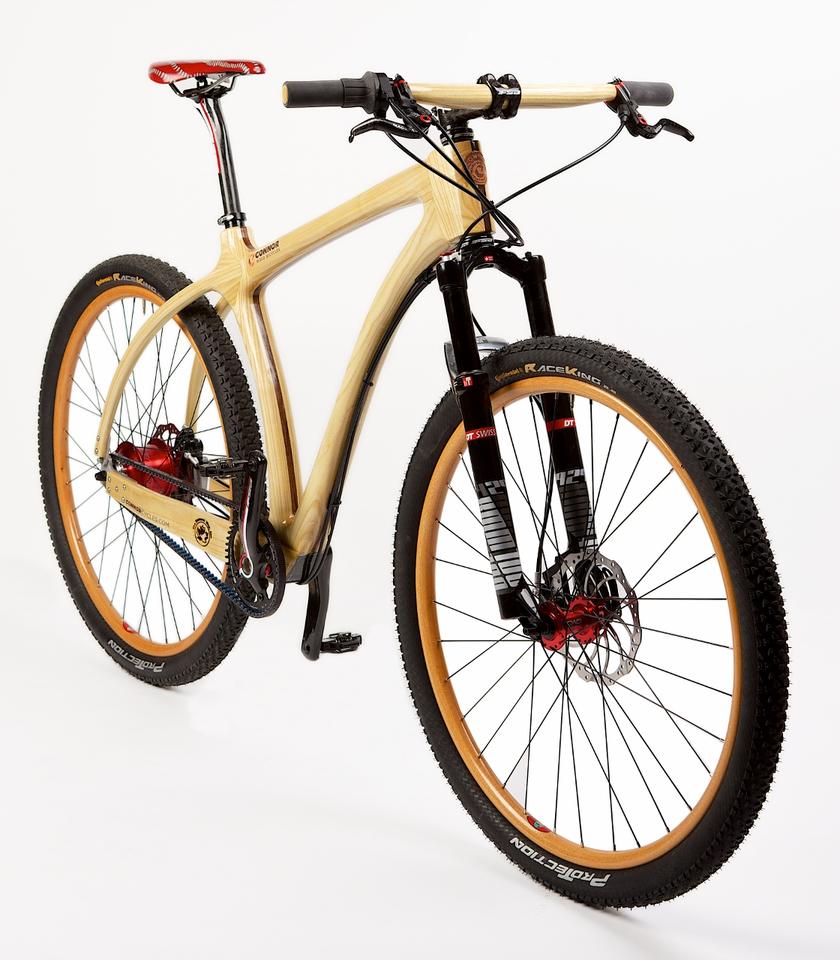 The Leadville 100 tested, Connor Woody uses white ash, black maple and kevlar along with the arcing designs to give you a very uniquely smooth ride.
MORE INFO on the Connor Wood Bicycle
Connor Wood Bicycles Partners with LouisvilleSlugger, Creates Bike Made From Ash Wood Baseball Bat Billets
Louisville, KY. (For Immediate Release) - This year's North American Handmade Bicycle Show (NAHBS) will feature a bike built for one of Louisville's signature brands, Louisville Slugger. Connor Wood Bicycles is working with LouisvilleSlugger to produce a wood bike made from Slugger's ash wood baseball bat billets. Connor's bikes are renowned for their beauty, amazing ride and the strength of their wood. American white ash wood, traditionally in the LouisvilleSlugger bats is known for both it's strength and amazing striking capability. The same qualities directly translate into beauty and a silky smooth riding experience when used in a bicycle. This customized bike will be a rolling work of bicycle art.
The Louisville Slugger Bat Bike will be shown at this year's NAHBS in Louisville, KY March 6th – 9th. Following the show it will be installed at the Louisville SluggerMuseum & Factory, in downtown Louisville and will be used as an interactive display at the museum. Visitors to the museum will be able to see the bike, spin the cranks and hear the familiar sound of a baseball card flapping in the spokes.
if this bike starts with the frame, which is made entirely from baseball bat billets. Connor received raw billets from the Slugger factory and machined them into a fully wood bicycle frame. The frame is presently at the Louisville Slugger factory so that it can be branded with the signature LouisvilleSlugger logo and have the same durable finish that is applied to its bats put on the bike. Following this process the frame will be assembled by Connor back in Denver, CO. Once finished, the bike build will showcase a Gates belt drive, wood handlebars wrapped with Slugger's bat tape, and a customized leather saddle made from Slugger's baseball mitt leather. Completing the build are 29' custom wheels with a drum brake hub and carbon fiber forks.
Connor Wood Bicycles founder, Chris Connor points out that "Wood is a natural choice for bikes; think of its toughness and vibration dampening properties when used in sledge hammers, baseball bats, skis and snowboards. And when cared for, wood will last and stay strong for decades. If you showcase the beauty of the material with flowing lines and curves you can create something with a look unlike anything out there." The uniqueness of wood isn't just limited to its beauty, the wood frame absorbs vibrations from the road and makes a uniquely luscious ride. Says Connor, "Why do you ride? If you do so for the love of the experience, there's no better way to appreciate riding than on something so beautiful and with such an amazing ride quality. You just can't beat it."
Lots of people wonder if wood bikes are heavy -- which they're not. The frame weighs around 6 lbs, which is about 2-3 lbs heavier than exotic lightweight frames but lighter than many made from steel and aluminum. Connor's mountain model weighs in around 24.5 lbs (with a suspension fork and 11-speed drivetrain). Most of his bikes weigh less than traditional bikes averaging between 24 and 29 lbs. The e-bike,of course, weighs more sporting it's electric motor and battery pack. Wood bikes are strong too. Connor's wood and Kevlar reinforced frames have been tested and shown to have greater rigidity than even some titanium bikes and his wood handlebars have even supported the weight of a car. Connor's bikes have demonstrated their strength and durability by competing in Colorado's Leadville 100 mountain bike race -- one of the signature off-road bike races in the world.
Connor's attention to detail and deep understanding of wood can be seen throughout all his bikes. This is most evident in the beautiful simplicity of the design and in the craftsmanship in the walnut laminates, finger joints, and bowed, Kevlar reinforced stays that add to the frame's dampening ability and durability. Protected with a marine varnish, they endure the elements and stay beautiful for years to come.
About Connor Wood Bicycles
Connor Wood Bicycles was formed in 2013 by Chris Connor. Chris brings 20 years of experience working with wood construction for high-end classical acoustic guitars, furniture, and boats. Launched from his suburban Denver base,Connor brings a passion for good design to practical application and has created "art that moves you." Each Connor Wood Bicycle is sold as a complete rolling bike and made to order in small, medium, and large frame sizes. Custom fitting is available in each build for the ultimate riding experience. Woody Cruisers start at $3,500, and can cost as much as $10,000 in top of the line mountain bike form.