FOES MIXER Trail - One Step Ahead of the Competition?
September 8th, 2017 1:13pm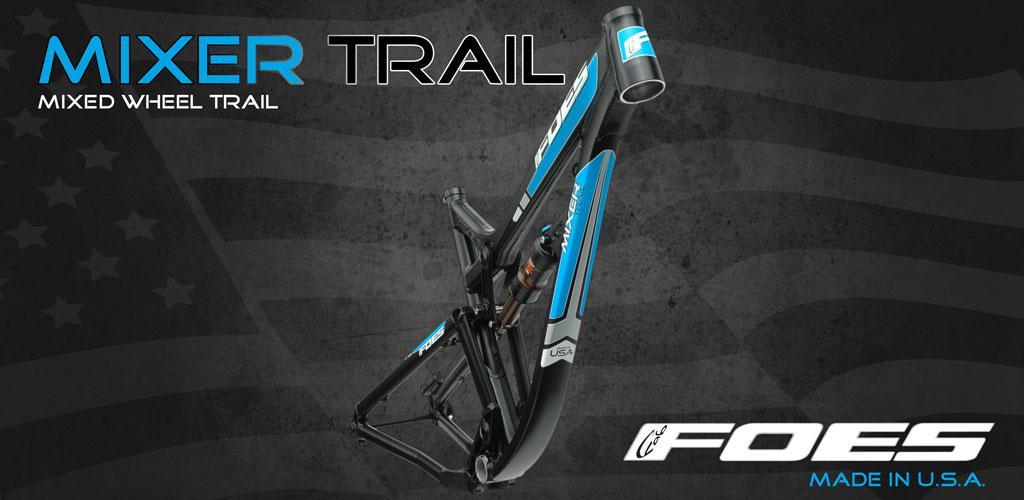 Are the Foes Mixer bikes one step ahead of the competition?
And would any one else admit it?
With the discussion of wheel size during the UCI World Downhill Season being revived, this review of the Foes Mixer couldn't have been more appropriate. For those of you who don't know what the Foes Mixer is, it's the companies Trail & Enduro bike design that sports a 29-inch front wheel and a 27.5 rear wheel. And before you click the "off" button, I suggest you read on. The results may surprise you.
Before we delve into the wheel – performance debate let's start off by some facts about the company that are important to us and hopefully to you also. First thing to note, Foes is, was and always will be a 100% American company. Foes has always been 100% engineered by the founder Brett Foes who has been building top shelf off-road goodness since he was in cloth diapers. The company never has been anything but professional it their approach to making the best bikes. That is where Foes has also diverged from the mainstream bike companies. Brett didn't come from the bike industry and didn't follow the bro path to bike building. Brett believes in American ingenuity, manufacturing and craftsmanship and you can put his bikes up against anything in its class to prove it. Even when the entire industry chased gold, hopping on the carbon bandwagon, Foes stuck to their guns making top shelf aluminum bikes in Pasadena California at the base of the San Gabriel Mountains. Now located in San Dimas approximately 15 miles east of their original shop, the company expanded its footprint considerably to expand production of their new bike line up.
Watch the video then read the full Foes Review below.
I was able to ride this bike before the first world cup of the year came about so when all the media went ape-shit over a 29 inch wheel downhill bike, my first thought was that Foes was already there and leap frogged them all with the mixer. For starters, the Mixer is so much more thought out than just throwing a mixed bag of parts together to experiment or just be different. The mixer frame geometry is specifically designed for the 29" - 27.5" front rear combination. In this configuration, the 29" wheel axle sits higher than the rear axle which allows you to lift the front end over obstacle much easier and has the right bottom bracket height. Using a 27.5" rear wheel gives you the benefits of quicker acceleration, shorter chain stays and a more responsive bike. This also creates two separate wheel paths and snaps turns unlike on a traditional 29"er.
Geometry is a well matched 67.5-degree headtube and when married with the 29" front wheel delivers a super stable front end. The rear chain stay is a tight 17.6" long and can accommodate a 2.5 wide tire with the boost rear axle.
The bike I rode was designed for and spec'd a 150mm DVO Diamond fork with 110 Boost and a DVO Topaz T3 Air shock. This was our first ride on DVO suspension and will attest that this is a perfect selection and no doubt attributed to the stability of the front end.
FSA Carbon Cranks and BOX rear derailleur make this bike a truly unique whip.
The rear end is a highly refined low leverage ratio single pivot that FOES that takes full advantage of the DVO adjustability. If you are wondering what this means, it means that it takes less energy to move the suspension. This allows you finer tuning over small bumps, allows for less stress on pivot bearings and shocks and a host of other benefits.
DVO and Foes have been working very closely together to develop the perfect suspension and when you take Bryson Martin Sr's experience at Marzocchi and Brett Foe's experience designing and fabricating suspension for off-road cars and bikes, you have two of the best minds in the game. That means only good things for riders and the industry.
The Mixer trail provides 5.5"-6" of adjustable travel and will handle anything you want to vertically throw at it. The Trails front end is 1 degree steeper than the Enduro Model but can still deliver full rowdy fun. In full disclosure, I didn't ride this bike in anything truly gnarly but from my experience you can just tell when something is done right and I looked for every opportunity to challenge the suspension but found nothing it could not easily handle.
As mentioned earlier. All of Foes frames are aluminum Hydro-formed monocoque frames. Made in house. With 6" of travel don't be fooled by thinking you need carbon. You just need to set up your suspension right and enjoy the piece of mind of riding a nice, stiff aluminum frame.
I rode this bike on the Sea Otter XC course which features over 3,000 ft. of climbing on the 21+ mile course. I easily pedaled 2900 ft. of it. Only in one steep section in the middle and at the very end where I was gassed did I get off and push. That was running a 1 x 11 set up. A bit more fitness or a double ring up front would have been no problem.
We found the Mixer combination really very intuitive and a natural for cornering. Even better than some 27.5" specific rigs we tried. The front-end wanders a smidge on climbs as expected for an all mountain bike and only if you are comparing it to a proper XC bike. The Mixers manners challenged me to go faster and faster on every bomber downhill single-track sections.
When it came time to slow the bike down the Magura Trail brakes were truly outstanding. Great modulation and stopping power were impressive and added to my confidence on the bike.
The Mixer will prove to be winner for the trail and enduro crowd. Easily capable of longer rides, the Mixer will put the smile on your face when the trail goes south.
While Foes may not have the budget to sponsor top level pros, don't dismiss their bikes as anything less than capable of propelling you to the top of the podium. As an American manufacturer, there is a little bit of a price premium on their bikes, but the benefits of riding a unique brand and quality product far outweigh the warranty hassles of lesser rigs with big marketing budgets.
You can buy frame-only or complete builds and we recommend calling the company or visiting them on-line to source a local dealer or order directly if there are no local dealers. This is the phone number (tell em we sent you) 909-971-3774 and here is the website..WWW.FOESRACING.COM