Enduro World Series at Crankworx comes down to final stage.
August 15th, 2018 12:00am
Ravanel stays perfect and Men's title goes down to the last run...
There have been some dramatic races in Whistler over the years, but round six of the Enduro World Series, the CamelBak Canadian Open Enduro presented by Specialized, will go down in history as one of the most fiercely contended yet.
Three hundred riders, five big stages and once more it all came down to the final stage in the men's competition. The scene was set early in the day when after the first three stages Martin Maes (GT Factory Racing) led Richie Rude (Yeti / Fox Shox Factory Race Team) by less than half a second. Maes was able to extend his lead going into the final stage of the day to 1.5 seconds - not much of a cushion heading into the 20 minute Top of the World.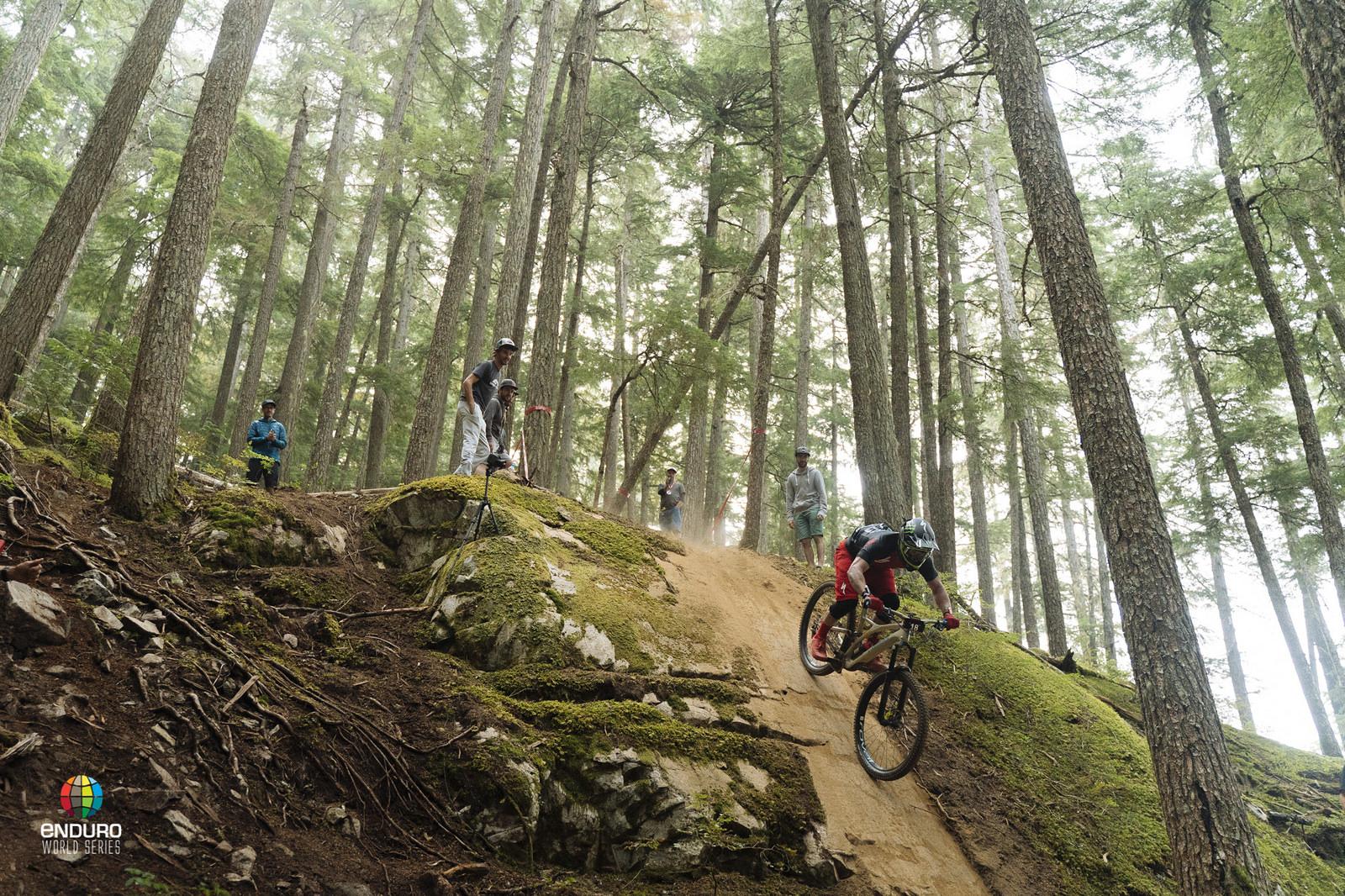 Epic Whistler Riding (Credits: Kate Ball - Enduro World Series)
Unbeknownst to Maes, a rear flat put Rude out of contention early in the stage, meaning it was now series leader and reigning champion Sam Hill (Team Chain Reaction Cycles Mavic) who was his only competition. Despite putting down a solid run, Hill couldn't touch Maes time, securing Martin the second Enduro World Series win of his career. Hill had to settle for second place, while Eddie Masters replicated his round five performance, with his consistency throughout the day earning him third place.
Some of the Switchbacks Racers covered during one of the stages. (Credits: Kate Ball - Enduro World Series)
In the women's race it was more familiar territory, as Cecile Ravanel (Commencal Vallnord Enduro Racing) won all five stages. Isabeau Courdurier (Intense-Mavic Collective) was also consistent, finishing the day in second place - as she has every race this season. Noga Korem (GT Factory Racing) fought hard all day to claim third place.
In the U21 women Ella Conolly continues her unbeaten streak, with Lucy Shick in second and Julia Long in third. Leader of the U21 men category Elliot Heap (Team Chain Reaction Cycles Mavic) wasn't on the start line due to a hand injury picked up in practice, allowing Theotim Trabac (Commencal Vallnord Enduro Racing Team) to capitalise and take the win. Max McCulloch took second and Cole Lucas (Cube Action Team) went third.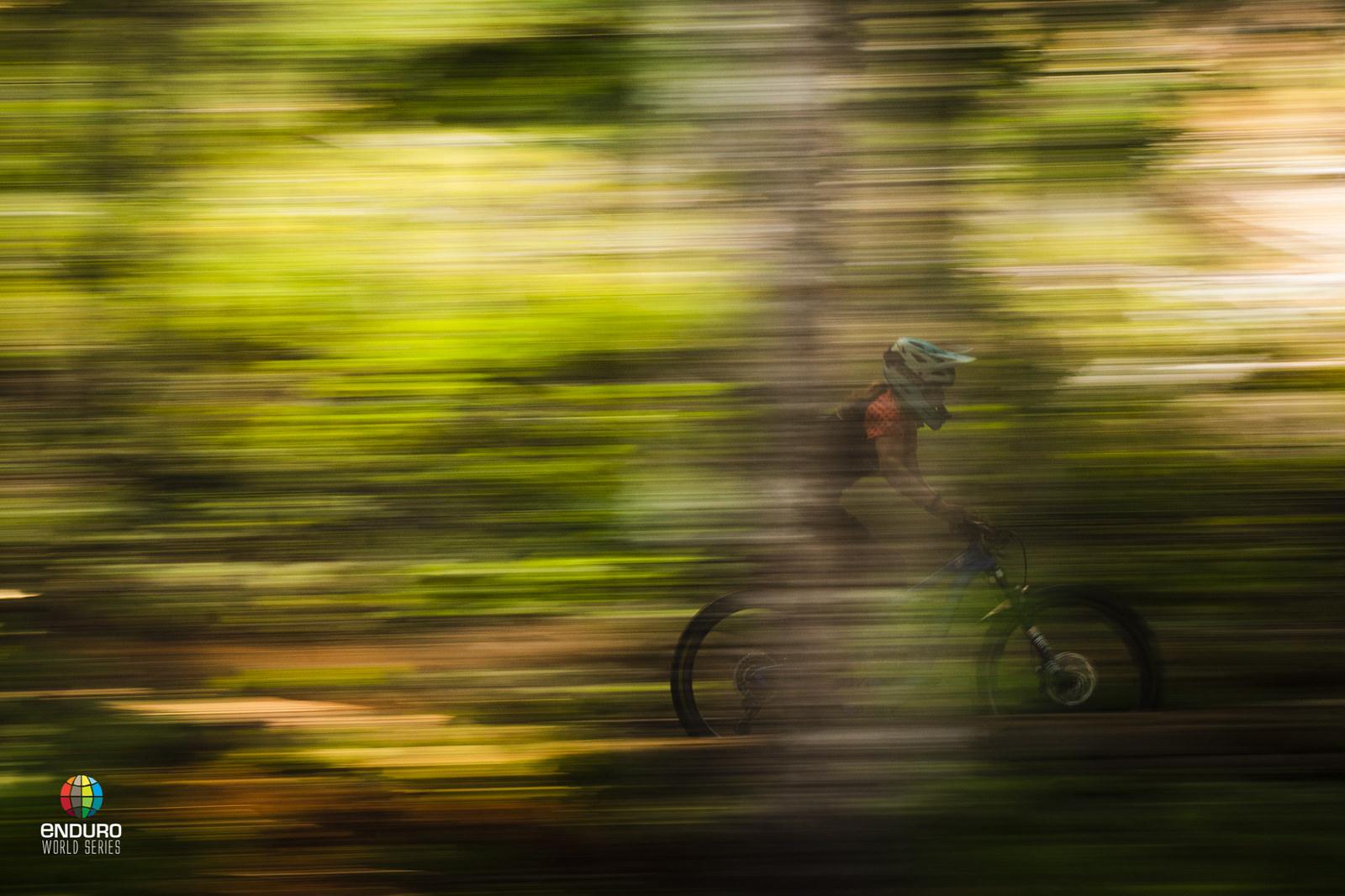 Whistler photographers delivering the goods of this racer ripping through the trees. (Credits: Kate Ball - Enduro World Series)
Tomi Misser won Master Men, forcing series leader Karim Amour (Miranda Racing Team) into second place, with Mike West rounding out the podium. Local talent shone through in the Master Women, with Canadians Megan Rose and Julie Marshall in first and second place respectively and Melissa Newell of New Zealand in third.
In the team competition it was Commencal Vallnord Enduro Racing who were named Team of the Day, but it's Canyon Factory Enduro Team who still lead the team standings in the overall.
The series returns for the penultimate round, Festival Zona Zero Sobrarbe, in Spain on September 22-23.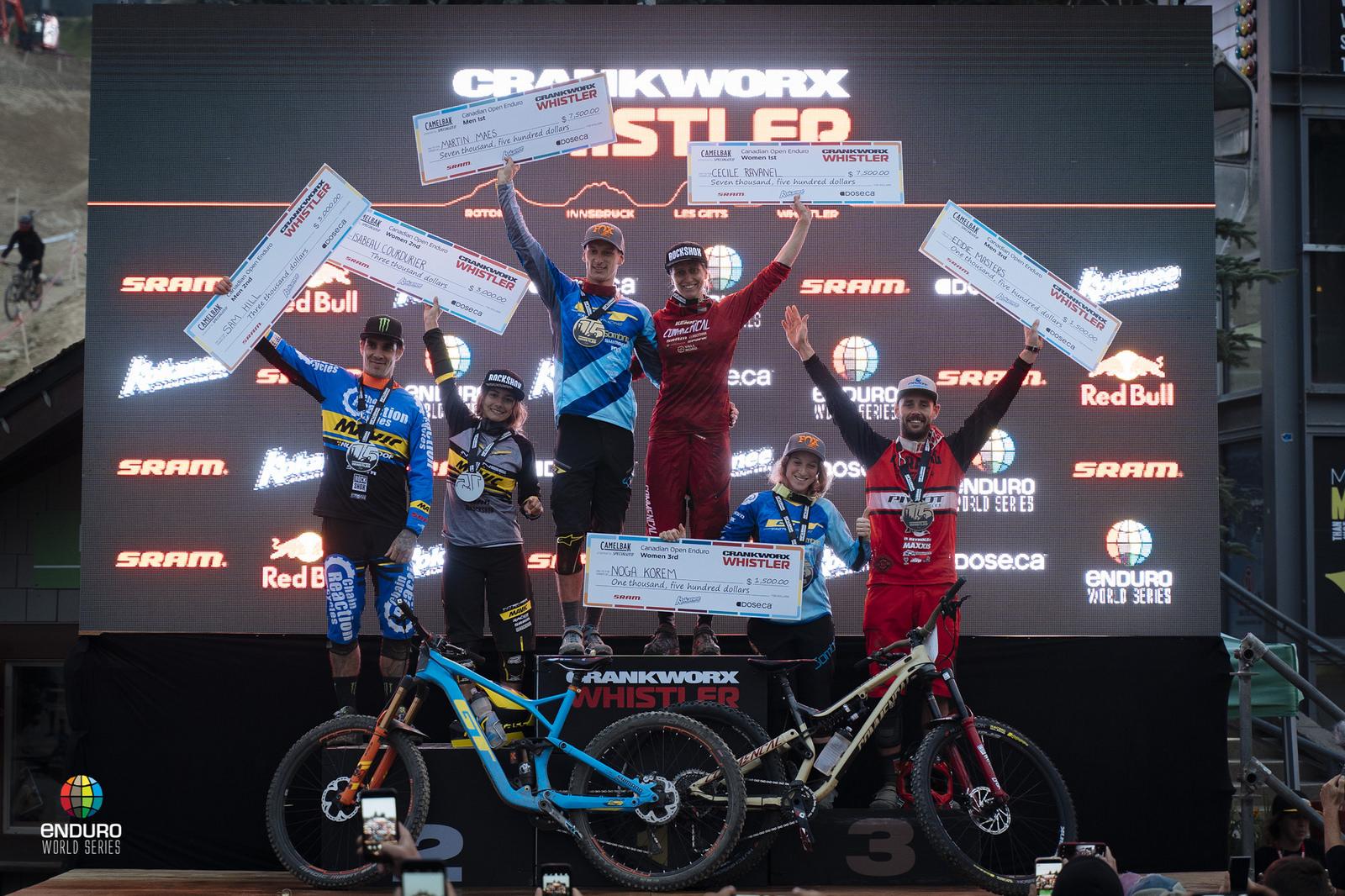 Cha-ching! A Good looking podium shot for round 6 - who's buying??? (Credits: Kate Ball - Enduro World Series)
Overall and stage by stage Results from the race can be found HERE .