Day 7 at Crankworx - Whips and Pumps
August 19th, 2016 11:36am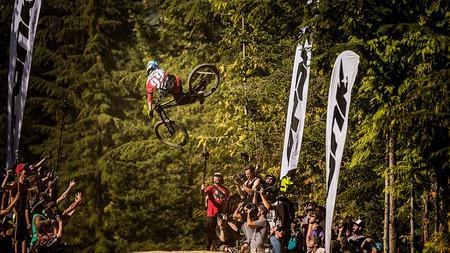 Ropelato Returns, Kinter Keeps Winning and a 16 year old teaches them all how to Whip!
American Mitch Ropelato, who won the Ultimate Pump Track Challenge presented by RockShox in 2011, 2012 and 2013, stole victory from the now two-time Pump Track Challenge World Champion, Adrien Loron, with a finish so tight the pair crashed over one another in the finish coral.
"This final was sick. It was really fast. I just did a small mistake and that's enough to lose," said Loron, who was nevertheless thrilled to be taking home the series win.
Pump track pits two riders against one another on parallel courses designed to have the rider pump, rather than pedal, their way through. It is fast, furious and requires a certain finesse to accomplish the task, yet Ropelato barely seemed to break a sweat, coming down the track almost stone-faced he was so relaxed.
Mitch Ropelato on his way to victory over 2x defending champ Adrien Loron. (photo courtesy of crankworx-Clint Trahan)
"I'm pretty excited. It was a hard day – a lot of fast people and a lot of easy spots to make mistakes. So, I just kept it clean and got to the finish line faster," he said.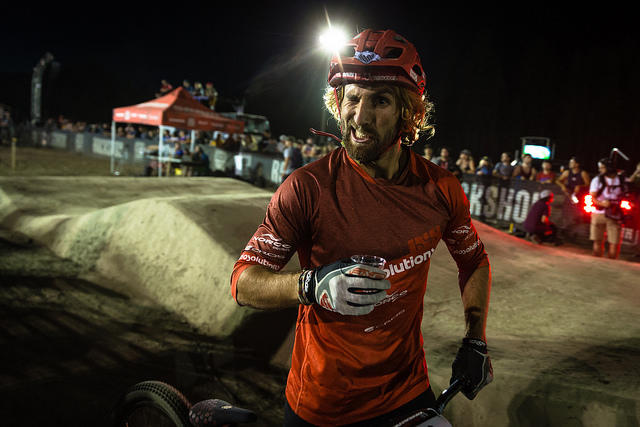 Two time defending champ still have fun - even in second place. (photo courtesy of crankworx-Clint Trahan)
For the women, American Jill Kintner continued her reign as the woman on top of the podium for Crankworx 2016. Chasing down the Queen of Crankworx overall title, her smile seemed to grow by a mile after the late-night win, which takes some of the pressure off by strengthening her lead.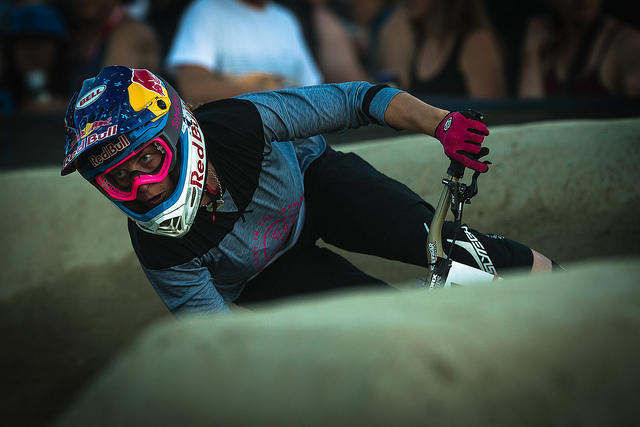 Jill Kitner has the skills and experience and is pretty much unbeatable on a pump track - keeping her string alive.
(photo courtesy of crankworx-Clint Trahan)
"All anyone ever talks about is I have to gather as many points as I can get. I have (Dual) Slalom tomorrow, but this was pretty good too," she said, with a small laugh. Dual Slalom is by far the Bellingham athlete's strongest event, although she has won the Crankworx pump track competitions nearly as many times, including all three this year.
From Dual Slalom practice to whip-off to pump track time trials and finally the main show, the day was action-packed making victory that much sweeter.
"I feel great. It was like the biggest day ever," said Kintner, who was also named Pump Track Challenge Series winner.
If there is one competition where Kintner is never on top, however, it is the whip-off and the woman who owns the event, Revelstoke, British Columbia's Casey Brown, maintained her stranglehold in the Official Whip-Off World Championships presented by SPANK in the first competition of the day.
Even though she is undefeated in the discipline in its three year history—international events included—Brown had to fight for this win, although this time against Mother Nature.
"I was catching the trade winds on my bicycle. It was a bit scary," said Brown. "It was good. Everyone was kind of concerned about the wind, but we just kind of got through it and learned to whip in the wind."
Results for the Ultimate Pump Track Challenge presented by RockShox:
Pro Men
1. Mitch ROPELATO (USA)
2. Adrien LORON (FRA)
3. Tomas LEMOINE (FRA)
Pro Women
1. Jill KINTNER (USA)
2. Anneke BEERTEN (NED)
3. Manon CARPENTER (GBR)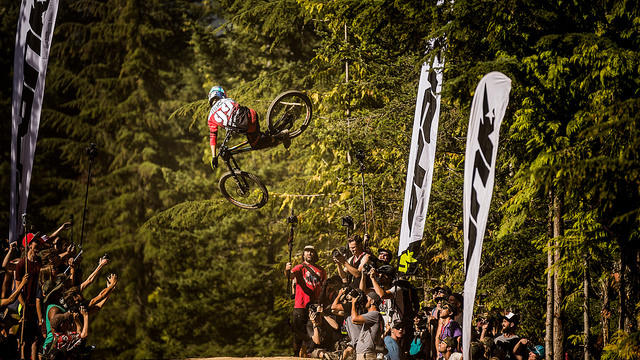 This is how big you have to go to win a whip off at Crankworx - 16 year old Finn Iles shows them all how its done.
(photo courtesy of crankworx 2016)
Results for the Official World Whip-Off Championships presented by SPANK:
Men
1. Finn ILES (CAN)
2. Thomas VANDERHAM (CAN)
3. Allan COOKE (USA)
Women
1. Casey BROWN (CAN)
2. Lorraine BLANCHER (CAN)
3. Jaime HILL (CAN)
Save