Crushing the competition at the opening round of the MBAA season
March 20th, 2017 10:36am
Bicycle World TV Race Team crushes the competiton at McDowell Mt - in the MBAA Opener

JANUARY 22, 2011
It may be too early to call it a tradition, but saying that the signs are ominous would not be a stretch. Like a red sky at night, the spanking that the Bicycle World TV race team handed out at the season opener of the MBAA series at McDowell Mtn. Park was nothing short of awesome. Taking nine podiums out of 11 starters including 5 first places, two seconds and two thirds was fantastic. When you consider the results came in the fastest classes out there, it is even more impressive. From Pros to Rock Crusher and Sport to Masters, the Bicycle World TV RaceTeam is going to contend for every step on the podium we can take and have a blast along the way.
It was a great morale boost to see Jeff Herrera win his first Pro race. Jeff won the state championship with consistently high podium finishes last year but there is nothing like "winning" a race.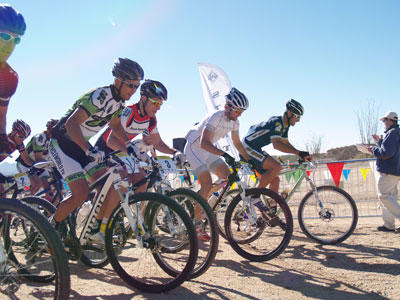 Start of the Pro men - Our own Jeff Herrera on a new Niner that he had never ridden before. - Jeff going down a tech drop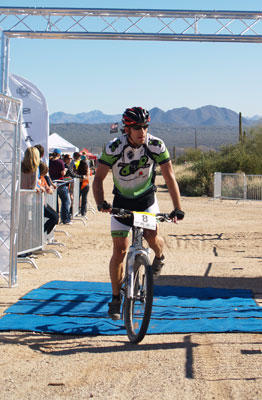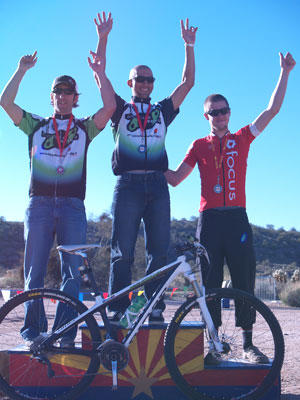 Jeff, ecstatic with his first win and Tom O'Brien following him with an equally impressive second place in the Pro class.
With all of Saturdays success, it should be noted that the Paul Broaderip's mpressive come from behind win in the Cat 1, 40-49 class was pretty darn amazing. Every Cat 1 class is fast, but spotting those guys a solid couple of minutes right out of the gate due to a flat tire and then coming back to pass the field and win the race by a full minute and a half is just damned impressive. That makes three in a row for Paul and his uber green Titus (see photo Dec. 30th below).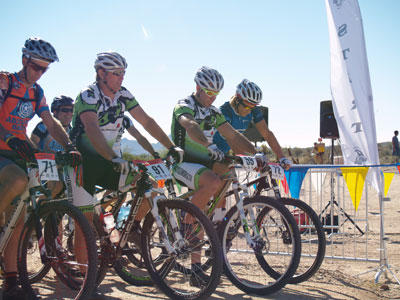 Paul Broaderip and Jimmy (91) at the start - Jimmy heading toward the tech loop, finished fifth in the incredibily fast class.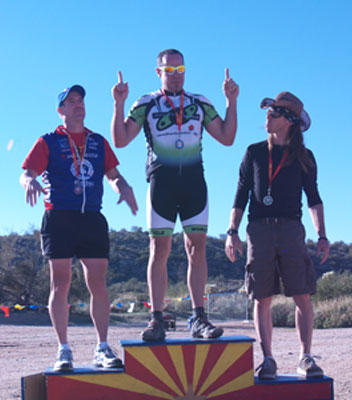 Paul looking smug with his "I'm no. 1" pose...
This season we had the return of Steve Hughes to his regularly scheduled age group. After racing the younger group last year, Steve came back to his racing age bracket and thoroughly destroyed his field by seven and a half minutes. Rumor has it that Steve even stopped for a quick snack on the back nine too. I am just lucky he wasn't in my class. If you want to see what real training and preparation will do, Steve is the poster boy and his results this year will show it.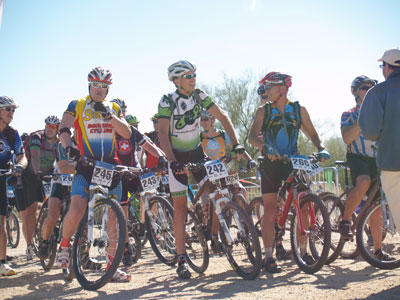 Steve Hughes ready as he waits to inflict suffering on his fellow competitors.
The biggest margin of victory came in the biggest class as our new team rider Keith Wilson pulvarized the rock crusher category and riders almost half his age by eleven full minutes.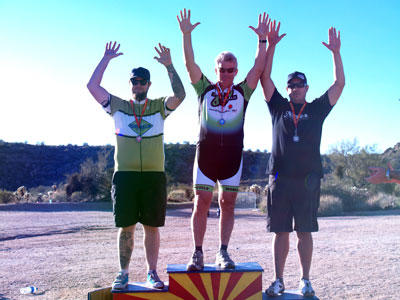 Keith Wilson crossing the line - then on to the podium to collect the hardware.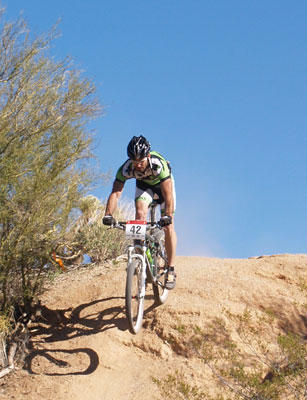 Solange started the day off right by taking third place as our first finisher on the day. Zach Heim showing how to take the drop on his way to the top step of the podium with his son.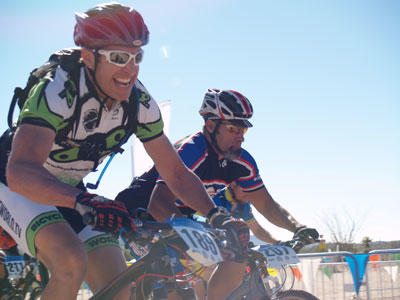 Jack aka - MC Jack Hammer - hits it hard at the start and went on to take second place in the events most crowded field - Men 40-49 Cat 2 race.
A final congratulations goes out to Shawn Bolduc who competed in his first ever mountain bike race for team Bicycle World TV. Shawn took 6th place with a heavily bandaged ankle in a field of 28 riders in the Mens 30-39 cat 3 race. That's a solid finish for a first race. A big thanks also goes to Shawn for sticking around all day to get podium shots of the team and providing them for this write up.
You can find the Bicycle World TV race team at Estrella Mtn next before taking on the 24 hour of Old Pueblo.