Boyd Cycling - Extraordinary wheel builder returns to its bike builder roots
September 10th, 2019 12:00am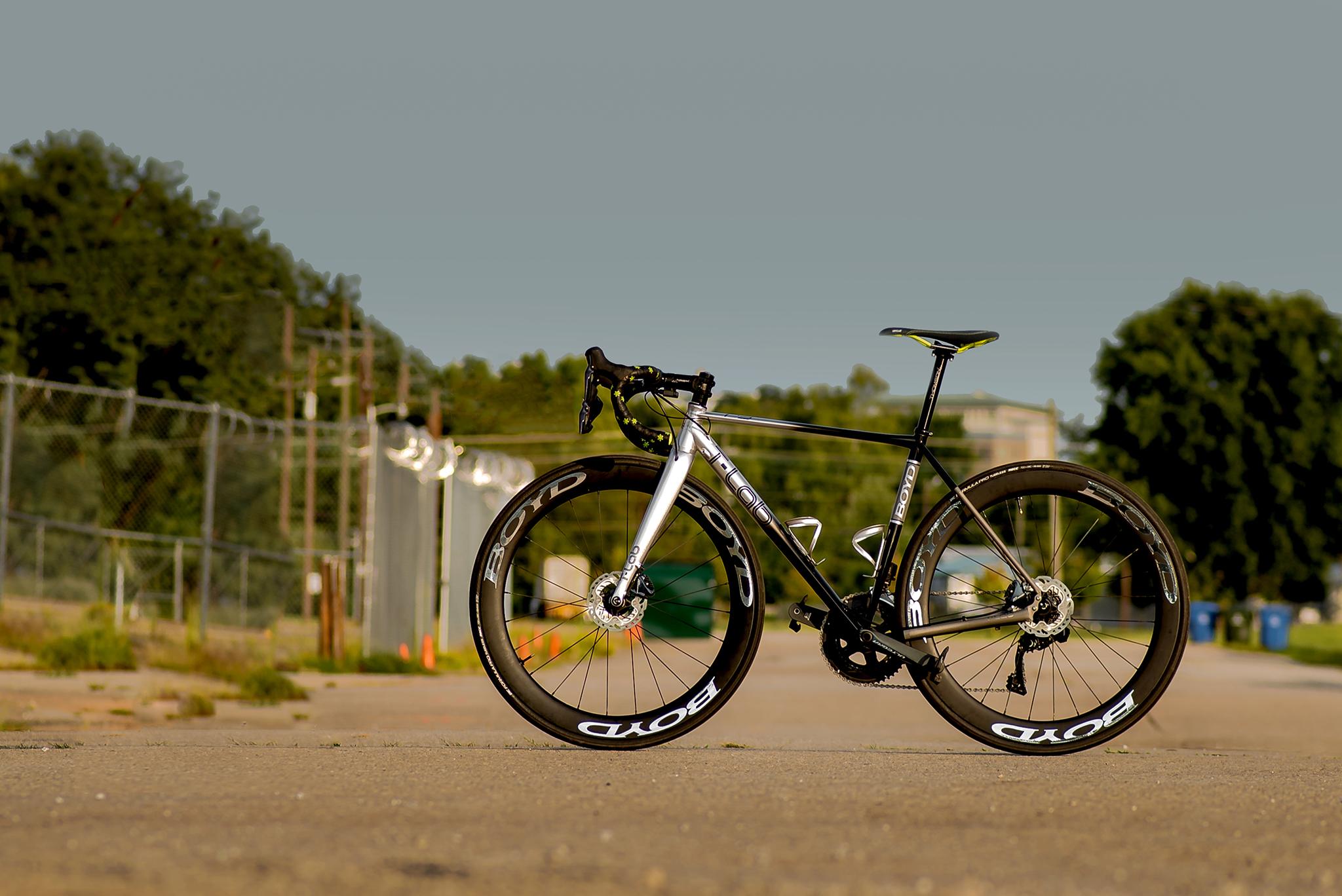 Boyd Cycling and T-Lab 10th Anniversary project road bike will roll like a champ and be an eye catcher in the group ride
Boyd Cycling, makers of some of the finest USA manufacured wheels, is celebrating its 10-year milestone by producing a limited edition titanium bicycle. Earlier this year Boyd Cycling teamed up with Montreal- based titanium frame builders T-Lab to create two fantasy Boyd builds: an all-purpose gravel bike and a multi-purpose road bike. Their community was invited to vote to decide which to put into production and the road bike has won. But there's still good news for gravel.

Unknown to most, Boyd Cycling began in 2009 as a bike brand, Boyd Bikes. The brand consisted of bike frames, wheels, and accessories. Too much for one person, Boyd Johnson's wife, Nicole, bid adieu to her job at Hincapie Sports and embarked on what has become their family business. In 2011 –– in part to Johnson's desire to build a premium wheel at an affordable price after having race-tested many –– they opted to focus on wheels only and Boyd Bikes became Boyd Cycling.

Ten years later their wheel community, many of whom know the Johnsons from their Boyd Bikes days, often ask if they might consider producing a bike specifically built for their wheels. These queries helped forge the Boyd Cycling and T-Lab collaboration but given the popularity spread equally among their gravel and road wheels, the question remained, what should we build?
Together with T-Lab, Boyd Johnson created two fantasy Boyd builds: a gravel/adventure one-bike-to-rule-all or a next generation road machine. The gravel bike would take up to a 650B x 51 tire; the next gen road machine would take up to a 700 x 35 tire. They'd produce one model only and they left the vote to their community.

Following a rapid-fire week of open voting, the people have chosen to put the T-Lab / Boyd Cycling concept R3 road into production. "This is what I would call an N-1," explained Johnson, "where N is the number of bikes you own and + 1 is the bike you don't need that you buy anyway. The R3 represents the number N of bikes owned and -1 is the hole, the need that must be filled."

The R3 road bike is a snapshot of the future of road bikes. Built with flat mount disc brakes and 12mm thru axles, the geometry is designed around a maximum tire size of 700 X 35mm that puts the rider into a road riding position over an ultra beefy tire. "Descending on roads will be unfair to your riding buddies," Boyd said. "Chip seal roads become buttery smooth, as the larger tires we have all grown to love absorb road vibration while also providing better traction and lower rolling resistance," he added. The R3 road bike will have build options with the Altamont alloy wheels or the 36 Road Disc carbon wheels.


Boyd Road Bike Carbon Wheels are American Made Goodness
Because the results were so tight the Johnson's will also produce a limited number of gravel frames. "We're a small, family run business that has built a following by building premium product and excellent customer service," said Nicole Johnson, Director of Sales. "We couldn't possible say no to someone who wants to own a Boyd / T-Lab gravel bike. Gravel riding has become our passion and both Boyd and I developed our passion for this business from our passion for the bike. Period."
Boyd Wheels has embraced the gravel segment with both hands and put together a stout set of wheels.
The T-lab / Boyd Cycling Wheels gravel bike build is super sweet.

The X3 is a dual-purpose road/gravel bike with clearance enough to run a 700c x 42mm tire or a 650b x 51mm tire. The custom shaped titanium tubing is shock absorbing while providing a snappy and responsive ride quality. Internal cable routing, flat mount disc brakes, and 12mm thru axles complement the bike build. The X3 gravel bike has build options with Boyd's Altamont Lite alloy wheels, the Jocassee 650b or Pinnacle 700c carbon gravel wheels.

MSRP for either model is $7990 for a Di2 shifting, hydraulic disc and carbon wheels build or $6490 for mechanical shifting, hydraulic disc with alloy wheels.
Boyd Cycling wheels are available in the U.S. through Independent Bicycle Dealer channels and are assembled in Greenville, SC. For more information about Boyd Cycling visit the website at http://www.boydcycling.com.
The T-Lab bikes are small, batch, titanium, custom produced and painted in Montreal Canada. For more information visit https://t-lab-bikes.com.
The gravel bike cockpit and bars are so sexy and the bike will stand out from the crowd.
Sweet head tube badge tells everyone on the Sunday throwdown you are not a follower.