Bolle Performance Eyewear Review
June 23rd, 2015 9:58pm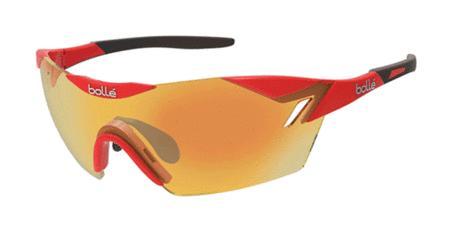 Bolle Performance Glasses for Road and Mountain Bikers

Bolle - Road and MTB Glasses - Reviewed from Bicycle World TV on Vimeo.


One of the most respected brands in the world of performance and fashion eye wear, Bolle has ramped up it cycling glass efforts over the last year and a half.
And by ramping up, we mean completely new with more relevant designs and new technology. Technology like..


Precision Optics

Whether you're on the bike, the track or the trail, crystal clear vision is key to performing your best. With glass-like clarity, B-Clear lenses dramatically enhance your ability to see what's coming at you.
Remarkable impact Resistance and protection

B-Clear lenses not only protect you from harmful UV rays, they're built for maximum impact resistance, making sure debris doesn't harm you or hamper your performance.

Polarization
Our polarized lenses align light rays from the sun, giving you a crystal-clear view at all times. So whether it's the ski slope, trout stream or highway, you'll be able to see what's really ahead.

Photochromic lenses

This is no simple coating. Bollé® photochromic technology is embedded into the lens at a molecular level to automatically lighten and darken according to the conditions, always protecting your eyes from harmful UV rays.

Oleophobic/hydrophobic Treatment

Oleophobic treatment on the outside of the lens. Forget about dirt, grease and water spots, this coating stops it before it sticks to your lenses . Especially good in environments with mud or extreme sweat.

Interchangeable lens

Bollé® helps you stay on top of your game with this interchangeable lens system. By giving you the flexibility to match the lens to the condition, this system ensures optimum performance regardless of the conditions.

Sport Optical System (S.O.S.)

Their patented Sport Optical System allows you to easily and securely insert your prescription adapter lenses into the frames, ensuring you're prepared for peak performance — no matter the challenge.

ANSI Standards

All of their lenses exceed American National Standards Institute (ANSI) requirements for UV protection, impact resistance and optical clarity. It's more proof of how they not only promise, but also deliver the very best, time and time again.

This technology goes across both their road and mountain bike line-ups.

So lets look at the Bolle - 6th Sense Glasses. Bolle's top road line offering and worn by many Pro Tour teams. Filled with the tech features I just mentioned - The 6th Sense also features clip on side protection for added aerodynamics as well as protection from wind and light around the eye.
But what really sets the new Bolle's apart for me is the style, the clarity and the fit. In the two touch points to your face, the fully adjustable nose tabs on bridge and thermo grip temple arms fit perfectly. The nose grip and fit is better than pretty much anything out there that I have tried which mean they don't slip down my face when I am sweating and the arms are ergonomically designed to fit your temples without squeezing them to much and irritating you on long rides.
Part of the comfort benefit is derived from the Ultra-light Trivex lenses which are considerably lighter than Polycarbonite lenses. The light weight material means they can make bigger lenses which also give you more coverage and ultimately more protection.
Speaking of protection all bolle glasses exceed the American National Standards Institute for impact resistance and optical clarity and UV protection.
The 6th Sense have an MSRP of $189

The MTB Glasses have all the same great features but in a more organic style than the road glasses. This Bolt S you see here is the low key, matt black on black color combination, but Bolle offers a full spectrum of frame and lense color options to match any team kit or personal preference.
The Bolt S run a very reasonable $129 Us dollars

All colors and styles can be seen on their website which is simply www.bolle.com. So head on over to Bolle.com if you are in the market for some really great performance glasses.