Bicycle World Race Team Updates
March 20th, 2017 10:57am
| | | | |
| --- | --- | --- | --- |
| | | | |
Bicycle World TV is proud to have taken on the role of title sponsor for the 2011 racing season. Growing on last years innagural success the team has attracted more elite and cat 1 riders. The team is still mostly comprised of professional and cat 1 cross country and endurance racers. The team members have competed in multiple La Ruta De La Conquistadors, Cape Epic, Trans Rockies, BC Bicycle Race, Norba National Elite Pro XC races and countless other events. Hammer Head will be racing at select major races in the US and abroad.

The Bicycle World Race team will be flying unique new kits for 2011 by Primal Wear . If you want to dawn one of these one-of-a-kind kits they are available in the on-line store beginning January 20ll.

The Bicycle World TV team represents accomplished core riders who travel the country, are involved on their state mountain biking organizations and promote the sport. Bicycle World has 26 team members and has selected Primal Wear, Geax Tires and Pacific Health Labs food supplements as their partners in racing. Elite level and ultra endurance racers know what works and Primal Wear, Geax Tires and Pacific Health labs are at the top of their respective market segments because of their superior performance.
If you would like to ride with the team or team members or just see where we will be racing next, you can view our calendar here.
---
JANUARY 22, 2011
It may be too early to call it a tradition, but saying that the signs are ominous would not be a stretch. Like a red sky at night, the spanking that the Bicycle World TV race team handed out at the season opener of the MBAA series at McDowell Mtn. Park was nothing short of awesome. Taking nine podiums our of 11 starters including 5 first places, two seconds and two thirds was fantastic. When you consider the results came in the fastest classes out there, it is even more impressive. From Pros to Rock Crusher and Sport to Masters, the Bicycle World TV RaceTeam is going to contend for every step on the podium we can take and have a blast along the way.
It was a great morale boost to see Jeff Herrera win his first Pro race. Jeff won the state championship with consistently high podium finishes last year but there is nothing like "winning" a race.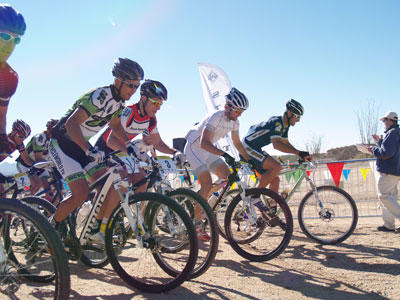 Start of the Pro men - Our own Jeff Herrera on a new Niner that he had never ridden before. - Jeff going down a tech drop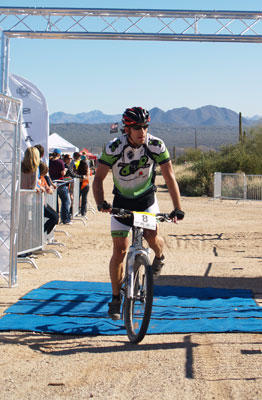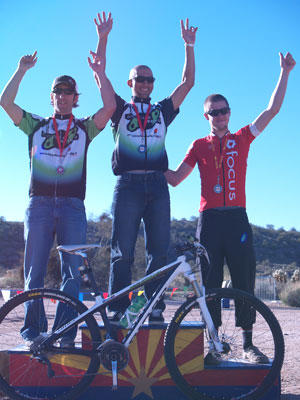 Jeff, ecstatic with his first win and Tom O'Brien following him with an equally impressive second place in the Pro class.
With all of Saturdays success, it should be noted that the Paul Broaderip's mpressive come from behind win in the Cat 1, 40-49 class was pretty darn amazing. Every Cat 1 class is fast, but spotting those guys a solid couple of minutes right out of the gate due to a flat tire and then coming back to pass the field and win the race by a full minute and a half is just damned impressive. That makes three in a row for Paul and his uber green Titus (see photo Dec. 30th below).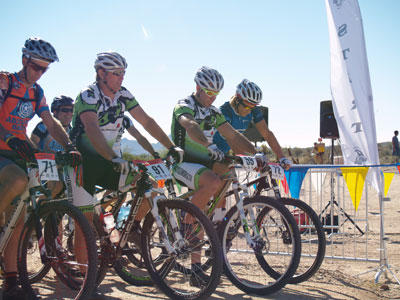 Paul Broaderip and Jimmy (91) at the start - Jimmy heading toward the tech loop, finished fifth in the incredibily fast class.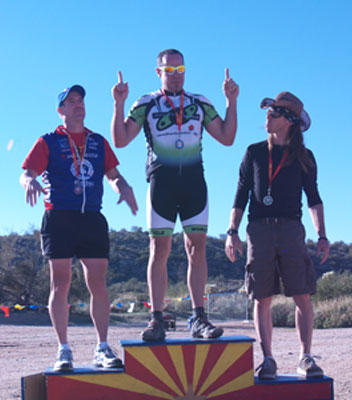 Paul looking smug with his "I'm no. 1" pose...
This season we had the return of Steve Hughes to is regularly scheduled age group. After racing the younger group last year, Steve came back to his racing age bracket and thoroughly destroyed his field by seven and a half minutes. Rumor has it that Steve even stopped for a quick snack on the back nine too. I am just lucky he wasn't in my class. If you want to see what real training and preparation will do, Steve is the poster boy and his results this year will show it.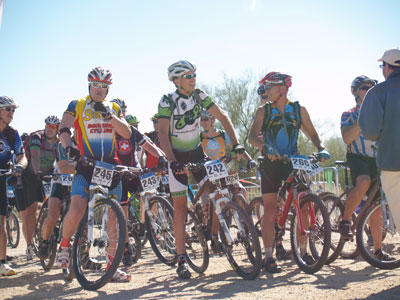 Steve Hughes ready as he waits to inflict suffering on his fellow competitors.
The biggest margin of victory came in the biggest class as our new team rider Keith Wilson pulvarized the rock crusher category and riders almost half his age by eleven full minutes.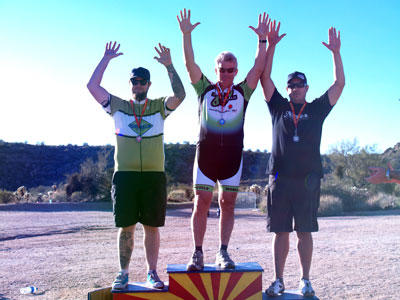 Keith Wilson crossing the line - then on to the podium to collect the hardware.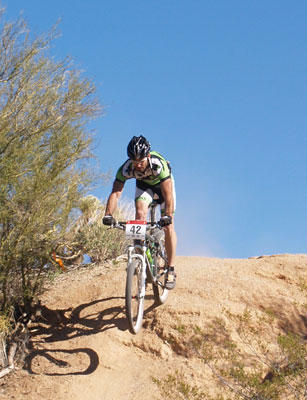 Solange started the day off right by taking third place as our first finisher on the day. Zach Heim showing how to take the drop on his way to the top step of the podium with his son.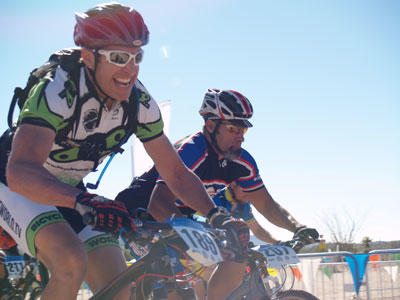 Jack aka - MC Jack Hammer - hits it hard at the start and went on to take second place in the events most crowded field - Men 40-49 Cat 2 race.
A final congratulations goes out to Shawn Bolduc who competed in his first ever mountain bike race for team Bicycle World TV. Shawn took 6th place with a heavily bandaged ankle in a field of 28 riders in the Mens 30-39 cat 3 race. That's a solid finish for a first race. A big thanks also goes to Shawn for sticking around all day to get podium shots of the team and providing them for this write up.
You can find the Bicycle World TV race team at Estrella Mtn next before taking on the 24 hour of Old Pueblo.
---
JANUARY 8, 2011
What appears to be an omen of the 2011 season the boys on the Bicycle World.TV team have made it two in a row taking out first AND second place at the 12 hours of Papago. All reports on the race are that it was supperbly organized and lots of fun, high compliments coming from seasoned racers..
Here is a brief write up of the event by Paul Broaderip - who was part of the winning team.
Team BicycleWorld.TV takes home first and second place overall at the 12 hours of Pain and Purpose(Papago).


All I can say is, "what a great event". From the drive into the race site to the end of the award ceremony; Red Rock Racing put on an amazing event. It was nice to race in an atmosphere they created including great music, Live football games, up to date race stats on a big screen TV and a beer garden. Enough about the frills.

Team BicycleWorld.TV had two teams entered in the quad male event with Ryan Waldron and Jeff Herrara starting for us. After a blistering first lap Jeff Herrera sped through the timing shoot with a three minute lead over second place. Ryan got a little lost but was able to finish his lap in good standing. The rest of our day was spent putting more time into our competition with Daryll Mckenzie, Jeff Herrera and I doing double lap turns. Our fourth team mate Tom Obrien, did six laps back to back with nearly identical lap times. When all was said and done We ended up racing against our other team consisting of Jimmy Alexander, Matt Berault, Jack Adams and Ryan Waldron.

Thank you Red Rock Racing for a memorable event.
PLACE NO. NAME LAPS TIME CITY, ST
===== ==== =========================== ==== ======== ======================
1 404 BICYCLEWORLD.TV 23 10:53:15 SCOTTSDALE, AZ
2 405 BICYCLEWORLD.TV - FAST TE 21 10:41:35 SCOTTSDALE, AZ
3 410 JASS RACING 20 10:54:52 ANTHEM, AZ
4 411 KINGMAN BICYCLE OUTFITTER 19 10:46:15 KINGMAN, AZ
5 420 STRANGERS WITH CANDY 18 10:44:21 PHOENIX, AZ
6 417 RUCKING RIDERS 18 10:57:37 GILBERT, AZ
7 415 PROFESSIONAL MENTALITY, A 17 10:26:37 AVONDALE, AZ
8 408 FOUR OLD MEN 17 10:32:18 CHANDLER, AZ
9 426 TEAM VITESSE #1 ~ KINGS A 17 10:35:21 PHOENIX, AZ
10 403 BEARS EAT BEETS 17 10:42:05 BUCKEYE, AZ
11 407 CRACK MONKEYS 16 09:37:55 TEMPE, AZ
12 423 SUNDAY CYCLES CROUCHING R 16 09:53:48 TEMPE, AZ
13 409 FREEDOM RIDERS 16 10:33:41 MESA, AZ
14 414 NAU CYCLING TEAM OMEGA 16 10:39:38 SEDONA, AZ
15 421 STRESS FACTURES 16 10:44:45 GLENDALE, AZ
16 437 WILD MOUNTAIN CHICKENS 16 10:50:25 SCOTTSDALE, AZ
17 422 SUNDAY CYCLES CHOCOLATE C 16 10:57:37 TEMPE, AZ
18 434 BLAZIN' SADDLES 15 10:09:20 MESA, AZ
19 428 THE FOUR LOKOS 15 10:50:35 TEMPE, AZ
20 433 LAST MINUTE 14 10:15:47 TEMPE, AZ
21 435 WOLF PACK 13 10:24:01 TUCSON, AZ
22 431 WHAT ABOUT BOB? 9 06:21:40 TEMPE, AZ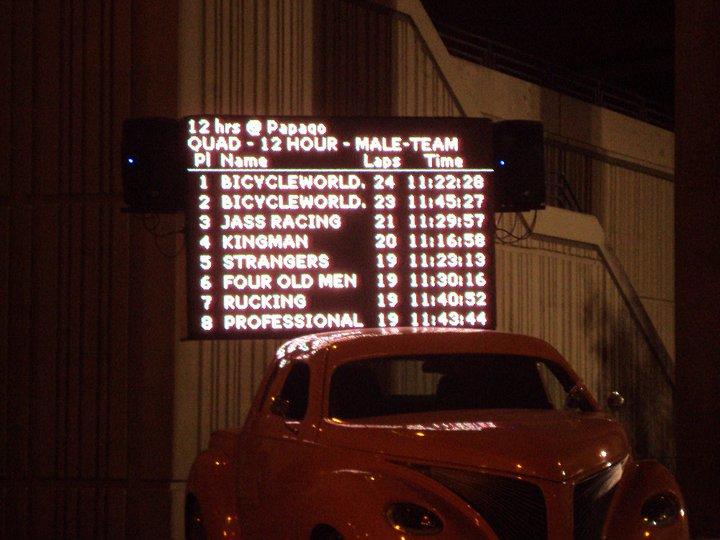 You can't argue with fast...nice job boys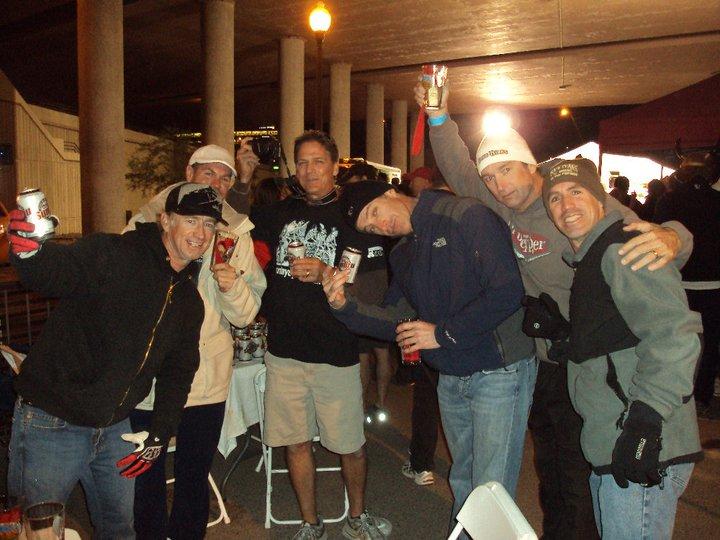 Celebration beverages all around.
Jack poaching the shot with three of the four winning team mates - Left to rigth are Matt, Jack, Paul and Jeff .
---
DECEMBER 30, 2010
With the 2011 XC season starting in just three weeks in Arizona, the Bicycle World.TV Team members have shaken off their Ugly Sweater Christmas party hang overs and are ready to get serious.
Paul Broaderip who was part of the winning 24 Hour of Fury race team (see story below dated November 2010) has his bike prepped and ready haul the mail complete with a custom sticker package dawning the new Bicycle World.TV team colors. Paul's titanium Titus (RIP) looks bad ass. With new kits from Primal Wear and some seriously fast riders on the team, these guys will be known as the green blur.... stay tuned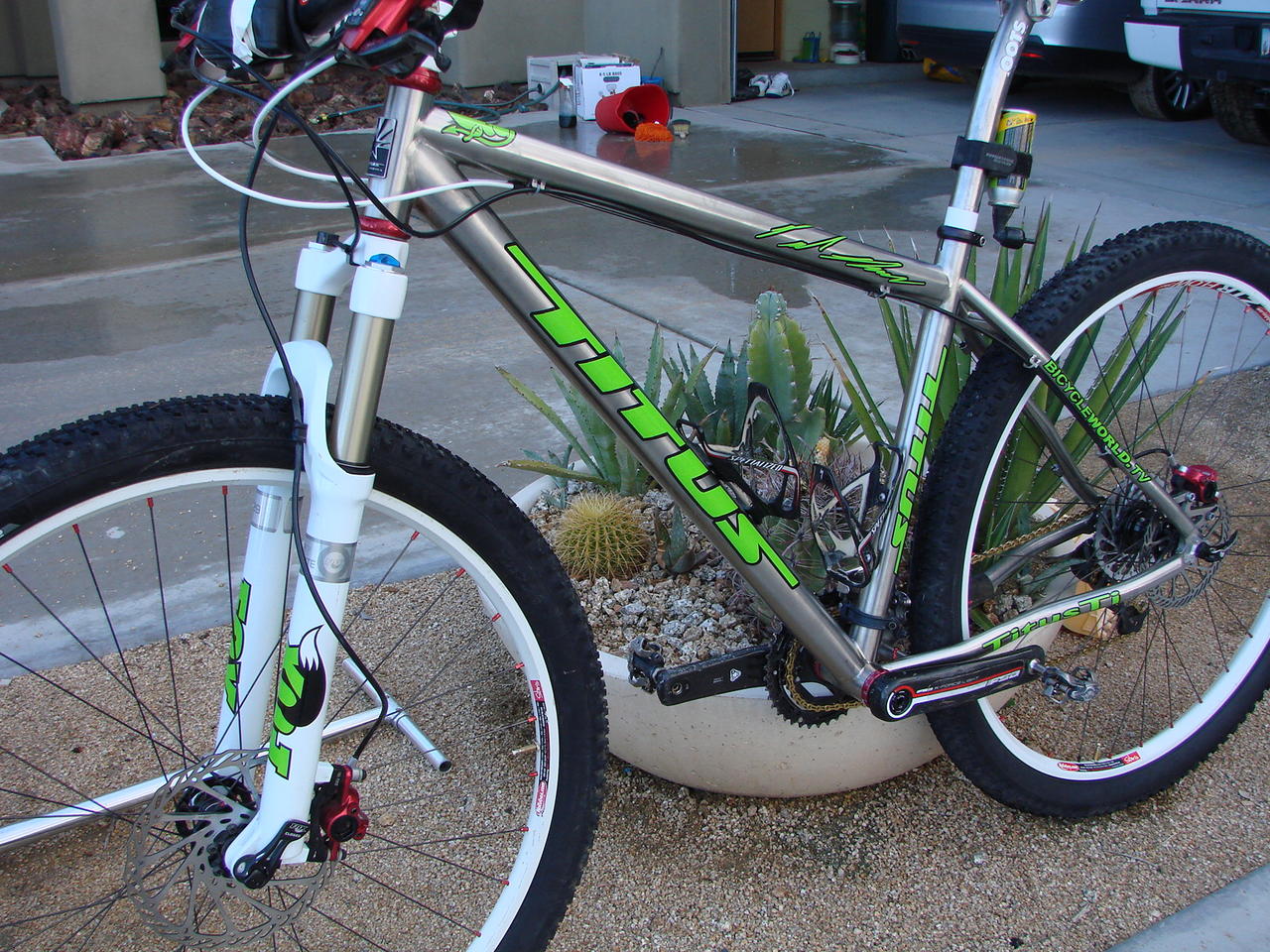 NOVEMBER 7. 2010
BicycleWorld.TV mountain bike team took to the trails to compete in the 12/24 hours of Fury with several duo and one 4 man team. The duo teams were all participating in the 12 hour version, while the 4 man team was entered in the 24 hour race.

The 4 man team was composed of Paul Broadtrip, Jimmie Alexander, Scott Arnold and (me) Art Macfarland. Paul started us off with a smoking fast lap - one of the fastest of the day, coming in seconds behind another 4 man team. I was second in line and kept the pace, coming in about 30 seconds behind the first place team. Jimmie had a fast lap and pulled us into first, then Scott had a good lap going when disaster struck. A ripped sidewall!!! Luck was on his side when he discovered a $1 dollar bill in his jersey pocket (who carries only $1 dollar?). He was able to finish the lap in 57:44 (remember this time). We fell into second place by about 10 minutes. We stayed 10 minutes behind for most of the day until nightime, when I passed the first place team on the side of the trail. Apparently, he slashed a tire and finished with a time of.... you guessed it, 57:44. We were now back in the lead by less than 2 minutes.

Luck was on our side or rather, bad luck was on their side, because a couple of laps later they had another flat. Around midnight we were up almost 15 minutes. We maintained our lead, but we were losing 1-2 minutes almost every lap. When daylight arrived we still had a 10 minute lead, and 4 laps to go based on our calculations. By the last lap, the gap was just under 5 minutes. As luck would have it, I had to do the last lap, but I felt pretty good most of the race, so I wasn't too worried, but I couldn't let up. I kept the pace up (as much as I could without sleep and after 70 miles of riding) and actually managed to put a minute on the other team. Both teams finished with 30 laps with a difference of about 5-6 minutes. That's 300 miles in 23 1/2 hours.

On the 12 hour race, our duo teams had a great showing. Jeff Herrera and Tom O'Brian had a big lead, but decided to call with 3 hours left as this was a training race for our two Pro riders. Matt Berault and Jay Robinson were doing well.... except in their transition planning... until Matt crashed hard and broke his hand on his second lap.

Steve Hughes and Dean Henthorn did well in the Duo 80+ but decided to call it with 2-3 left and ended up in 7. Jack Adams also raced in a duo team and finished 4th in the 80+ category as well.

Almost everyone was using Geax tires (with the exception of Scott - who had the slashed tire) and they performed great. Everyone that was using Accelerade products did well. The only bonks came from the people not using them ... hmmmmm... I wonder why?
---
JUNE 10. 2010
HammerHead bikes mountain bike team has been very busy with racing and showcasing our sponsors during the first 6 months of the year. The team has been focusing on several series and single day events:

- Kenda Cup West/California State Series
- Arizona State Series
- ProXC Tour
- Epic Rides events
- Sea Otter

Some of our members have been traveling to California to compete in the Kenda Cup West/California State series with some good results. Steve Hughes currently sits in 3rd place overall in his Category 1 age group and has been on the podium in every race, including Sea Otter. Art Macfarland continues to chase one of the top 3 steps on the podium, and currently sits in 5th place in a very competitive 45-49 Cat 1 age group. Jeff Herrera has been the star in the pro field, consistently finishing in the top third of a very difficult pro class. Competing against the likes of Todd Wells, Sam Schultz, and Tinker Juarez. Jeff managed to finish a very respectable 47th place out of over 130 riders at Sea Otter in lieu of starting at the back of the field. Not an easy task considering the course and the world caliber competition present.

The Arizona State Series just ended and Jeff Herrera was crowned the Arizona State Champion in the Pro category by being the most consistent rider. Art Macfarland finished a respectable 4th overall in the Single Speed Open category competing against riders half his age. Steve Hughes finished demolished his age group in 2009 and decided to race in a younger category and still managed to finish 7th overall. A great job by all riders.

Epic Rides started the season with the 24 Hours of the Old Pueblo, and HammerHead managed to finish 3rd out of 140 teams. Two riders joined Jeff and Art to finish strong even after having some mishaps through the night. The highlight of the season was Jeff Herrera's second place at Epic Rides finishing just behind Andy Schultz a full time pro rider and beating the likes of Tinker Juarez. As Jeff stated "This was one of the highlights of my career only to get overshadow by recently winning of the 2010 AZ MTB Association Series Championship (MBAA)."

Results:
Jeff Herrera, Pro:
3rd, 24 Hours of Old Pueblo, 4 man Open
4th, McDowell, AZ State Series, XC
1st, McDowell, AZ State Series, Super D
2nd, McDowell, AZ State Series, SXC
4th, White Tanks, AZ State Series, XC
1st, White Tanks, AZ State Series, SXC
3rd, Estrella, AZ State Series, XC
1st, Estrella, AZ State Series, SXC
33rd, Bonelli Park, US Cup, XC
16th, Bonelli Park, US Cup, SXC
22nd, Bonelli Park, US Cup, Super D
27th, Fontana, ProXCT, XC
26th, Fontana, ProXCT, SXC
4th, Prescott, AZ State Series
47th, Sea Otter, ProXCT, XC
2nd, Whiskey Off Road 50

Art Macfarland, Cat 1/Single Speed:
3rd, 24 Hours of Old Pueblo, 4 man Open
4th, McDowell, AZ State Series, XC
2nd, McDowell, AZ State Series, Super D
3rd, McDowell, AZ State Series, SXC
3rd, White Tanks, AZ State Series
4th, Sagebrush, CA State Series
7th, Fontana, CA State Series
4th, Ft. Huachuca, AZ State Series
4th, Flagstaff Finale, AZ State Series
1st, Baja California State Series

Steve Hughes, Cat 1:
7th, McDowell, AZ State series
9th, White Tanks, AZ State series
8th, Estrella, AZ State Series
3rd, Sagebrush, CA State Series
3rd, Bonelli, CA State Series
4th, Fontana, CA State Series
8th, Prescott, AZ State Series
5th, Sea Otter

Paul Broadtrip, Cat 2:
3rd White Tanks, AZ State Series
4th Flagstaff Finale, AZ State Series
---
October 20th, 2010
Hammerhead Bikes - BicycleWorld.TV bike team wraap-up from the Chupacabras Race by Art MacFarland

Chupacabras is a well attended race in Ciudad Juarez, just across the border from El Paso, with almost 1000 racers doing the 100 KM event. They have other events as well as a 50 KM ride and a kids race. The race starts a little late, 9 AM, specially when it's warm. Since I placed in the top 100 (20th place) last year, I was able to line up at the front, which is a big advantage here. The course is flat as a pancake for the first 25 miles, then lots of climbing with good singletrack mixed in for about 30 miles and the last 10 miles mostly downhill or flat on dirt roads, so the first part of the course is critical to stay in a good draft and save energy. This was the fastest start in the 3 years that I've participated and maybe it was the flu or I'm just getting older but I couldn't make it to the front group of about 25 riders so I decided to wait for the next group. Once caught by the second group on the course we managed to bridge to the lead group.... happy camper again, but only for a couple of minutes. While I was trying to move up, a crash occurred and I was caught behind it. My bike fell but I managed to stay on my feet. When I got back on, I had to chase hard again to get back to the group. This time, the riders behind me were not as cooperative to work together and I did most of the work by myself. I was able to catch the lead group, but as soon as I did, they accelerated before dropping onto the river which is sandy and loose. I was in a good position in the top 30, but as soon as we dropped somebody crashed in front of me and I went down again in the sand. Got up and noticed that my bars were at a 45 degree angle. Corrected the bars, got on the bike.... my chain had fallen off.... put the chain back on the get going. By this time, I was at the end of a large group... probably in the top 100 but just barely. I moved from group to group, moving up and taking a few people for a ride until we hit the hills. The start was fast that even with my two falls, I averaged 20 MPH for the first hour.


Once the climbing started I had to settle into my own pace. I knew many of the riders in front would blow up, so I kept a steady pace - I passed about 30 riders in the river bed - so I had to pass many more to reach the top 20 (my goal for the race). About halfway through the race, I was in 63 place - that's when I noticed my camelback was empty and all I had was ice - and had to stop to refill. Fell back another 5-6 spots and then started my steady progress of moving up. I moved up to the 50's quickly then to the 40's and eventually to my final disappointing spot of 39th place. Learned a few lessons this year - Hardtail is faster on this course, use water bottles and stay close to the front - all things that I did the past two years. Duh!!!


Hammerhead Bikes - BicycleWorld.TV bike team wrap-up on the Baja UE 100 KM. by Art MacFarland

Baja Ultra Endurance 100 KM is a smaller race, with categories and a lot more competition. This year the pro class was very deep with many riders from the USA coming down to enjoy the riding, the food, the cerveza and in some cases the Tequila. The start was early at 7 AM and in the fog. The first climb is brutal and the fog/mist was my biggest obstacle. I started well in the top 20 with my main competitor from San Diego right in front of me. I kept him fairly close the entire climb, but because I use prescription sunglasses I was blinded by them fogging up on the climb and then with the water from the mist on the downhill. I really struggled with seeing for the first 2 hours. I managed to stay close to first place - within 5 minutes - but was never able to pull him back and only lost time in the last 10 miles when I couldn't see him on the last climb I lost all hope. I rolled in at almost exactly 5 hours, about 10 minutes behind 1st place and over 25 minutes ahead of 3rd. I think overall I was around 15-20th, but haven't seen the final results.