Arizona High School MTB Finals held at White Tanks this weekend
July 26th, 2017 1:31pm
Arizona High School Mountain Bike Season will Name State Champions this weekend
For the second year, The White Tanks Mountain Regional Park will host the finals of the Arizona State High School MTB league.
With so many close points races for individuals, this race is key as athletes who have raced in all 5 races in the series will be awared an additional 25 points. This would easily tilt the scales in favor of the most consistent racer.
This season also marks the second full season of Arizona High School MTB league. Arizona high school athletes have really taken to the MTB league with almost 300 riders joining in its first year.
Tucson High School is currently leading the team standings over its northern rival Oro Valley Composite with Cactus Shadows High School in third.
Individual leaders in each class are listed below
Registration is open for any students who still want to sign up and race. You can do it on-line or on-site. You must register one hour before your race. Got Questions? Email Registration Manager Javier Ochoa
Volunteers Needed -
If you are interested in volunteering at this event they still need a lot of bodies! Most needed are on-course marshalls to help ensure the safety of the riders. We challenge any one of the local MTB make this their charity event and get a ride in afterwards? Here are some links to make it easy for you to sign up.
1. Check out the detailed volunteer positions -- listed below and also available on our website.
2. Sign up on our VolunteerSpot page; VolunteerSpot will send you an automated confirmation and reminders.
3. On race day, check in at the Volunteer tent at your specified time.
If you have any questions or need help signing up, please e-mail Volunteer Coordinator Ardell Deliz.
Getting to the RACE - Road Construction and Traffic
Please be aware of road construction and road closures that may cause visitors to the park to take detours. The Arizona Department of Transportation is improving the Loop 303 corridor between Interstate 17 in Phoenix and I-10 in Goodyear. You can find more information on ADOT's Area Projects webpage. In addition, Phoenix International Raceway in Avondale will be hosting a full slate of NASCAR racing this weekend. Sounds like another good reason to pre-register online so you have one less distraction and can focus on riding your bike.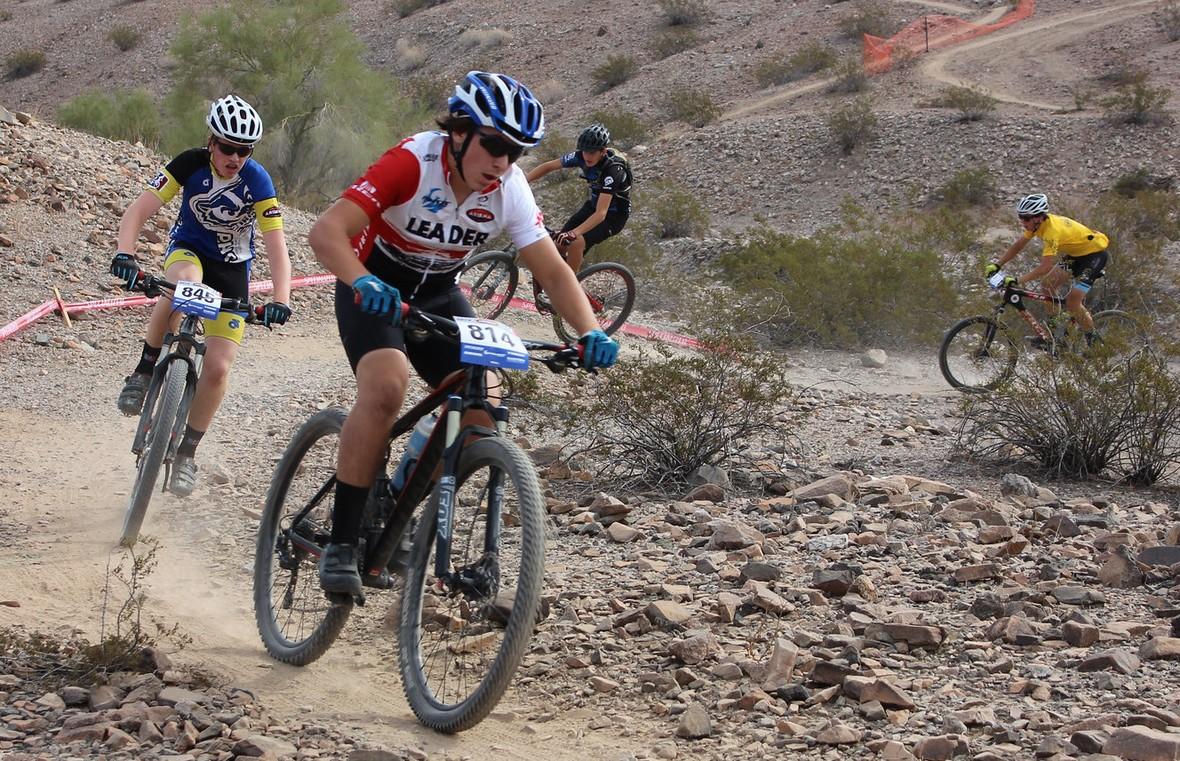 Freshmen Boys battle in race #4 at Lake Havasu City
RESULTS
Arizona High School Mountain Bike Points leaders
2014 Overall Team Trophies - Team Standings Thru Race #4
1. Tucson High School
2. Oro Valley Composite
3. Cactus Shadows High School
Individual Class Standings Thru Race #4
Varsity Girls
1. Demi Alexander, Cactus Shadows High School
2. Tristen Musselman, Northland Prep
3. Olivia Nicholls, Cactus Shadows High School
Varsity Boys
1. Nash Dory, Buena High School
2. Caiden Plummer, Oro Valley Composite
3. Daniel Yakushevich, Tucson High School

JV Girls
1. Angelina Davis, Buena High School
2. Hannah Madler, Bradshaw Mountain High School
3. Genea Gettig, Tucson High School
JV Boys
1. Leo O"Neill, Tucson High School
2. Will Hughes, Prescott High School
3. Alex Garcia, Buena High School
Sophomore Girls
1. Kristen Kollus, Mountain Pointe High School
2. Isabel Hausrath, El Grupo Composite
3. Sonja Carlson, Mountain Pointe High School
Sophomore Boys
1. Isaiah Martinez, Boulder Creek High School
2. Andrew Mull, Prescott High School
3. Brendan Bengtson, Boulder Creek High School
Freshmen Girls
1. Chloe Welch, El Grupo Composite
2. Drew Shumaker, Prescott High School
3. Alexandra Hammes, Prescott High School
Freshmen Boys
1. Evan Boone, Buena High School
2. Collin Dimattio, Buena High School
3. Connor Rosborough, Prescott High School