A Theft Proof - Weather Proof commuter bike from $449. Really?
December 9th, 2015 8:27pm
Too Good to Be True? A Theft proof and Weather Proof bike.
When you hear a promise like this, you have to look. I mean at least to see what kind of strange person or company would make a claim like this. I know I fell for it and was pleasantly surprised.
Appropriately named, Fortified Bikes did not reinvent the wheel but they have taken on the huge problem of bike theft for city riders. To do that this start up bike company sure did their homework. They are after all, real bike riders and have been helping city riders for over four years. In doing their homework they covered all the bases by interviewing real time riders and addressing pretty much every angle of the commuter lifestyle to make bike ownership as cost effective and user friendly as it can be. No, electric motors in this story, but plenty of technology, good sense and the brass balls to give it a go. And it all starts from just $449.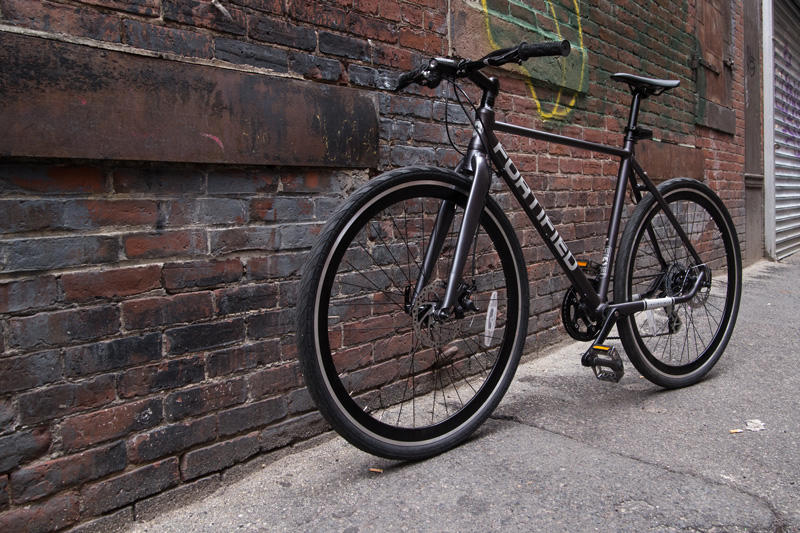 Equipped with disc brakes (8 speed model), built in head and tail lights, the Invincible bikes are purpose build for city commuters.
Fortified spent 14-months designing their bike that solves the biggest challenges facing city cyclists.
The result is Invincible, a "City-Proof" bike that is:

1. Theft-proof: Outfitted with Fortified's proprietary anti-theft hardware, each of the bike's
components - handlebars, seat, wheels and front and rear lights - are guaranteed
against theft. Most importantly if the bike, or any of its components, is ever stolen,
Fortified's Protection Policy will ship replacements within 24-hours.

2. Rust-proof: Constructed with a 6061 Aluminum rust-proof frame and zinc-coated,
corrosion-resistant chain, Invincible is built to endure the harshest winter conditions.

3.Flat-proof: Equipped with puncture-resistant tires, Invincible is designed to float over
potholes and climb curbs.
Just the right parts:
Just because the company is targeting the anti-theft problem doesn't mean they forgot about the build of the bike. Fortified designed two specific bikes to accommodate the type of city you ride in. For the flatter cities, where riders prefer single speeds, they have one. In hillier cities like San Francisco, the offer an 8 speed internal hub and disc brakes. Both bikes feature integrated front and rear lights, beefy 700x 32c tires and yes, a lock. Esthetically, they are spot on. Modern enough to be cool, utilitarian enough to be, well, cool. The bikes are roughly based on cyclocross bikes but with less maintenance.

Right now you can only get the bikes through their kick starter campaign but hope to be shipping to the other 300 retailers they have already partnered with by June of 2016 or sooner.
Want to check out the bike specs for yourself or get more information? It can all be found here invincible.fortifiedbike.com
You can also follow the company on Facebook and twitter: www.facebook.com/fortifiedbike and Twitter: http://www.twitter.com/fortifiedbike
---
HERE is the official Press Release that tells a bit more of the back story and some interesting facts about Fortified Bikes.

Bike startup unveils Invincible, a theft-proof and weather-proof bike
guaranteed to survive city life - starting at $449

Boston, MA – December 2, 2015

Today, Fortified Bicycle launched Invincible, a bike uniquely designed to solve the specific
problems that pain city-cyclists. In addition to featuring puncture-resistant tires and a rustresistant
chain and frame, Invincible comes backed by a pioneering Theft Protection Guarantee
that replaces the bike and any of its individual components in the event of theft.

In order to eliminate the risk of theft, Fortified has built a team of Bike Security Experts whose
sole responsibility is to keep Invincible safe at all times. The team approves new buyers,
manages ownership, monitors secondary markets to identify stolen bicycles for sale, and - in the
unlikely event that the bike is stolen - works with local law enforcement to recover the bike and
apprehend the thieves.

"It's no secret that most stolen goods are sold in online marketplaces like Craigslist or Ebay. So
part of our solution is to keep our bikes out of secondary markets. By restricting secondary
sales, we ensure that thieves no longer have an incentive to steal our bikes," explained cofounder
Tivan Amour.

"In reality, all of this happens behind the scenes. When you buy Invincible, you get a tough,
simple U-lock that allows you to lock up anywhere around town without fear of theft."

Should Invincible or any of its components be stolen, replacements will ship out within 24-hours.

When designing Invincible, co-founders Amour and Slava Menn interviewed over 350 city
commuters. "It was crazy" said Menn. "Every one of them was riding a bike designed for
anything but the city: road bikes, mountain bikes, 'Craiglist beater bikes.' Because these bikes
weren't't designed to overcome thieves, weather damage or flat tires, they die in the city. We built
Invincible to love the city."

In designing Invincible to serve as the ultimate urban bicycle, Fortified prioritized one focus over
all else: eliminating theft. "51% of city cyclists have been victims of bike theft and, according to
the FBI and National Bike Registry, $350M worth of bikes are stolen each year," explained
Amour. "We're putting a stop to that."

Fortified built two versions of the bike - a single-speed and an eight-speed: "Cyclists in flat cities
like Chicago and New York wanted a single-speed and riders in hillier cities like San Francisco
needed gears, so we opted for 8 speeds that could cover the full range," said Menn.

The single-speed version of the bicycle features Promax brakes, while the eight-speed offers
Shimano Altus derailleurs and Tektra disc brakes. "Both versions have light-tread tires that are
700x32c: beefy enough to swallow curbs without the unnecessary knobbiness of mountain bike
tires," said Menn. "We found many experienced city cyclists use cyclocross bikes. Their disc
brakes and beefier tires are ideal for foul-weather city-riding, but no one needs 27 speeds if
they're not racing, so the 8-speed was designed like a cyclocross bike with simpler
maintenance."

Both bikes, which are expected to ship by June or sooner, are currently available on Kickstarter.
Bikes start as low as $449 upfront and less than $10 per month for Theft Protection coverage.
More information on the Invincible bicycle, including the particular specifications of each model,
can be found at invincible.fortifiedbike.com.