24 hours of Old Pueblo
April 17th, 2017 12:12pm

24 hours of Old Pueblo would be hard to script it better, 70 degree days, 45 degree nights, 1500 plus riders and 24 hours to do what ever it is you do at these events. Part Woodstock and part Baja 1000, The 24 Hours at Old Pueblo is a place where some race round the clock while others enjoy the beverage inspiring atmosphere and the crazy fast single track. The Hollywood setting for this weekends 11th riding of the 24 hours of Old Pueblo did not disappoint. The stories that will be told will not include snow or sub freezing temps, but the absolute perfection that organizer Todd Sadow and his awesome group of volunteers and workers managed to pull down.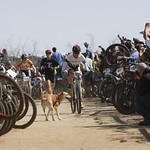 With no official numbers to quote, I can only say that the field was enormous and the starting line of bikes at the Lemans style start will serve as proof. I was impressed by the great sportsmanship displayed as the throngs of bike jockeys funneled their way down the race course lined with thousands of family, friends and teammates in an effort to find their bikes. The start resembled a Boston marathon start where some riders were 10 minutes behind the fastest runners before finding their bikes or being able to ride. As for attitudes, they were all in the right place. What is ten minutes when you are going to be riding for a long, long, long time?
If you were there and had so much fun you cant wait until next year, check out some of Epic Rides other events. The Whiskey 50 is coming up Next! If you want to tell your story, be sure to blog about it below.
Bicycle World / Hammer Head Racing Takes Third Podium Spot.
The newly formed team of elite Pro and Cat 1 riders sponsored by Bicycle World and Hammer Head Bikes out of Austin Texas, grabbed the third podium spot in its first official team race of the season at the 24 Hours of Old Pueblo. Lead by Jeff Herreras consistently fast laps, fellow teammates Art MacFarland, Ryan oConnor, and Scott Henry dished out enough punishment to complete 21 laps and fend off over 130 other teams in the mens open category. The overall victory went to Sport Systems MTC Dream Team who won by a full lap with Second Place going to the impressive U23 squad of Waste Management.
With near perfect weather, the top three teams completed the 24 hour time frame with out any real issues. "Our riders are experienced endurance athletes and that is what it takes to finish on the podium in these type of races. That and some luck" - quoted the teams manager.
For a more detailed report. Read the blogs from the racers themselves as they post them here.
Photos of the event can be found at Clutch Photography
Results from the event can be found here. RESULTS!!!!