2022 Tour De France Map and stage summary
June 13th, 2022 12:00am

The 109th edition of The Tour De France is coming up and here is everything you need to know about the course and stage details.
This year starts in Belgium as has been the recent tradition to expand the tours popularity, before moving on to France proper.
The second grand tour of the season comprises 21 stages and will be contested over 3,328 kilometres – that's 2,068 miles in old money – which is an average of 158.47km (98.46 miles) per day.
Depending on where you live TV coverage is easy to find as it is one of the most highly viewed sporting events in the world with on course attendance the highest of all sports - world wide!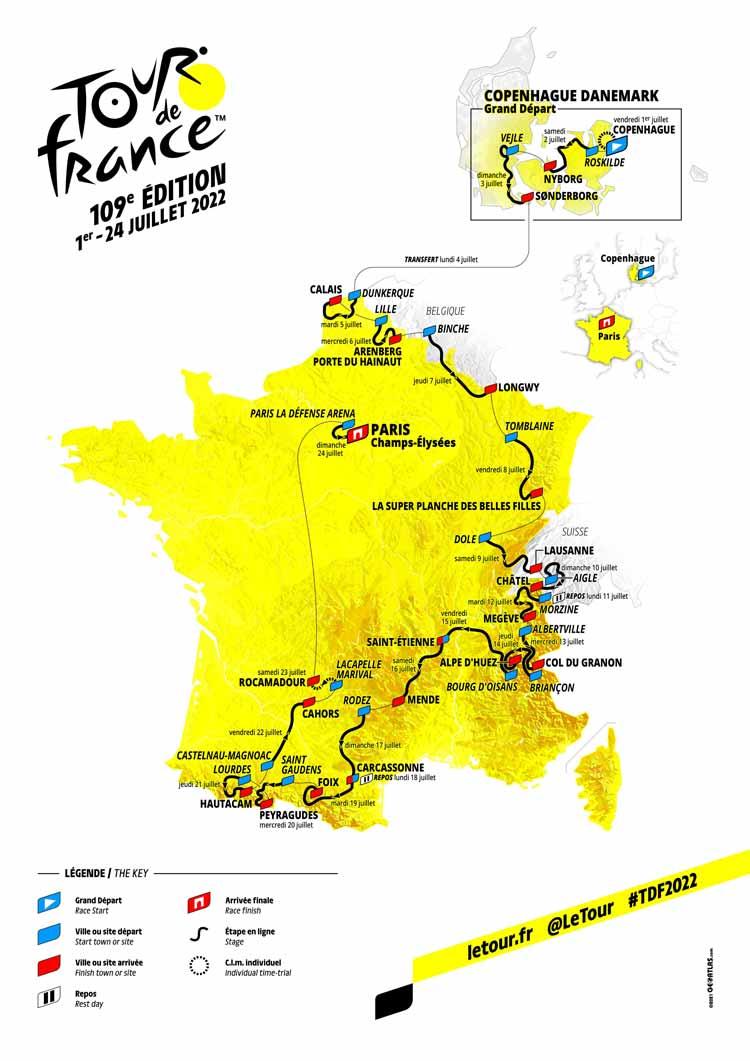 Here are the Stage by Stage details of the TDF
Tour de France | July 1-24, 2022
Stage-by-stage details
Fri 1, stage one: Copenhagen to Copenhagen, 13.2km – ITT
Sat 2, stage two: Roskilde to Nyborg, 202.5km
Sun 3, stage three: Vejle to Sonderborg, 182km
Mon 4: Rest day
Tue 5, stage four: Dunkirk to Calais, 171.5km
Wed 6, stage five: Lille to Wallers-Arenberg, 154km
Thu 7, stage six: Binche to Longwy, 220km
Fri 8, stage seven: Tomblaine to La Super Planche des Belles Filles, 176.5km
Sat 9, stage eight: Dole to Lausanne, 186.5km
Sun 10, stage nine: Aigle to Châtel Les Portes du Soleil, 193km
Mon 11: Rest day
Tue 12, stage 10: Morzine to Megève, 148.5km
Wed 13, stage 11: Albertville to Col de Granon, 152km
Thu 14, stage 12: Briançon to Alpe d'Huez, 165.5km
Fri 15, stage 13: Bourg d'Oisans to Saint-Étienne, 193km
Sat 16, stage 14: Saint-Étienne to Mende, 192.5km
Sun 17, stage 15: Rodez to Carcassonne, 202.5km
Mon 18: Rest day
Tue 19, stage 16: Carcassonne to Foix, 178.5km
Wed 20, stage 17: Saint-Gaudens to Peyragudes, 130km
Thu 21, stage 18: Lourdes to Hautacam, 143.5km
Fri 22, stage 19: Castelnau-Magnoac to Cahors. 188.5km
Sat 23, stage 20: Lacapelle-Marival to Rocamadour, 40.7km – ITT
Sun 24, stage 21: Paris La Défense to Paris (Champs-Élysées), 116km