2011 World Cup Downhill in Pietermaritzburg South Africa - Living the Dream
The first World Cup of the season in South Africa has come and gone. I am so excited to have taken part in the first of seven World Cups of the season and thoroughly enjoyed my time in South Africa. I learned all sorts of new things, from paying ridiculous bike fees at the airport to gaining more confidence in myself at a World Cup. The track was awesome and the venue was jam packed with spectators from all over the world.

We were very fortunate to stay with a family in Durban, who were extremely accommodating. Geoff, Jen and their son Stuart were always willing to help and made sure that our stay was fulfilling. One of the days in Durban Geoff and Jen took us on a Safari Ride, where we saw so many different animals. There were Hippos, Rhinos, Monkeys, Impalas, Zebras and many more truly beautiful animals. We went to the beach and saw some awesome surfing and even stayed at a really nice beach house with Geoff, Jen, Llewellyn and Mariana.

I really did like the track in Pietermaritzburg and had a great time riding everything. It was not a super long track however it did have a pretty long pedal section with jumps scattered throughout, that sure did take everything I had to clear the jumps and not exhaust myself on every run. There was plenty of practice to get comfortable and know all your lines. I had a pretty good case of the nerves at this race and did not quite get every line as dialed as I would have liked, however I had a spectacular time attempting to clear everything, especially the 25 meter tables in the middle part of the course. I did not go all out on my qualifying and came down with a pretty clean run ending up in 13th. All the days leading up to race day were exciting and surreal. I could hardly believe I had made it to the first World Cup and was doing what I said I was going to do. As I rode up in the shuttle bus to the top of the racecourse for my race run, I put all my efforts into clearing my head and relaxing. At the top, Dante helped me with some of that, playing hackie sack for a bit. Playing hackie sack helped stretch me out and relieve some of the stress I was putting on myself. I focused and was ready to go when the 5th beep came around, so I took off using the good old Gene Hamilton circus song trick all the way down the course. When I crossed the finish line I was so into my run I couldn't immediately remember the run. With the time I ran I was sitting in 2nd and was able to sit on the #2 hot seat for at least a few riders. As I watched all the amazingly fast girls come down 1 by 1, I was able to go over the run I had. It was a really good run with a few bobbles and a very hard pedal section that took a lot out of me. With my respectable run I finished up in 12th place, my best finish at a World Cup so far.

Thanks to all my sponsors, family and friends who helped and funded my first World Cup of the season. I am still training hard and can't wait to move on up at the next World Cup in Fort William.
---
2011 - Pan American Continental Championships - Chia, Columbia - April 2nd 2011
I am so proud to have raced for USA at the Pan American Continental Championships this past weekend. All of my travel and racing worked out just as I had planned and I had a magnificent time in Chia Columbia. The venue was filled with locals who just loved all of us Americans, asking to take pictures with us as if we were true celebrities. The shuttles were Postal box trucks that driver's rallied up the paved, then dirt road to the start of the racecourse. The racecourse was filled with loamy berms, hard packed berms, doubles, tables, a road gap, rock gardens and to finish it off they had about a 35 ft gap jump to FMX landing.
The day I left for this race I had just built up my brand new Canfield Brothers Jedi with all new components and Marzocchi Evo Ti 888. So, first day of practice I was testing out my new bike and getting comfortable with my bike and suspension setup. I am so stoked with my bike, it pushes through everything with great power and speed. After becoming more comfortable with my bike, the next days practice was all about getting my lines down and having some fun with it. On race day Dante and I just barely missed the shuttle to the venue. Not to worry, some very nice Peruvians gave us a ride in the back of their Nissan Quad-cab. I was able to get in one grand practice run and get pumped for my timed practice run. My timed practice run was a good chance for me to relax and know my speed for the ultimate run afterwards. I ended up taking the top spot after the timed runs, with Loana, from Brazil, within the same second. As I was sitting at the start area for my race run, I began to get a little nervous. I knew just what to do, I closed my eyes and visualized the whole course and by the time I opened my eyes, I was calm and ready to ride my race. I warmed up and got into the start gate, ready as ever. I rode the track just as I visualized, with only a couple minor slide outs on the steepest and mostly blue grooved parts of the course. The racecourse had a section of jumps with pedaling in between that was about a minute long and I pedaled as best I could. As I reached the bottom of the course after the amazing pedal/jump section, I was exhausted, but managed to hit all the 25ft jumps, 35ft finish jump and pedal through the finish. I kept getting information that I had won and did not know for sure until my Doping representative confirmed it, as she escorted me to the Doping center.
Thank you 5.10 for providing me with my awesome Karvers that kept my feet glued to the pedals, allowing my performance to exceed the competition.
Pro Women DH
1-Jacqueline Harmony (USA) 4:00:309
2-Loana Oliveira (Brasil) 4:08:708
3-Bruna Ullrich (Brasil) 4:15:760
Jump Photo by Ricardo Torres Richoux, Podium Photo by Dante Harmony
---
ALBUQUERQUE TO THE CHILE CHALLENGE AND THE PAJARITO PUNISHMENT - Team Harmony Travelogs (6/3 - 6/14)


After the long haul back from the U.S. Open, and having to endure the highly humid-heat in Jersey along with the A/C in the van cutting out halfway through the drive back, we were greeted to a near-record heat in Albuquerque. Being raised in the heat of Tucson, we feel that we are quite capable of handling the heat. This does not mean, however, that we enjoy it or intend to spend any of our time in the heat unless absolutely necessary. We were also supposed to be helping the Mountain States Cup crew set up for the annual Chile Challenge race in Angel Fire, New Mexico. So we hightailed it out of the valley and towards cooler temps in the pines.

The Mountain States Crew was so efficient, they finished setting up Thursday and didn't need our help at all. Since they didn't need our help we rode the crap out of that mountain. We didn't have to do anything but relax and get our bikes set up for the high speeds and chundery rocks always associated with this race. We rode the Supreme DH a couple of times and the World Cup course a few times. Apparently, Angel Fire has finally invested in a full time trail maintenance crew and it shows. The Supreme DH is still tricky and fun but some of the larger gap jumps were smoothed out and made friendlier towards the general public. The World Cup course was given a good grooming and felt like it was running faster than ever. After our practice runs we rode the lift up and walked the World Cup course scoping out all the cool lines.

Dry and dusty trail conditions were pretty consistent throughout the weekend, but the lines were getting blown out a bit due to the number of racers. There was also a very somber tone throughout the pits and on the hill after a freak Friday practice accident where fellow rider Craig Lange sustained injuries leading to his passing on Saturday morning. Our thoughts and prayer are with his family. A moment of silence please...

On a brighter note, this year Jackie was on fire! Jackie has never won the Chile Challenge race at Angel Fire but no one could touch her this year. She surpassed the field by quite a bit and after the race she said, "I am so thrilled to have been as focused as I was from start to finish." Jackie finished with a 20 second lead on the second place rider Jen Wolf. Dante was having a pretty good weekend with a bunch of clean runs in practice and a 20th place qualifier on flawed run. Then a rear flat in the finals put him dead last, but he at least got to watch the rest of the riders come down through the trees before the finish line.

We spent Monday with Gene Hamilton, and his videographers Jamie and Marshall, who were putting together a series of videos for Gene Hamilton's Better Ride Clinics. We were pretty spent after the long weekend of racing but it was good to work on our skills and have Gene instructing us and helping to get our moves honed.
We had a choice to go back to Albuquerque and deal with the heat, or head up to Gunnison, Colorado for our excellent friend Kain Leonard's birthday and a chance to ride dirt bikes on the Continental Divide, way up in the Rockies. Again, we chose to head toward the cooler weather. We drove through nearly non-existent towns with lots of run down homes and buildings on our way to Gunnison as well as some really pretty mountains and valleys. It's always so good to see Kain and Stephanie Leonard. They are two of the sweetest people we know. We spent the afternoon riding with Carter at Hartman Rocks and then had dinner with Kain, Stephanie and 2 other couples that were in town for Kain's birthday. Kain managed to find a dirt bike for Jackie to ride since hers is still broken from way earlier in the year. It was a YZ450F, a beast of a bike, but she knew she could handle it. On our previous stop through Gunny, carter had taken it upon himself to urinate on Kain's old Camelbak. This, in turn revealed a much too old sandwich among other rotten trail food. So for his birthday we kicked him down a brand new Camelbak, which had him grinning from ear to ear.


The following weekend was just as much fun at the Pajarito punishment race near Los Alamos, New Mexico. We ran a few good practice laps and then took Carter out for an XC ride to the top of the Mountain. The ride took us on what we assume to be the XC racecourse. Big props to whoever raced the XC because it was tough! Straight up the mountain on one side and straight down the other. The course was entirely above 9000 feet so the air was a bit on the thin side. The DH course was steeper than any other race we've been to in a long time with barely any pedaling and some really tough rock sections. There was one sizeable step-down jump that took some commitment to hit and it landed into a pretty tight left, off-camber turn. The crowds were great and kept all the riders pumped through the tough sections. Jackie had the women's field dominated again and her reward was a payout comparable to that of the Chile Challenge, with perhaps less than a quarter of the rider turnout. We may never understand the pro payout system, but at least there is a pro payout system.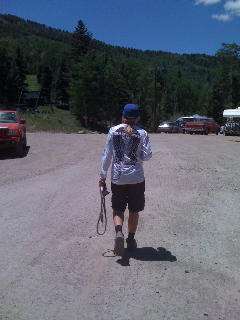 After the race we ventured into Sante Fe in search of some legit New Mexican food. Our first choice and one of the best restaurants in town was closed so we asked around and were steered to an ancient little place called Marias, where we had some of the best New Mexican food either of us had tasted in a long time. The drive out of Santa Fe led us towards Hatch, NM where some of the worlds best green chiles grow. We crashed out that night and got up too early to buy any green chile, but we did get my grandma a nice wind chime with some chiles painted on it for her 80th birthday coming up.

All in all, this has to be one of the best trips through New Mexico that either of us had ever been on. Jackie finally won a race at Angel Fire, we got to hang out with all of the great local NM riders, and we managed to sneak in a quick moto trip to Colorado.

Next stop: A very brief and busy mini-tour of Arizona...